COVID Passports Redux
Competing analogies and externalities.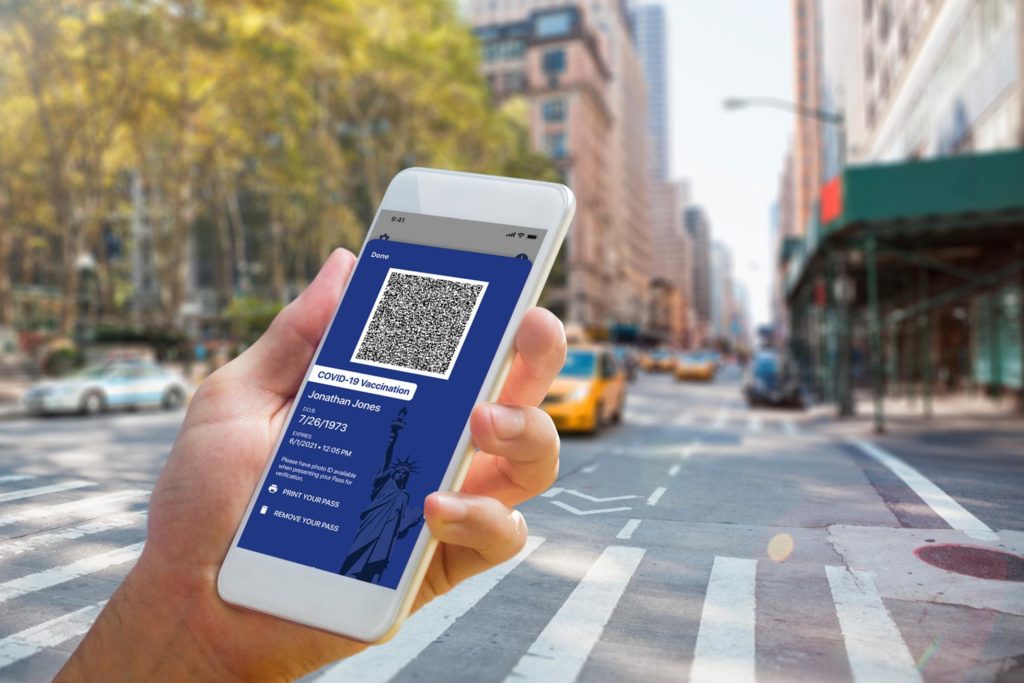 In Sunday's post "New York Launches COVID Passport," I responded to Jazz Shaw's concerns over the inequities the program would cause. Yesterday afternoon, he responded. What follows is my response to his response.
I should note at the outset that, while many readers will dismiss his commentary straight away because it appears under the Hot Air banner, I know Jazz a bit, having met him a few times at CPAC and other blogger gatherings and spoken with him on the phone and texted with him more recently to check on the status of our erstwhile co-host Doug Mataconis, with whom he is friends. While it's fair to say that he's more conservative than me at this point, I believe his arguments to be from sincerely-held positions rather than a regurgitation of Fox News talking points or some attempt to stir the pot or "own the libs."
His first objection is to my assertion that these passports allow those who are vaccinated or have a recent positive test to bypass current restrictions, which I see as different from denying existing privileges to those who refuse to comply.
Let's compare this situation to a scenario where there is an island suffering under famine conditions where everyone is starving. Then a government representative comes along and gives out magical cards to half of the population who were able to complete some government-mandated task. The card opens the door to an all-you-can-eat buffet. The remaining people, many of whom were unable to even get a chance to attempt the task, and others who refused, are, under James' explanation, being told not to worry. It's okay. You were already starving anyway, so nothing has changed. That sounds like a good way for a government representative to be ejected from the island by way of a plank over a shark-infested lagoon.
Reasoning by analogy is an excellent way to resolve these sort of disputes. As Malcolm Gladwell notes in a series of episodes in season 4 of his "Revisionist History" podcast, this is how the Jesuits became so famous for dispute resolution:
The Jesuits are intellectual, austere, and 500 years ago, the Jesuits pioneered a specific approach to solving problems that were new to the world. It's called casuistry. […] [W]hen it comes to new problems, you can't start by appealing to a principle. Principles don't help because principles are the product of past experience and they're only helpful so long as you're still living in the world those past experiences helped create. When you're confronted with a situation you haven't encountered before, then you're in uncharted territory. In those situations, the Jesuits argue, you have to proceed on a case-by-case basis. […] Thomas Aquinas, in the 13th century, wrote that a general rule applies generally and the more you descend into the particulars, the more it's no longer a general rule. "Descend into the particulars," understand what is distinctive about the case under consideration. That's what the Jesuits started to do. How? First, they would find a standard case. That is, a case that's in the same general territory where we've already reached agreement. So usury looks like an insurance premium and everyone agrees that usury is wrong. That's a standard case. The Jesuits say, though, there's another relevant standard case. Think of the captain of the ship, he's also a kind of insurance. People pay him something like a premium to make sure the ship travels safely from point A to Point B and everyone agrees the captain is a good idea. Next, the Jesuits create what they call a taxonomy. They ask how close does the case in question come to the standard cases? So is the premium paid for maritime insurance more like something you would pay a loan shark or more like the money you would pay for a good captain? So they keep looking for all sorts of similarities and then they look for where's the breaking point, where is it no longer legitimate.
So, we have taken to calling these indicators of vaccination "passports." Passports are a standard case. They're a form of government-issued identification that allows people who have met the legal requirements to travel to prove that they have done so and, in the modern age, accepting officials may scan them against a database to ensure that the person has not subsequently been deemed ineligible for travel.
Jazz says that, no, they're not really like passports at all. Instead, they're more like food for the starving and, we both agree, it would be wrong of the government to withhold food from starving people who had either refused to comply with some requirement or, worse, were medically unable to comply with the requirement or unable to secure an appointment to do so because the supply of appointments was exceeded by the demand.
Assuming I'm laying out the competing cases correctly, I believe the Excelsior Pass is much more like a passport than denying food to a hungry man while feeding others.
It helps his case considerably, though, if you add in that it is the government that created the "famine" to begin with and is now using the prospect of food in order to force compliance with "voluntary" inoculation. Jazz doesn't make that argument directly but it's a reasonable surmise from the facts.
Still, I believe it to be a poor analogy. New York's governor did what most (but certainly not all) state governors and most (but not all!) governments in developed countries did in imposing various restrictions to normal activity to contain the spread of a novel coronavirus that has killed some 2.8 million people worldwide, 563,219 in the United States, and 50,441 in New York state alone.
Whether the restrictions were to draconian or lasted too long is certainly debatable. But, given the near-universality with which they were implemented and the near-consensus within the relevant medical communities that they were necessary, I would argue that they were more akin to mandatory evacuations ahead of a forecast natural disaster or a curfew during a period of civil unrest than starving one's population to force them to bend a knee.*
No, of the two analogies, I believe "passport" is much closer. The government has a legitimate interest both in containing the spread of a deadly virus that spreads through casual aerial transmission and in getting the economy fully reopened so that people can get back to a more normal lifestyle. It is issuing an easily-checked ID to allow people wishing to enter certain public venues to prove that they're unlikely to be infected.
Relatedly, he rejects my premise:
Also, even if we're only looking at the optics here, I've seen the demo images of how the app functions. You wave your phone at the scanner and if you have a valid passport, a green check mark pops up and you're allowed in. If not, a big red "X" appears and you are informed that you need to move along. I don't know about you, but that certainly sounds like you're being "denied access" to me.
Well, sure. But I don't argue that those without a valid Excelsior Pass won't be denied access to various venues but rather that they're already being denied access. The state has restrictions on how many people can go into various public venues in order to allow sufficient space for social distancing. This system will give venue operators who wish to use it an escape hatch that allows them to return to normal capacity so long as the people can demonstrate that they're at low risk for spreading COVID.
Next, he argues that I understate the number of people who may never get the shot:
The website that James is citing in saying that only people who have a history of severe allergic reactions are suggested not to get the shot is from Yale University. And it's true that people who are subject to anaphylactic shock, particularly those with shellfish allergies, are being steered away. But when you check in with the CDC, that's not the end of the list. People with autoimmune conditions and compromised immune systems are being told that there is no data from the trials to indicate that the vaccine won't have a negative impact and they should consult their doctors before proceeding. The same goes for people with a history of serious respiratory ailments. If they consult their doctor and are told that there's a chance this could go badly, do you think they're going to whistle a merry tune on their way down to get a jab? That list is adding up to a lot of people already. What about them?
That's a fair point. In my view, this is yet another case of the CDC being too cautious. They talk out of both sides of their mouth in these warnings, simultaneously stating that there's no reason to think that any of those groups shouldn't get those shots but that, out of an abundance of caution, they should seek out advice from people who almost certainly know less about the issue than the CDC. But, regardless, Jazz is right that this ass-covering refusal to provide clear advice might well scare a lot of folks away.
My "What about them?" response remains the same, though: they're at increased risk to themselves and others and should act accordingly. Hopefully, enough people can get the vaccine to achieve herd immunity and allow those who can't get the vaccine to return to normalcy. Until then, though, I don't think these people should be allowed to put everyone else at risk.
There, I think, is our most fundamental agreement. While Jazz agrees with me in principle that those who refuse to get the vaccine should have to live with the consequences, he doesn't think the government should be restricting their freedom in this manner to begin with.
If the government manages to jam through a program like this and make it permanent, there will be consequences for those who are considered safe to receive the vaccine and choose not to do so. But in a scenario where the consequences under discussion come in the form of government actions against citizens, there's another layer to that onion. The government can only [exert] that type of power over you if we collectively allow them to do so. Your recourse at that point comes at the ballot box. And if this game runs the course that I'm expecting it to, you'll want to keep that very much in mind.
Jazz and I share a libertarian bent. We both see liberty as the reasonable default position and are skeptical of government taking away liberties. But it's a fundamental principle of libertarian thought that a person's right to swing their fist ends at another man's nose. Or, as John Stuart Mill put it in On Liberty,
[E]very one who receives the protection of society owes a return for the benefit, and the fact of living in society renders it indispensable that each should be bound to observe a certain line of conduct towards the rest. This conduct consists, first, in not injuring the interests of one another; or rather certain interests which, either by express legal provision or by tacit understanding, ought to be considered as rights; and secondly, in each person's bearing his share (to be fixed on some equitable principle) of the labours and sacrifices incurred for defending the society or its members from injury and molestation. These conditions society is justified in enforcing, at all costs to those who endeavour to withhold fulfilment. Nor is this all that society may do. The acts of an individual may be hurtful to others, or wanting in due consideration for their welfare, without going the length of violating any of their constituted rights. The offender may then be justly punished by opinion though not by law. As soon as any part of a person's conduct affects prejudicially the interests of others, society has jurisdiction over it, and the question whether the general welfare will or will not be promoted by interfering with it, becomes open to discussion. But there is no room for entertaining any such question when a person's conduct affects the interests of no persons besides himself, or needs not affect them unless they like (all the persons concerned being of full age, and the ordinary amount of understanding). In all such cases there should be perfect freedom, legal and social, to do the action and stand the consequences.
This is what I meant by "negative externalities" in my previous post. People refusing to get vaccines put others at risk. Further, they make it necessary for others, including those vaccinated, to continue wearing masks, maintaining social distancing, and all the rest.
I don't love any of this. While Virginia was pretty early in adopting statewide shutdowns, it has been less draconian than California, New York, and others in restrictions after the first few weeks of "flattening the curve." There are still significant restrictions on restaurants and the like. More frustratingly, the schools are just now opening for in-person instruction and only in half-measures; that's ostensibly changing in the fall.
But, like it or not, most of us live in a low-trust society. Few live in a "Mayberry," where everyone knows one another and is naturally going to look out for each other by doing the right thing. Most people we encounter are strangers and there's little incentive save intrinsic decency to look out for their well-being.
That leaves us with three choices: 1) we simply accept the risk that comes with that reality and let the virus run its course; 2) accept government intervention in the form of continued restrictions until herd immunity happens on its own; or 3) accept government interventions in the form of vaccine passports, which not only frees people up to return to normal faster but also acts as a nudge to faster vaccination and, hopefully, herd immunity.
A lot of Hot Air readers, although I suspect not Jazz, would prefer option 1. It maximizes freedom in the libertarian, negative sense: people are free to do what they want without coercion from the state. My problem with that is that it negates the very reason for creating states in the first place. We have seen what happens when there are no restrictions: the worst among us will act with reckless disregard for their fellow man, with the rest either forced to segregate themselves even more than is the case with option 2 or accept a significantly-increased risk of death.
Option 2 is arguably the most "fair," especially in a world where not everyone who wants a vaccine can get one or, indeed, are recommended not to do so because of prior medical conditions.** That's a legitimate concern and it's more problematic still when it's the government both imposing the restrictions on normalcy and dictating who is at the front of the line. In my judgment, though, that's outweighed by the economic benefits of accelerating opening and the aforementioned nudge factor.
____________________________
*It occurs to me that a more plausible analogy that Jazz might have deployed instead is requiring a photo ID to vote. That's much closer to the Excelsior Pass than his starvation example. Like a passport, an ID card is a government-issued means of proving you are who you say you are. And, in both the cases of travel and voting, they're fundamental human rights that are being withheld absent compliance with the requirements to obtain the necessary documents. And it has the benefit for his side of the debate that I'm on the record as being opposed, which would be useful except that he's in favor of it! While I reflexively agree with him that it's not all that hard to obtain a photo ID, having carried one since I was 10, I'm mildly opposed to requiring a photo ID for voting because we know that it disproportionately harms disadvantaged populations, making it more difficult for them to vote (a more fundamental right than going to a restaurant or wedding reception) with very little public benefit (the evidence for the type of voting fraud that would be stopped with a photo ID is next to nonexistent).
**While there is no Excelsior Pass equivalent in Virginia yet, I'll soon be eligible. I'm scheduled to get my second shot tomorrow and will therefore be "fully vaccinated" two weeks later. Alas, that will do me little good until my wife gets her shots and we have no projection yet as to when that will be.