Incentivizing COVID Vaccination
Israel is taking an aggressive approach to inoculation.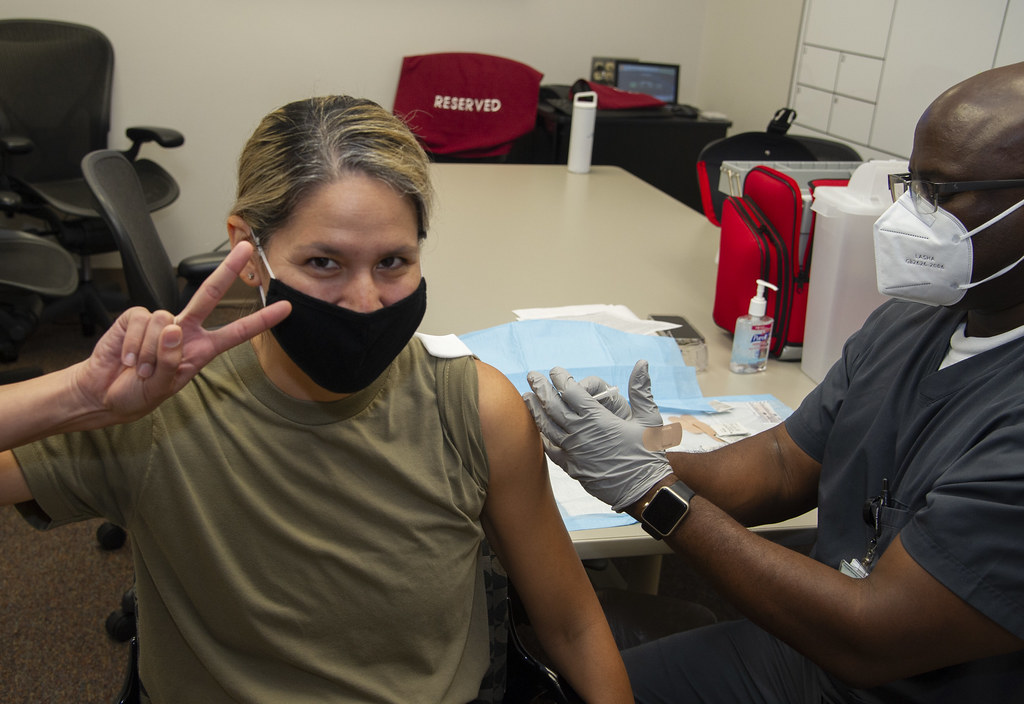 A few days ago, I wondered, "Is CDC Being Too Cautious?" by underplaying the degree to those who get fully vaccinated against COVID-19 could return to a normal existence. While I fully understand that the vaccine is to some degree still experimental and that there are risks associated with the known unknowns, there is also risk in vulnerable populations deciding there's no point in getting vaccinated.
Since then, CDC has issued new guidelines that, while maybe not going as far as I'd like, are far bolder than those being floated when I wrote the post. Notably, they are giving fully vaccinated (i.e., one dose of Johnson & Johnson's or both doses of Moderna's or Pfizer's plus two weeks) grandparents permission to socialize with their unvaccinated children and grandchildren. While perhaps risky, I think that's the right course as it will almost certainly motivate older folks who are among the most vulnerable to the disease to get vaccinated.
Dropping my kids off for their first day of in-person classes in over a year this morning, I listened to part of the Daily's "Life After the Vaccine in Israel" episode. They have been aggressive in the extreme, having started vaccinating their population in mid-December and have already fully inoculated nearly half their citizens. Aside from bold leadership from Prime Minister Netanyahu, who got his shots on live television along with his health minister on December 19th, they're taking an incredibly proactive approach to reach out to people to schedule appointments. But, perhaps more importantly, there's a huge carrot: the Green Pass.
Well, so the idea is that as the economy reopens, in order to keep the environment safe, certain places are only going to be open now to people that have the green pass. And this includes gyms, swimming pools, cultural events. So theaters that have begun to reopen, wedding halls and concerts, of course. So when you phone to book at a restaurant now, they ask you, do you have a green passport? Are you vaccinated?

[…]

The way the health minister put it in his kind of carrot-and-stick campaign for people to get vaccinated and get the green pass, he basically said, if you don't have it, you're just going to be left behind.

As we've been this test case all along, we're now becoming a test case for what life is like with the green passport. And in fact, we're beginning to see legal and other problems rising up that people really hadn't planned for.
Obviously, this raises some equity issues:
Well, as if this society is already divided enough, we now have this new divide of the vaccinated and the unvaccinated. So it's like this new two-tier class system. And this is raising a lot of legal and moral issues. If we take a look at some of the legal issues, to begin with, getting vaccinated is voluntary. And there are some people who, for whatever reason, have decided, at this stage, not to get vaccinated.

But then it raises all these questions, can their employers say, well, you can't come into the office then? You get legal issues like the health ministry wanting to pass lists of unvaccinated people to the local authorities, they say, just so that the authorities can then chase them up and try and persuade them, or at least know, for example, which of the teaching staff are not vaccinated when they start going back to in-person schooling, which is happening now. And that's already gone to the Supreme Court because citizens rights groups are saying this is an invasion of privacy. So all these things are really just playing out now in this big real-world experiment that we're living in.
A voluntary program where failing to volunteer excludes one from eligibility for employment or participation in many facets of life is, arguably, not really voluntary but rather coercive. And that's especially problematic given that the long-term risks of the vaccination are known unknowns. But considering that the catastrophic consequences of being unvaccinated against this deadly virus are known knowns, the risk-reward calculus isn't really that hard. And the negative externalities of one person's refusal to take the lesser risk are enough for me to be rather unsympathetic to their voluntary exclusion from normal life.