Biden's Vaccination Speech
The President hit all the right notes.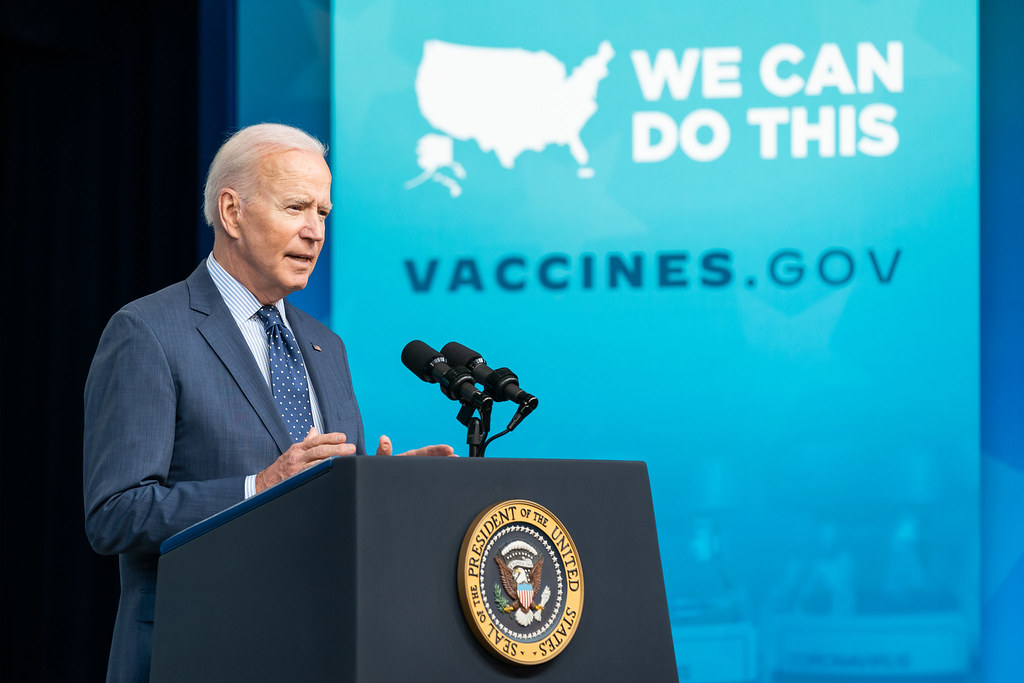 Late yesterday afternoon, a masked President Joe Biden explained the urgency of getting the minority of eligible Americans who aren't vaccinated against COVID-19 to do so. The entire speech ("Remarks by President Biden Laying Out the Next Steps in Our Effort to Get More Americans Vaccinated and Combat the Spread of the Delta Variant") transcript is available at the White House website.
It's a bit too cautious for my tastes but for reasons I mostly understand. But he does an outstanding job of laying out the case and, with some mild exceptions, of trying to undo the politicization of these issues catalyzed by his predecessor and his enablers.
Some highlights:
Maybe the best way to start is: In a significant part of the country, you wouldn't have to take one of these [a mask] off, you don't have to put one on — like in my home state of Delaware, where I lived in New Castle County, where I was yesterday in Pennsylvania — because people got vaccinated. They got vaccinated. They don't need a mask when the majority — the vast majority of people got vaccinated.
That's a point he continued to hammer home throughout the speech.
After months and months of cases going down, we're seeing a spike in COVID cases. They're going up. Why? Because of this new form, this new variant called the "Delta variant."

This is a much different variant than the one we dealt with previously. It's highly transmissible, and it's causing a new wave of cases in those who are not vaccinated.

Our experts tell me that cases will go up further before they start to come back down. But while cases are on the rise, they're not — we're not likely to see, according to experts, a comparable rise in hospitalizations or deaths in most areas of the country.

So, you have to ask yourself: Why is that? Because 164 million Americans are fully vaccinated, including 80 percent of those most vulnerable — our seniors.
and
And I hope all Americans who live in areas with substantial or high case rates will follow the mask guidance that's being laid down by the CDC.  I certainly will.  And I have — because this is one of those areas, in Washington. 
Again, an incredibly stark contrast with his predecessor: He's leading by example even though, by all rights, he could declare the White House—which is incredibly monitored and where I would bet just about everyone going in and out is not only vaccinated but tested for the virus—a safe zone.
He addresses the hesitant with necessary if undo respect:
As I've said from the beginning, a mask is not a political statement; it's about protecting yourself and protecting others.  Masking is one defense against the spread of COVID-19.

But make no mistake: Vaccines are the best defense against you getting severely ill from COVID-19 — the very best defense.

And you want to know how we put this virus behind us?   Well, I'll tell you how: We need to get more people vaccinated.

Look, and it's important to understand what vaccines do and what they don't do.  Put simply, the vaccines are designed to save lives and prevent severe illness.  They're highly effective at both. 

A hundred and ninety million Americans have had at least one shot.  Of that group, about 90 percent are done now, and 10 percent are waiting for the second shot. 

To those folks who have one shot but not the second: Go get the second shot.  Even if you're overdue for the second shot, it is not too late.  Go get the second shot now.  Now. 

The bottom line is: If you're fully vaccinated, you're highly protected from COVID-19.  But I also know that many of you who are vaccinated are concerned about what's called "breakthrough cases."  Yes, some fully vaccinated people will still test positive, and some will show some symptoms of COVID-19.  That's expected with almost every vaccine there is for other diseases. 

But breakthrough cases remain rare and almost all are mild cases.  In fact, virtually all hospitalizations and deaths are among the unvaccinated. 
I honestly don't know why that would persuade those who haven't figured it out by now. Certainly, it's unlikely to win over the Trump dead-enders. But it's a reasonable, compassionate message.
He continues:
Folks, the truth is, as more people get vaccinated, we are better protected as a nation to continue reopening safely and responsibly. 

But we are not fully out of the woods yet, because what is happening in America right now is a pandemic — a pandemic of the unvaccinated.  Let me say that again: It's a pandemic of the unvaccinated. 

There are about 90 million Americans who are eligible to get the shot but haven't gotten it yet.  As I just mentioned, nearly all of the cases, hospitalizations, and deaths due to COVID-19 today are from unvaccinated people. 

Last month, a study showed that over 99 percent of COVID-19 deaths had been among the unvaccinated — 99 percent.  This is an American tragedy.  People are dying and will die who don't have to die.  If you're out there unvaccinated, you don't have to die. 

Read the news and you'll see stories about unvaccinated patients in hospitals.  As they're lying in bed, dying from COVID-19, they're asking, "Doc, can I get the vaccine?"  And the doctors have to say, "Sorry, it's too late."

Right now, too many people are dying or watching someone they love dying and saying, "If I just got vaccinated, if I just…"  It's heartbreaking.  And it's complicated even more because it's preventable. 
That message—and the continued anecdotal evidence that it's happening over and over—is what I suspect will have the most impact in persuading people. This—even with its clever nod to Ben Parker—is unlikely to help much even though it's spot on:
I know some of you are — who are unvaccinated think, "The development of vaccine was rushed, therefore I'm not going to take a chance.  As a result, I think it's not safe because it was rushed."  I understand. 

But let me explain.  Our top scientists at the National Institute of Health — the NIH — and across the country got to work applying decades of research — decades of research — let me repeat that: decades — that have already been done — the research — to develop the COVID-19 vaccine when it hit.

In the last six months, more than 325 million doses of the vaccine have been administered in the United States and billions of doses administered around the world.  The vaccine was developed and authorized under a Republican administration, and has been distributed and administered under a Democratic administration. 

The vaccines are safe, highly effective.  There's nothing political about them.  Look at all the people who took a shot at it.  They later — we learned a lot of them have already been vaccinated.

From the start, I have to compliment Republican Senate Minority Leader Mitch McConnell.  He hadn't made it political.  He's encouraged people to get vaccinated and is continuing to do so, and his state is in pretty good shape. 

Alabama Republican Governor Kay Ivey recently spoke out to encourage vaccination.

And even the commentators on Fox who have been belittling this for a long time — some haven't, but many have — are arguing, "Get vaccinated." 

Look, this is not about red states and blue states.  It's literally about life and death.  It's about life and death.  That's what it's about. 

You know — and I know people talk about freedom.  But I learned, growing up at school and from my parents, with freedom comes responsibility.  Your decision to be unvaccinated impacts someone else. 

Unvaccinated people spread the virus.  They get sick and fill up our hospitals.  And that means if someone else has a heart attack or breaks a hip, there may not be a hospital bed for them.

If you're unvaccinated, you put your doctor and nurses at risk — the same frontline, essential workers who put their lives on the line over the past year and have gone through hell. 

Again, with freedom comes responsibility.  So, please, exercise responsible judgement.  Get vaccinated — for yourself, for the people you love, for your country.
But Biden is bringing more to the table than the Bully Pulpit. He's got policy, too.
First, we're going to provide more incentives to encourage unvaccinated Americans to get vaccinated.  That starts with paid leave to get the shot.  We're still hearing that people are unable to get time off from their employer to get vaccinated.   Well, this is unacceptable.

For some time now, I've said you should be able to get the shot and still get paid.  Thanks to the American Rescue Plan, the federal government is fully reimbursing any small- or medium-sized business that provides workers with paid time off to get vaccinated.

Employers, this costs you nothing.  If you haven't given employees paid time off, do it now, please. 

Today, I'm announcing that we're taking this a step further.   The federal government will now reimburse those employers to give their staffs — who give their staffs time off not only to get themselves vaccinated, but also to get their family members vaccinated.

That means employers can get reimbursed if they give parents time off — with paid time, paid leave — to take their kids or their own parents to get vaccinated.  So, I'm calling on all employees [employers] across the country to give paid time off to get the shot or to help a family member do so.  I promise you: It will cost you, the employer, nothing.  You'll be reimbursed.
Honestly, while this should be unnecessary, we should have done this sooner. It's really a low-cost solution to a small but widespread barrier.
Secondly, I'm announcing that we'll continue the work — to work with states to encourage unvaccinated people to get vaccinated.  In February, the grocery store chain Kroger's offered $100 to their associates if they'd get vaccinated.  And it worked.  Vaccination rates moved up from 50 cent [sic] — 50 percent to 75 percent among their employees. 

States like New Mexico, Ohio, and Colorado are offering similar incentive programs that have helped increase vaccination rates. 

So, today, I'm calling on all states and local governments to use funding they have received, including from the American Rescue Plan, to give $100 to anyone who gets fully vaccinated.  

I know that paying people to get vaccinated might sound unfair to folks who've gotten vaccinated already, but here's the deal: If incentives help us beat this virus, I believe we should use them.  We all benefit if we can get more people vaccinated. 
I find this annoying as hell—the virtuous once again rewarding the assholes—but it's a small price to pay.
This is more tepid than I would prefer:
But in addition to providing incentives to encourage vaccination, it's time to impose requirements on key groups to make sure they're vaccinated.  (Clears throat.)  Excuse me.

Just this week, we took an important step to protect our veterans.  Like many civilian hospital systems are doing, the Department of Veterans Affairs will now require COVID-19 vaccines for doctors and nurses and other healthcare workers who provide medical care for our veterans.

We must do everything possible to protect our veterans from getting COVID when they come to get medical care they so richly earned serving their country.  We owe them.

Next, since many vaccinations are required for active duty military today, I'm asking the Defense Department to look into how and when they will add COVID-19 to the list of vaccinations our armed forces must get. 

Our men and women in uniform who protect this country from grave threats should be protected as much as possible from getting COVID-19.  

I think this is particularly important because our troops serve in places throughout the world, many where vaccination rates are low and disease is prevalent.

Next, every federal government employee will be asked to attest to their vaccination status.  Anyone who does not attest or is not vaccinated will be required to mask no matter where they work; test one or two times a week to see if they have a — they have acquired COVID; socially distance; and generally will not be allowed to travel for work.

Likewise, today, I'm directing my administration to take steps to apply similar standards to all federal contractors.  If you want to do business with the federal government, get your workers vaccinated.
Even presuming the Trump team did nothing, Biden has had six months in office and access to a massive team of world-class lawyers. The legal obstacles should have been figured out by now.
Regardless, he's using the Bully Pulpit to encourage others to follow suit more aggressively:
Look at the Chamber of Commerce representing tens of thousands of American businesses. The National Association of Manufacturers. The Business Roundtable, which is comprised of the largest and biggest corporations in America. They're all applauding the actions the federal government is taking, and I urge them to follow suit.

I also commend the National Football League that has announced that if there are outbreaks among unvaccinated players and personnel, then the team risks forfeiting games. I urge other sport leagues at every level to take every step they can.

Every day, more businesses are implementing their own vaccine mandates. And the Justice Department has made it clear that it is legal to require COVID-19 vaccines.
I would prefer he go even further and establish a national vaccine passport. I know there would be major political pushback but the man's 78 years old and facing down a deadly pandemic. It seems worth the risk.
After several paragraphs touting his "American Rescue Plan," he gets back on message and delivers a closing worthy of Ronald Reagan:
As I told you before, I carry a card in my pocket — I hope I have it with me — I have — carry a card in my pocket with the number of Americans dead from COVID-19.  As of today — this morning — the total deaths in the United States were 609,441.  Granted, the death rate per day is way down; it's down to 400, about, dead. 

But that's more deaths than World War One, World War Two, Vietnam, 9/11, Iraq, and Afghanistan wars combined.  This is as tough as it gets. 

We're Americans.  When we get knocked down, we get back up.  That's who we are.  That's what we do.  That's why there's no nation on Earth like us.

And we're prepared like never before.  We have the tools to save lives, to keep our economy growing and growing and going.

After the past six months, following the science, we know we can dramatically lower the cases in this country.  We can do this.  We brought our economy back to life, and we kept it going.  We know we can send our kids back to school.  We know we can beat this virus.  We can do this.  We all just have to do our part. 

My fellow Americans, this nation has never failed when we have come together as the United States of America.  So I say to all those who are unvaccinated: Please — please get vaccinated. 

And to the rest of America: This is no time to be despondent or let our guard — our guard down.  We just need to finish the job with science, with facts, with the truth.  And together, as Americans, we're going to be able to beat this.

May God bless you all.  May God protect our troops.  Thank you.
I don't know how much of this message will get out. The speech was delivered during evening drive time for the East Coast and I have no idea what the nightly newscasts—much less Fox News and others that have spread disinformation on this issue for so long—did with it. But the combination of emotional appeal and new policy, while not going as far as I'd like, is a big step in the right direction.