Biden Orders Feds, Firms to Vaccinate
The President has lost his patience with the unvaccinated.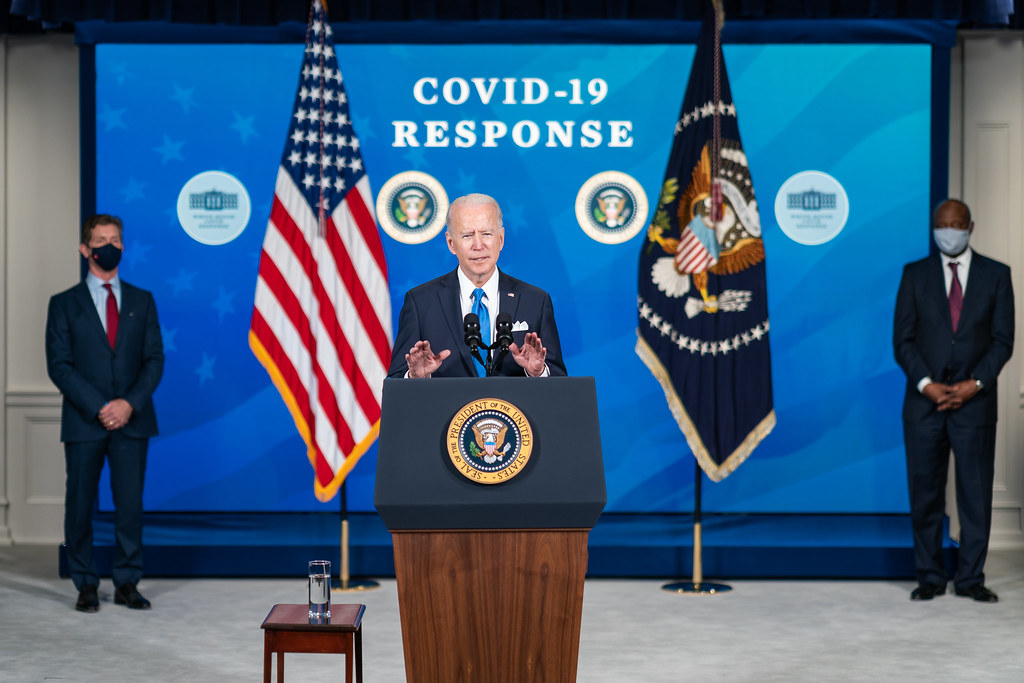 As anticipated, President Biden announced late yesterday afternoon that he was tightening the COVID vaccine mandate for Federal employees, removing the option to opt-out and get regularly tested instead, in light of the Pfizer dose becoming fully approved. Surprisingly, he also ordered companies that employ more than 100 people to do the same.
WaPo ("Biden announces sweeping new vaccine mandates for businesses, federal workers"):
President Biden announced sweeping new coronavirus vaccine mandates Thursday designed to affect tens of millions of Americans, ordering all businesses with more than 100 employees to require their workers to be immunized or face weekly testing.

Biden also said that he would require most health-care facilities that accept Medicare or Medicaid funding to vaccinate their employees, which the White House believes will cover 50,000 locations.

And the president signed an executive order compelling all federal employees to get vaccinated — without an option for those who prefer to be regularly tested instead — in an effort to create a model he hopes state governments will embrace. He is also ordering all staffers in Head Start programs, along with Defense Department and federally operated schools for Native Americans, to be vaccinated.
My understanding is that civilians will merely be required to sign documents attesting that they're vaccinated, not require actual proof of vaccination. So, one imagines that a lot of folks will simply lie. (All of the civilian professors at my college got vaccinated, mostly via the Navy health system, back in March.)
"We're in a tough stretch, and it could last for a while," Biden said in an address from the White House. He added, "What makes it incredibly more frustrating is we have the tools to combat covid-19, and a distinct minority of Americans, supported by a distinct minority of elected officials, are keeping us from turning the corner."

Taken together, the moves represent a major escalation by Biden of the pressure against those who have resisted vaccination. The announcement comes amid growing signs that the highly contagious delta variant, and the persistence of vaccine resistance, are combining to drag out the pandemic, slow the economic recovery and prevent Biden from turning his focus to other matters.

Biden adopted a newly antagonistic tone toward the unvaccinated Thursday, underlining his shift from cajoling to coercion as he placed blame on those still refusing to get shots for harming other Americans. "We've been patient, but our patience is wearing thin," Biden said. "And your refusal has cost all of us."
I've been saying the same thing for months. Then again, I'm not the President. Hectoring the citizenry is not the right pose for the leader of a democracy. And, while his core elite supporters will doubtless cheer this as castigating the evil Trumpers, the Black constituency that was so crucial to his nomination and election is also incredibly vaccine-hesitant.*
Not surprisingly, the Fox News crowd and Republican politicians are seizing on the opportunity for outrage. The Washington Examiner ("RNC to sue Biden administration over vaccine mandates"):
The Republican National Committee plans to sue the federal government over President Joe Biden's newly announced vaccine mandates for federal employees and millions of private-sector workers.

"Joe Biden told Americans when he was elected that he would not impose vaccine mandates. He lied," RNC Chairwoman Ronna McDaniel said in a statement Thursday evening.

"Now small businesses, workers, and families across the country will pay the price. Like many Americans, I am pro-vaccine and anti-mandate," McDaniel said. "Many small businesses and workers do not have the money or legal resources to fight Biden's unconstitutional actions and authoritarian decrees, but when his decree goes into effect, the RNC will sue the administration to protect Americans and their liberties."
I wouldn't think the RNC would have standing to sue but, then again, the rules for standing seem to be in flux right now.
Reason's Robbie Soave ("Until Today, Joe Biden, Jen Psaki, and Rochelle Walensky Were All Publicly Opposed to Federal COVID Vaccine Mandates") is not happy, either:
Right up until the moment that he declared all large private employers in the country would be forced to require COVID-19 vaccinations, President Joe Biden consistently opposed COVID vaccine mandates. And he was not alone: Speaking in her capacity as an official White House spokesperson, Press Secretary Jen Psaki explicitly stated "that's not the role of the federal government."

Rochelle Walensky, director of the Centers for Disease Control and Prevention (CDC), also said there would be no mandate.

On December 4, 2020, Biden said the vaccine would not be imposed by mandate. "No, I don't think it should be mandatory," he said. "I wouldn't demand it be mandatory."

Psaki's comments came even more recently, on July 23, 2021. "That's not the role of the federal government," she said when asked about such mandates. "That's the role that institutions, private-sector entities, and others, may take."

A week later, on July 31, Walensky corrected a comment she had made that some interpreted as being supportive of a federal mandate. "There will be no nationwide mandate," she said. "I was referring to mandates by private institutions and portions of the federal government. There will be no federal mandate."
I would submit that two things have changed. First, the FDA gave formal approval to the Pfizer dose on August 15; until then, it was only authorized for emergency use. It would have been illegal to the Federal government to order vaccination until then. Second, the grim reality of nearly half of the vaccine-eligible population refusing to get the shots and the Delta wave have created a new emergency.
In my July 31 post "Vaccine Mandates are Popular and (Often) Legal," business owners and state governors have much more clear authority to order vaccinations than does the Federal government. While there are World War I/Spanish Flu era Supreme Court decisions allowing mandatory vaccinations in exigent circumstances, recent cases seem to vastly limit Federal authority.
Philosophically, I don't really get the stance of Soave and other hard-core libertarians on this issue. I'm more skeptical of government regulation and more bullish on individual freedom than most. But even most classical libertarians acknowledged that rights had limits and that the proper starting point for regulation is when one's actions impose costs on others. This is captured by the dictum that "Your right to swing your arms ends just where the other man's nose begins." Or, in economic terms, when it imposes negative externalities.
People have different reasons for not getting vaccinated. A lot of rural and/or Republican citizens have been conditioned by political and opinion leaders to fear the vaccine and/or be skeptical of the seriousness of the pandemic. Large swaths of the Black community distrust, for good historical reasons, the government and the healthcare system. Others think the risks of the vaccine, which they still believe to be "experimental," outweigh the risks of the disease. That's especially true if they've already survived a bout with COVID, are very young, or are pregnant or planning to get pregnant.
While these people frustrate me, I don't think it does much good to hector them and blame them for the resurgence of the pandemic. (It's likely true; but calling them names simply makes them dig their heels in more deeply.) At the same time, though, their refusal to get vaccinated imposes real costs on the rest of us—including my 10-year-old, who isn't eligible for any of the vaccines. So, I have no issue with excluding them from public life.
I am, however, more dubious of requiring them to be vaccinated as a condition of employment with a large firm. Especially in an era when so many are working remotely.
In summation, then, I applaud Biden for taking such a bold stand and think, except at the margins, it's the right policy. I am, however, skeptical that he can make all of it stick.
______________________
*UPDATE: Matt Bernius informs me in the comments that this is much less true than it was a couple of months back. The latest polling I'm finding doesn't factor in race but vaccine hesitancy is far from a static phenomenon and is in fact rapidly decreasing as the Delta wave comes through.
Lingering vaccine hesitancy — defined as people who say they definitely or probably will not get the coronavirus vaccine (as noted, 17% overall) — is especially high among rural residents (36%), very conservative people (36%), Republicans (30%), conservatives overall (30%), evangelical white Protestants (28%) and those with no more than a high school diploma (26%).

Attitudinally, hesitancy peaks among those who lack confidence in the vaccines' safety (57%) and effectiveness (52%). It's 33% among those who think they have no risk of getting sick from the coronavirus and essentially the same (32%) among those who see getting vaccinated as personal choice rather than a broader responsibility.

By contrast, hesitancy is lowest among those with a post-graduate degree (6%), liberals (6%), Democrats (4%), those who've been encouraged to get vaccinated by people close to them (4%), those with confidence in the vaccines' effectiveness (4%) or safety (2%) and those who see getting vaccinated as a broader responsibility (1%).
The survey Matt points to tells us,
As of this week, 75% of the adult population in the United States have received at least one dose of a COVID-19 vaccine. While this progress represents a marked achievement in vaccinations that has led to steep declines in COVID-19 cases and deaths, vaccination coverage—and the protections provided by it—remains uneven across the country. With the continued spread of the more transmissible Delta variant, cases, hospitalizations, and deaths are rising, largely among unvaccinated people. While as of late July 2021, White adults accounted for the largest share (57%) of unvaccinated adults, Black and Hispanic people remain less likely than their White counterparts to have received a vaccine, leaving them at increased risk, particularly as the variant spreads.

[…]

As of September 8, 2021, CDC reported that race/ethnicity was known for 59% of people who had received at least one dose of the vaccine. Among this group, nearly two thirds were White (60%), 10% were Black, 17% were Hispanic, 6% were Asian, 1% were American Indian or Alaska Native, and <1% were Native Hawaiian or Other Pacific Islander, while 5% reported multiple or other race. However, CDC data also show that recent vaccinations are reaching larger shares of Hispanic, Asian, and Black populations compared to overall vaccinations. Among vaccines administered in the past 14 days, 26% have gone to Hispanic people, 15% to Black people, and 4% to Asian people (Figure 1). These recent patterns suggest a narrowing of racial gaps in vaccinations at the national level, particularly for Hispanic and Black people, who account for a larger share of recent vaccinations compared to their share of the total population (26% vs. 17% and 15% vs. 12%, respectively). While these data provide helpful insights at a national level, to date, CDC is not publicly reporting state-level data on the racial/ethnic composition of people vaccinated.
So, while Blacks are still less likely to be vaccinated than Whites, the recent trends are in the other direction and, of course, there are reasons aside from hesitancy that explain the initial variation.