Vaccine Mandates are Popular and (Often) Legal
Despite a rising groundswell of support, the obvious solution to our crisis has not been implemented.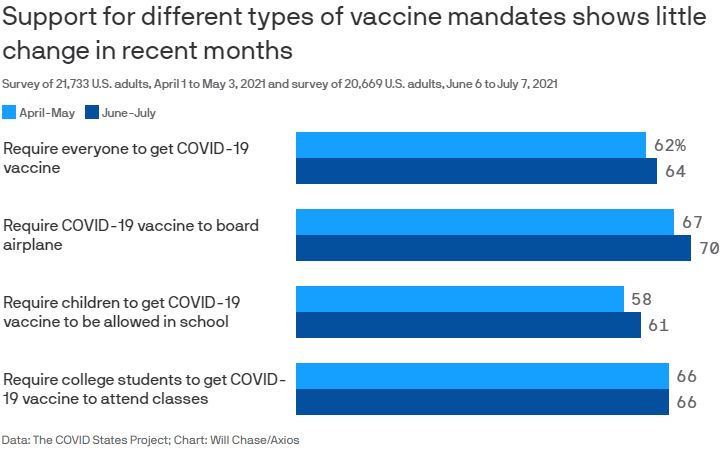 WaPo's Ruth Marcus has had it up to here with jerks endangering the public health and impinging on her lifestyle and declares, "Require the vaccine. It's time to stop coddling the reckless."
Those of us who have behaved responsibly — wearing masks and, since the vaccines became available, getting our shots — cannot be held hostage by those who can't be bothered to do the same, or who are too deluded by misinformation to understand what is so clearly in their own interest.

The more inconvenient we make life for the unvaccinated, the better our own lives will be. More important, the fewer who will needlessly die.

[…]

It's reasonable, it's fair, and it's legal to step up the pressure on the reckless noncompliant. By reckless, I mean to exclude some people: If you have a medical condition that counsels against vaccination, you are excused.

If you have a good-faith religious objection, same — although I have a hard time imagining what that might be beyond adherents of Christian Science, or what religion does not advocate some version of the Golden Rule. Yes, some fetal cell lines were used in the development or testing of the vaccines, but the Vatican has declared that it is "morally acceptable" to take the vaccines, and that reasoning seems solid.
Marcus isn't alone here. Axios' Caitlin Owens notes that "Vaccine mandates are popular."
Nearly two-thirds of Americans say they'd support federal, state or local governments requiring everyone to get a coronavirus vaccine, according to a new survey conducted by The COVID States Project.

[…]

4% of respondents said in June or July that they'd support government vaccine requirements, a slight bump up from the 62% who said the same in April or May.

70% said they'd support vaccine requirements to get on an airplane; 61% support requiring children to be vaccinated to go to school; and 66% support requiring college students to be vaccinated to attend a university.

A majority of every demographic subgroup except Republicans said they'd support vaccine requirements. Only 45% of Republicans said they approve of such mandates.

A majority of respondents in all but three states — Wyoming, North Dakota and South Dakota — said they support requirements that everyone be vaccinated.
The size and distribution of the support is rather surprising to me. I'm not shocked that a majority of Americans support requiring vaccination, given that a majority of Americans are themselves vaccinated and those who are unvaccinated impose significant negative externalities on us and our too-young-to-vaccinate children. But I would have expected resistance to be the norm in quite a few states in the Deep South.
Anticipating objections that the government has no right to impinge the freedom of citizens in this way, Marcus counters,
Federal judges have already rejected challenges to vaccine mandates by hospitals and public universities. The Equal Employment Opportunity Commission has made it clear that federal anti-discrimination laws don't prevent private employers from requiring proof of vaccination. The Justice Department's Office of Legal Counsel concluded that federal law "does not prohibit public or private entities from imposing vaccination requirements" for vaccines even at the emergency-use stage.

A century ago, balancing the tension between individual liberties and public safety, the Supreme Court upheld the ability of state and local governments to enforce mandatory vaccination laws. "In every well-ordered society charged with the duty of conserving the safety of its members," wrote Justice John Marshall Harlan, "the rights of the individual … may at times, under the pressure of great dangers, be subjected to such restraint, to be enforced by reasonable regulations, as the safety of the general public may demand."

Then the great danger was a smallpox epidemic. Today it is a global covid-19 pandemic. The "safety of the general public" demands a "reasonable" response today, just as it did in 1905.
Vox's Ian Millhiser expounds on this question at length, arguing "Yes, Covid-19 vaccine mandates are legal." He opens with the aforementioned SCOTUS case, Jacobson v. Massachusetts, and then moves on to the current spate of employers and schools mandating vaccination as a condition of working or attending classes in person. His analysis is less emphatic than his headline:
These sorts of mandates will undoubtedly trigger lawsuits from vaccine resisters. In some cases, individuals with religious objections to vaccines or people with disabilities that preclude them from being vaccinated will have strong legal claims — much like schoolchildren who can already seek exemptions from schools' vaccination requirements if they have religious objections.

But, assuming that the courts follow existing law — and assuming that Republican state governments do not enact new laws prohibiting employers from disciplining workers who refuse to be vaccinated — most challenges to employer-imposed vaccination requirements should fail.

Under Jacobson, moreover, states should be free to order everyone within their borders to be vaccinated against Covid-19, although it's far from clear whether the federal government could do the same.

Of course, there is no guarantee that the Roberts Court, which is eager to impose limits on public health officials and not especially bothered about overruling precedents, will follow Jacobson if a state does enact a vaccine mandate. But there is good reason to believe that it will. Even Justice Neil Gorsuch, one of the most conservative members of the current Court, recently described Jacobson as a "modest" decision that "didn't seek to depart from normal legal rules during a pandemic."

The bottom line, in other words, is that, under existing law, numerous institutions within the United States may require their employees — and, in some cases, their citizens — to be vaccinated against Covid-19.
Of course, the only way to find out whether the courts will let these mandates stand is to issue the mandates and try to enforce them.
I suspect President Biden could, by executive order, mandate vaccination for Federal employees and contractors and, especially, members of the armed forces under the precedents that allow private employers to do the same. But Milhiser thinks they probably don't have the broader authority to mandate that other citizens get the vaccine:
To be brief: Neither Congress nor President Biden can likely force citizens to be vaccinated, although the federal government can use financial carrots and sticks to encourage vaccination.

To be longer (and wonkier): In NFIB v. Sebelius (2012), the Court's first major Obamacare case, the Supreme Court imposed a novel new limit on Congress's power. Congress may not use its broad power to regulate the national economy in order to regulate "inactivity." If someone does not want to take a particular action, the federal government's ability to require them to take that action is limited.

NFIB's holding on this point, in the words of one very conservative federal judge, had no support "in either the text of the Constitution or Supreme Court precedent," but lower courts are required to follow the Supreme Court's decisions even if they are arbitrary or lawless. And NFIB has pretty clear implications for a federal vaccine mandate.

Indeed, this very issue came up during oral arguments in NFIB. Justice Stephen Breyer posed a hypothetical to Michael Carvin, one of two lawyers arguing that the Affordable Care Act is unconstitutional, about what might happen if the Court adopted his proposed legal standard. "If it turned out there was some terrible epidemic sweeping the United States," he said, would the federal government have the "power to get people inoculated?"

Carvin's response: "No, they couldn't do it."

Yet, even if the courts endorse Carvin's reading of the federal government's authority to mandate vaccines, Congress could still use financial incentives to encourage vaccination.

The simplest way to do so would be to pay people to get vaccinated or to offer a tax break to everyone who gets the vaccine. The tax code gives all sorts of benefits to taxpayers who engage in activity that Congress deems desirable — ranging from buying a home to having a child to driving an electric vehicle.

Another option is to require unvaccinated people to pay a much higher percentage of their income in federal taxes in order to incentivize them to become vaccinated. Such a policy might elicit some outrage, but it's entirely constitutional even under NFIB.

But Congress also has fairly broad authority to attach conditions to federal benefits. It could require everyone who receives health coverage through a federal program such as Medicare, Medicaid, or the Affordable Care Act to become vaccinated if they want to keep those benefits.

One group the federal government could easily impose vaccines on: immigrants. Federal law already requires foreign nationals who apply for an immigration visa or who want to become lawful permanent residents to be vaccinated against certain diseases. The government could add a Covid-19 vaccine to this list.
What's interesting, though, is that despite the obvious policy rationale for and widespread public support for mandating vaccines, it simply hasn't happened. It's bizarre, indeed, to allow a minority to literally go around killing people without taking aggressive action to stop it.