COVID, Age, and Risk Assessment
A vaccinated 75-year-old is as likely to die as an unvaccinated 53-year-old.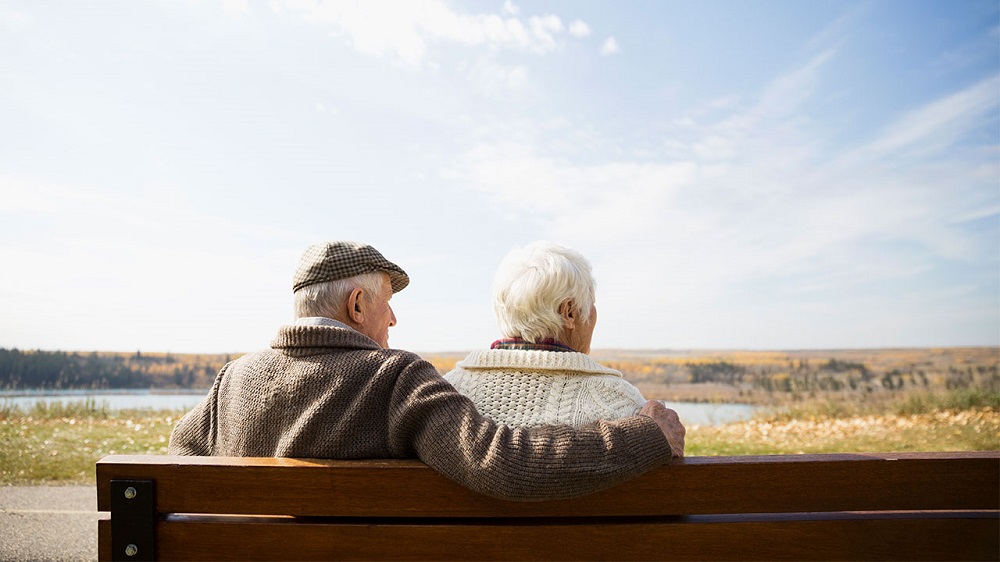 In New York's Intelligencer, David Wallace-Wells tells us that "The Public Continues to Underestimate COVID's Age Discrimination." Indeed, while I've long understood that the risk of serious complications is next to nonexistent for children and very high for the elderly, I didn't fully comprehend the extent to which this was—and remains—true. And the issue seems to be one of data visualization.
[I]n assessing an individual's risk of dying from covid, age appears still as important—and maybe even more important—than vaccination status. And while encouraging further vaccination remains by far the best tool we have in fighting the pandemic to an endgame détente, we should also be clear along the way about the continuing risks to the vaccinated elderly and what might be done to protect them.

Most people know the pandemic has hit the elderly hardest — that is the meaning of the age skew, that the disease grows much more severe the older you are. But if they have seen a chart illustrating this, it probably looks like this gentle upward slope, from the UK's NHS: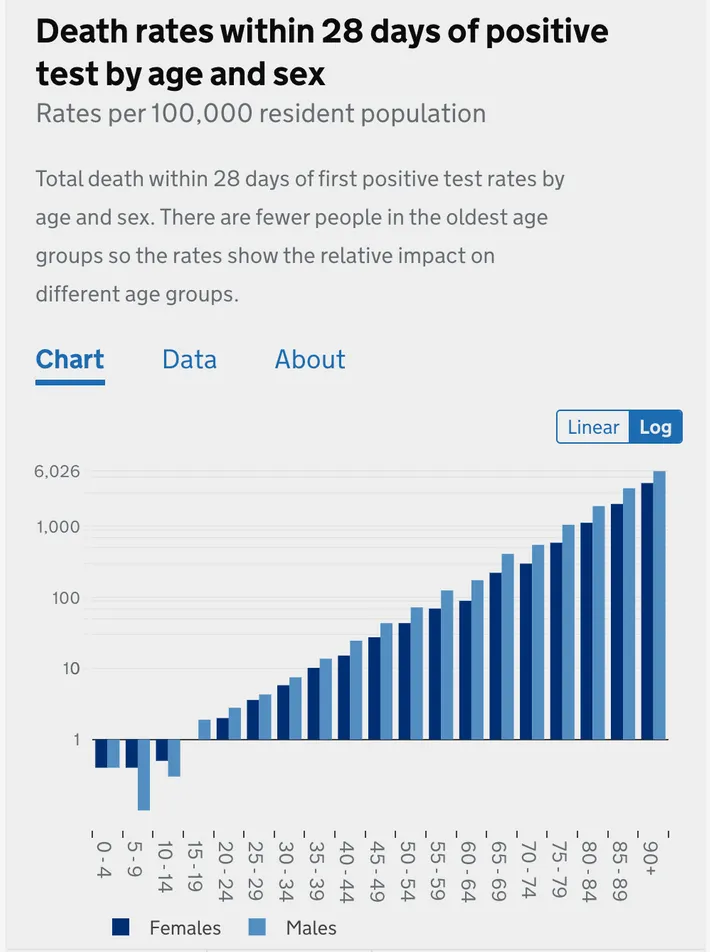 That is a logarithmic chart, which means that the y-axis scales exponentially — a change from one to ten looks to the untrained eye like a change from one to two). That means a huge variation is concealed by presenting mortality risk data in logarithmic form. A chart of the same British information presented linearly (the graphing format you remember from elementary school).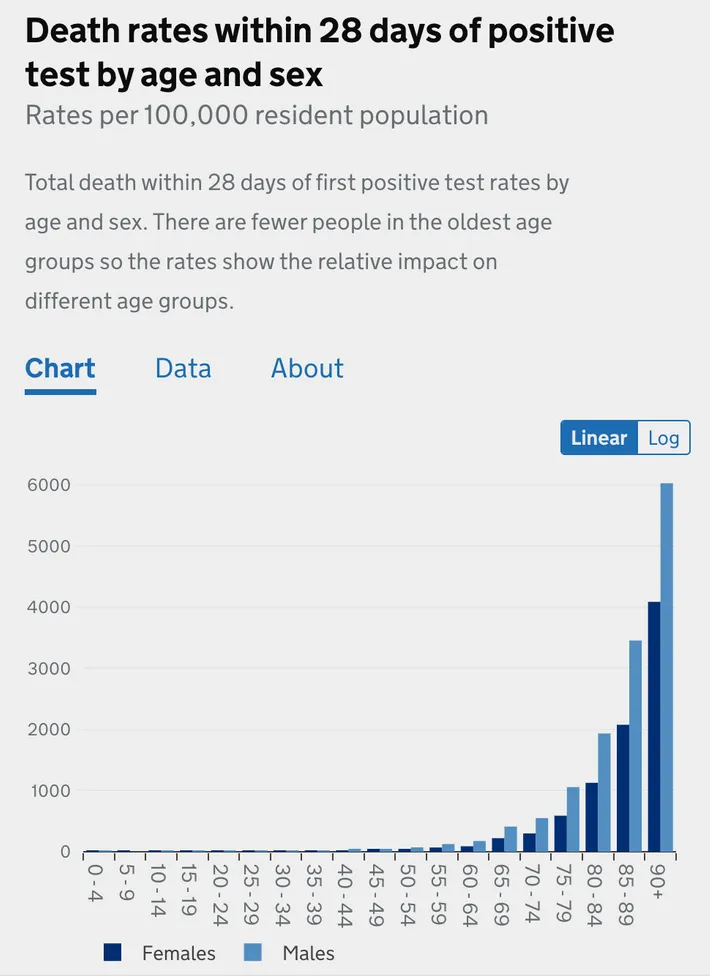 That's . . . rather more clear!
Why on earth, then, would public health officials and journalists present the data in a way that obscured the real picture in this way?
Viewed this way, the deaths from those under the age of 50 are more or less invisible. To scale the graph to make them visible — which would show that the risk slope from children to 50 year olds is about as dramatic as the slope from 50 year olds to 90 year olds — would require zooming in so close that the bars representing elderly outcomes would tower far above the top of your screen.
So, because most of the data are essentially invisible in the linear format, they're using a logarithmic scale. But, since most of us aren't trained to visualize data this way, it actually obscures reality much more than the other way.
After 18 months of public-health guidance promoting universal vigilance, I think hardly any American has a clear view of just how dramatic these differentials are. All else being equal, an unvaccinated 66-year old is about 30 times more likely to die, given a confirmed case, than an unvaccinated 36-year-old, and someone over 85 is over 10,000 times more at risk of dying than a child under 10. And although many infections still go undetected (complicating any attempt at a universal calculation of risk), your chances of dying from a confirmed case roughly double with every five to eight years of age, as countless data across multiple countries demonstrated last year — an effect larger than even the most significant comorbidities. The "exponential growth" of mortality risk by age is, in other words, another aspect of the pandemic we have processed only poorly.

[…]

[F]or all its transformative, liberating power, vaccination has not broken the basic age skew of the disease or offered anyone an exit ramp from it. Instead, in two profound ways, vaccination has confirmed the age skew: by producing severe breakthrough cases concentrated overwhelmingly in the elderly and by reducing the risk faced by individuals by an astonishing degree that is nevertheless smaller than the still more striking effect of age.
There are, of course, quite a number of public policy areas where the average citizen has similar misperceptions. For example, most wildly overestimate how much we allocate to foreign aid. But this issue is one that's directly tied to individual-level decision-making and behavior.
According to an analysis of British data by the Financial Times, a vaccinated 80-year-old has about the same mortality risk as an unvaccinated 50-year-old, and an unvaccinated 30-year-old has a lower risk than a vaccinated 45-year-old. Even a 42-fold reduction, as was found in King County, would only be the rough equivalent of the difference between an unvaccinated 85-year-old woman and an unvaccinated 50-year-old — the sort of person who was very worried last year before the arrival of vaccines and who may this year be worrying many of those around them by not getting one.

To be clear: They should get one since doing so reduces disease transmission significantly, thereby limiting the future course of the disease, and because it would reduce their own risk of death from COVID by such a dramatic degree that it doesn't even make sense to call it a degree. But it's a sign of just how large the age skew is to begin with that getting vaccinated doesn't deliver you into an entirely new category of pandemic safety — safer and more protected than anyone who hasn't gotten vaccinated — but simply pushes you down the slope of mortality risk by the equivalent of a few decades.

On the other end of the age spectrum, the same skew is more comforting. Recent data from the U.K. illustrate the phenomenon neatly: unvaccinated children are safer from COVID-19 death than vaccinated adults of any age

According to that data, an unvaccinated 10-year-old, who may look like the very picture of COVID vulnerability heading into the school year, faces a lower mortality risk than a vaccinated 25-year-old, whom we might today regard as close to safe as can be. In England, the incidence of hospitalization among unvaccinated kids was lower than that of those vaccinated aged 18-29, and in recent weeks, the hospitalization rate among kids ages 5 to 14 has been only about one per 100,000. Over the course of the entire pandemic, which has killed more than 135,000 Brits, just one boy and seven girls between the ages of 5 and 9 have died; between the ages of 10 and 14, nine girls and five boys have died. These are all tragedies — and each means many more years of life lost than with a death among the elderly — but they are nevertheless relatively few in number. As schools reopened on the backslope of the U.K.'s Delta surge, there were about seven times as many British kids under age 5 hospitalized with the respiratory disease RSV as there were with COVID.

[…]

This is not to say that unvaccinated children face absolutely no risk from COVID, given that many millions of Americans under the age of 18 have gotten sick, and almost 500 have died, over the course of the pandemic. It's just that the risk those 73 million minors do face is — relative to the risks faced by their parents and grand­parents — very, very small. (As I wrote a few months ago, though a better, clearer first line would have been not "The kids are safe," full stop, but "The kids are safe, relatively speaking"). Precautions are still worthwhile for the unvaccinated young: regular testing, better ventilation in schools, perhaps mask-­wearing, too, when community transmission is high. But it is strange and perhaps unfortunate that in the ongoing, unnecessary, often ugly debate about the vaccines — their efficacy, the risk of breakthroughs, and what additional precautions among the vaccinated may be necessary or advisable — almost invariably the discussions describe two groups, the vaccinated and unvaccinated, as though they occupy two uniform and entirely different spheres of risk. Because while the vaccine culture wars are indeed largely binary, and the future of the pandemic in the U.S. largely a matter of how many unvaccinated will get vaccinated, when we discuss individual risk, it simply doesn't makes sense to talk about vaccinated 15-year-olds and 95-year-olds in the same breath and unvaccinated 15-year-olds and unvaccinated 95-year-olds in a different breath. In fact, it distorts the picture of the pandemic as a whole when we regard risk as neatly divided by vaccination status. That's because a vaccinated 95-year-old is still probably over a thousand times more at risk of death, all else being equal, than an unvaccinated 15-year-old. Which means we probably shouldn't be giving those two groups the same advice about masks or social distancing or boosters.
Emphases mine. He goes further:
[T]o believe that the vaccinated elderly are now perfectly safe, as can be tempting to all of us who are desperate for the unvaccinated to get with the program, is to raise an uncomfortable set of questions about the way we have processed risk by universalizing it. If we want to believe, say, a vaccinated 75-year-old is safe, have we now simply normalized a higher level of individual risk than seemed moral to accept as recently as 12 months ago, given that they may not be any less in danger of dying than an unvaccinated 53-year-old? If we are now debating what we can do, in schools especially, to protect unvaccinated children, who are much safer still, should we not be discussing at the same time what measures can be taken, beyond boosters, to protect the vaccinated elderly? Mask wearing offers differential benefits, too: according to the much-applauded study in Bangladesh, cloth masks of the kind typically worn by children offer very little protection, and the strongest effects of surgical masks were observed among the elderly.
While my skills are decidedly rusty and even out-of-date, I'm a trained data scientist who pays a whole lot more attention to the news than the average citizen. If the statistics here are surprising to me—and they are—then it's reasonable to believe that most folks have no idea at all.
We are, I think, simply really bad at understanding risk.