Delta Essentially a New Coronavirus
Behind the CDC's messaging debacle.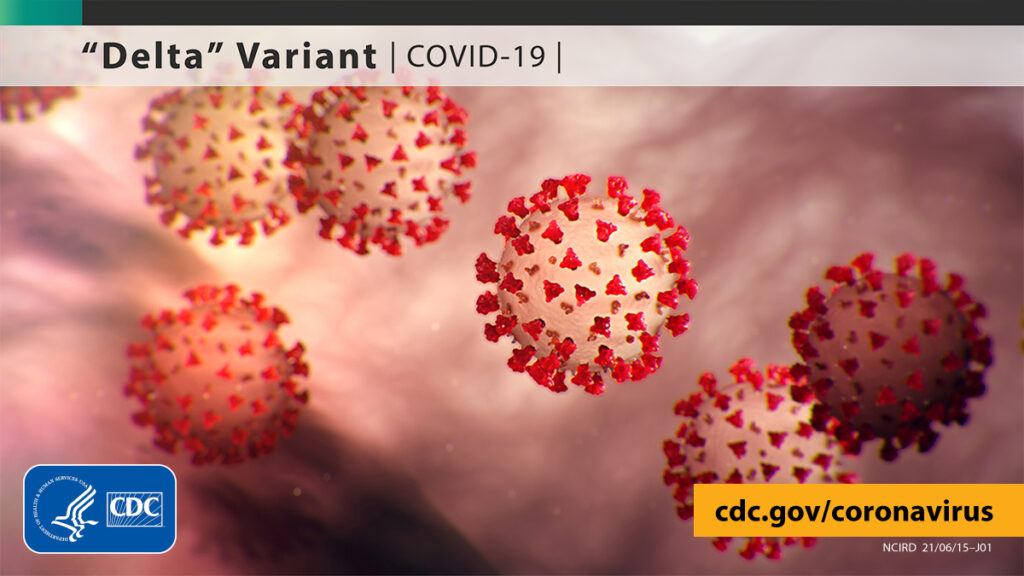 WaPo ("'The war has changed': Internal CDC document urges new messaging, warns delta infections likely more severe"):
The delta variant of the coronavirus appears to cause more severe illness than earlier variants and spreads as easily as chickenpox, according to an internal federal health document that argues officials must "acknowledge the war has changed."

The document is an internal Centers for Disease Control and Prevention slide presentation, shared within the CDC and obtained by The Washington Post. It captures the struggle of the nation's top public health agency to persuade the public to embrace vaccination and prevention measures, including mask-wearing, as cases surge across the United States and new research suggests vaccinated people can spread the virus.

The document strikes an urgent note, revealing the agency knows it must revamp its public messaging to emphasize vaccination as the best defense against a variant so contagious that it acts almost like a different novel virus, leaping from target to target more swiftly than Ebola or the common cold.

It cites a combination of recently obtained, still-unpublished data from outbreak investigations and outside studies showing that vaccinated individuals infected with delta may be able to transmit the virus as easily as those who are unvaccinated. Vaccinated people infected with delta have measurable viral loads similar to those who are unvaccinated and infected with the variant.

"I finished reading it significantly more concerned than when I began," Robert Wachter, chairman of the Department of Medicine at the University of California at San Francisco, wrote in an email.

CDC scientists were so alarmed by the new research that the agency earlier this week significantly changed guidance for vaccinated people even before making new data public.

The data and studies cited in the document played a key role in revamped recommendations that call for everyone — vaccinated or not — to wear masks indoors in public settings in certain circumstances, a federal health official said. That official told The Post that the data will be published in full on Friday. CDC Director Rochelle Walensky privately briefed members of Congress on Thursday, drawing on much of the material in the document.
That the "science" keeps changing is unsurprising. We only know what we know when we know it. It's what makes a "novel coronavirus" novel. But the messaging has been awful, with policy recommendations seemingly out of sync with what's being said about the virus. And the CDC is well aware of this:
The document outlines "communication challenges" fueled by cases in vaccinated people, including concerns from local health departments about whether coronavirus vaccines remain effective and a "public convinced vaccines no longer work/booster doses needed."

The presentation highlights the daunting task the CDC faces. It must continue to emphasize the proven efficacy of the vaccines at preventing severe illness and death while acknowledging milder breakthrough infections may not be so rare after all, and that vaccinated individuals are transmitting the virus. The agency must move the goal posts of success in full public view.
If in fact vaccinated folks are transmitting the virus at nearly the same rate as the unvaccinated, the new masking guidance makes sense. Given that speed is of the essence, I even understand why CDC issued its rapid about-face earlier in the week. But it should certainly have been accompanied by this new information.
But, yes, the messaging seems mixed:
Vaccination is essential to stop the transmission of this disease
Vaccination does little to stop the transmission of this disease
Regardless, vaccinated people are much les likely to suffer severe symptoms if they're infected
And it gets worse:
The CDC's revised mask guidance stops short of what the internal document calls for. "Given higher transmissibility and current vaccine coverage, universal masking is essential to reduce transmission of the Delta variant," it states.

The document makes clear that vaccination provides substantial protection against the virus. But it also states that the CDC must "improve communications around individual risk among [the] vaccinated" because that risk depends on a host of factors, including age and whether someone has a compromised immune system.
Now, again, this is incredibly complicated. Public health policy isn't just about science but also about politics. The CDC has to balance its messaging with the political reality that huge swaths of the public are reluctant to get vaccinated, for a whole variety of reasons, and that there is massive resistance to masking and other preventative measures. But they're not helping themselves:
The internal document contains some of the scientific information that influenced the CDC to change its mask guidance. The agency faced criticism from outside experts this week when it changed the mask guidance without releasing the data, a move that violated scientific norms, said Kathleen Hall Jamieson, director of the Annenberg Public Policy Center at the University of Pennsylvania. "You don't, when you're a public health official, want to be saying, 'Trust us, we know, we can't tell you how,'" Jamieson said. "The scientific norm suggests that when you make a statement based on science, you show the science. … And the second mistake is they do not appear to be candid about the extent to which breakthroughs are yielding hospitalizations."
Again, speed was of the essence. It's quite possible that CDC reached its conclusions before it had fully vetted the report for public release. But they could certainly have released an Executive Summary with a promise that the full report would follow in a matter of days. As it was, the guidelines appeared to come out of nowhere and, indeed, contradict the CDC's own messaging.
A related NYT report ("Behind the Masks, a Mystery: How Often Do the Vaccinated Spread the Virus?") adds:
People with so-called breakthrough infections — cases that occur despite full vaccination — of the Delta variant may be just as contagious as unvaccinated people, even if they have no symptoms.

That means fully immunized people with young children, aging parents, or friends and family with weak immune systems will need to renew vigilance, particularly in high-transmission communities. Vaccinated Americans may need to wear masks not just to protect themselves, but everyone in their orbit.
That's sobering but seems to contradict this:
It's still unclear how common breakthrough infections are and how long the virus persists in the body in those cases. Breakthroughs are rare, and unvaccinated people account for the bulk of virus transmission, Dr. Walensky said.
But this seems like a rather huge takeaway being buried in the new news:
The new data do not mean that the vaccines are ineffective. The vaccines still powerfully prevent severe illness and death, as they were meant to, and people with breakthrough infections very rarely end up in a hospital.

About 97 percent of people hospitalized with Covid-19 are unvaccinated, according to data from the C.D.C. But scientists warned even last year that the vaccines might not completely prevent infection or transmission. (Immunity from natural infection may offer even less protection.)
The larger takeaway may be even more stark than the short-notice policy change. Back to the WaPo report:
If the war has changed, as the CDC states, so has the calculus of success and failure. The extreme contagiousness of delta makes herd immunity a more challenging target, infectious-disease experts said.

"I think the central issue is that vaccinated people are probably involved to a substantial extent in the transmission of delta," Jeffrey Shaman, a Columbia University epidemiologist, wrote in an email after reviewing the CDC slides. "In some sense, vaccination is now about personal protection — protecting oneself against severe disease. Herd immunity is not relevant as we are seeing plenty of evidence of repeat and breakthrough infections."

The document underscores what scientists and experts have been saying for months: It is time to shift how people think about the pandemic.

Kathleen Neuzil, a vaccine expert at the University of Maryland School of Medicine, said getting more people vaccinated remains the priority, but the public may also have to change its relationship to a virus almost certain to be with humanity for the foreseeable future.

"We really need to shift toward a goal of preventing serious disease and disability and medical consequences, and not worry about every virus detected in somebody's nose," Neuzil said. "It's hard to do, but I think we have to become comfortable with coronavirus not going away."
That the virus would always be with us in some form was, I think, well understood quite some time back. But, yes, mitigating the effects is likely the best we can do if the vaccines don't stop transmission.
Oh: Delta isn't the end of it.
WaPo ("Another coronavirus variant has reached Florida. Here's what you need to know."):
A coronavirus variant discovered in Colombia is showing up among patients in South Florida, increasing infections and putting health officials on alert as calls grow louder for unvaccinated individuals to get inoculated.

Carlos Migoya, CEO of Jackson Health System, told WPLG in Miami earlier this week that the B.1.621 variant has accounted for about 10 percent of coronavirus patients, trailing behind delta, the now-dominant variant in the United States that has been ravaging the nation's unvaccinated, and the gamma variant. B.1.621 has yet to receive a Greek-letter designation as more prominent variants have.

Migoya told the news station that he speculated B.1.621 is rising in South Florida because of international travel between Colombia and Miami, which serves as a gateway to Latin America.

A person who replied to an email sent from The Washington Post to Migoya's office said he was unavailable to comment.

Health experts will keep B.1.621 on their radar as the fall season looms and as parts of the country still lag in their vaccination efforts, experts told The Post.
So yay.