Omicron Cometh
Yet another COVID-19 strain has emerged.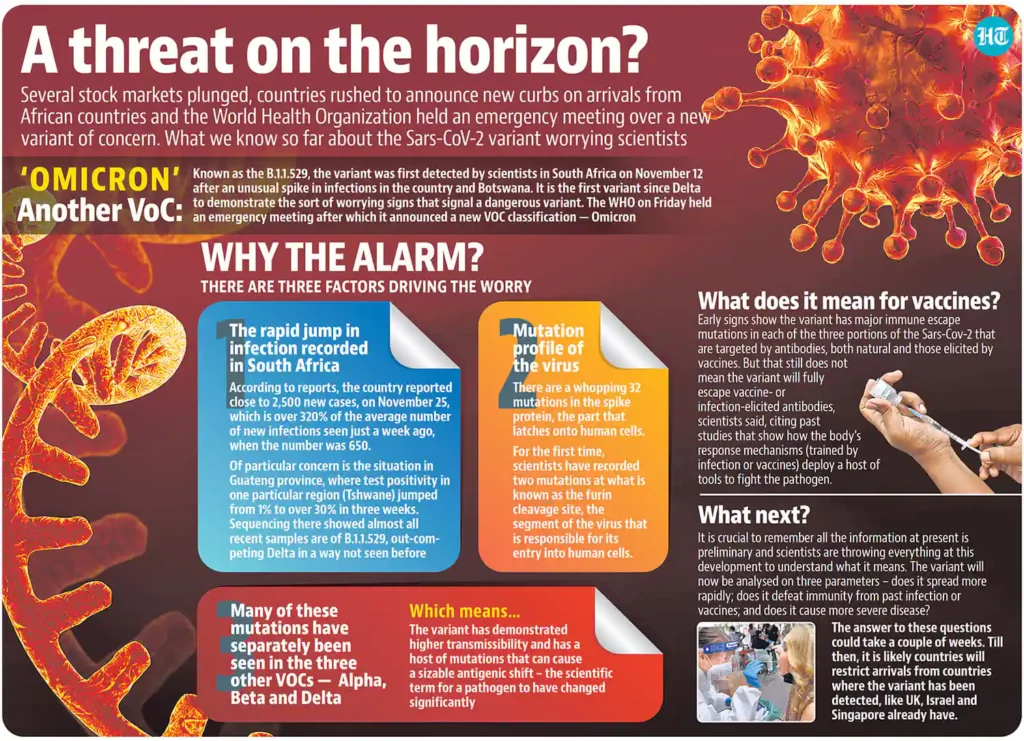 WaPo ("Announcement of new virus variant alarms world, as stocks crash and flights are banned"):
A new, possibly more infectious coronavirus variant, with an unusual number of mutations, had scientists sounding the alarm Friday and countries including the United States moving to impose travel restrictions as the world feared another setback on the long road out of the pandemic.

Senior Biden administration officials announced that starting Monday, travel to the United States will be restricted from South Africa and seven other countries — Botswana, Eswatini, Lesotho, Malawi, Mozambique, Namibia and Zimbabwe. The new policy, which does not affect U.S. citizens and permanent residents, was enacted "out of an abundance of caution," officials said, as scientists work to learn more about the new variant.

This latest variant arrives nearly two years after the first ominous warnings about a novel coronavirus that emerged from China. Now, even as the world grows increasingly weary of measures to contain the virus, this new threat is casting a shadow across holiday celebrations.

On Friday, the World Health Organization declared the mutation-laden virus a "variant of concern" after a full-day review by the group's scientists and dubbed it the "omicron" variant, named for a Greek letter.

"This variant has a large number of mutations, some of which are concerning," the WHO said in a statement Friday. "Preliminary evidence suggests an increased risk of reinfection with this variant, as compared to other" variants of concern.

In many ways, the virus is acting exactly as global health experts have warned it might — creating new and potentially more dangerous variants, first detected in undervaccinated parts of the world. Still, major questions remain about omicron's origins, transmissibility, whether it might make people sicker and whether it might be able to evade vaccines or therapeutics.

"It's early to know the effectiveness of current vaccines against the new variant," said Bruce Gellin, a vaccine expert and chief of global public health strategy at the Rockefeller Foundation.

Scientists in South Africa convened a news conference Thursday and said they had linked omicron to an exponential rise of infections in the country. Cases have also been identified in Belgium, Botswana, Hong Kong, Israel and other countries.

Financial markets plummeted amid news of the variant, with the Dow Jones industrial average delivering its worst day of 2021 with a 905-point plunge. By the time trading stopped at 1 p.m. because of the holiday weekend, the Dow had shed about 2.5 percent, the S&P 500 had erased 2.3 percent and the tech-heavy Nasdaq had declined 2.2 percent.

The World Trade Organization postponed its first ministerial meeting in four years because of the deteriorating health situation, Reuters reported.

Britain, Canada, France, Israel and Japan began to ban or order quarantines for air passengers arriving from the southern African region. European Union countries agreed Friday to ban air travel from seven southern African countries.

"Our view is very clear," Dana Spinant, deputy chief spokeswoman for the European Commission, said at a news conference. "We need to act very fast, we need to be vigilant, and we need to take all measures that are appropriate at this stage to prevent this virus from entering Europe."
The virus, alas, has already entered Europe unless I missed Belgium's relocation. The attempt to contain the spread of the virus to southern Africa is politically prudent. Anecdotally, 61 people on two flights from South Africa to Amsterdam tested positive for the new variant.
The travel bans and quarantine measures are well ahead of the WHO recommendations for governments, which are:
enhance surveillance and sequencing efforts to better understand circulating SARS-CoV-2 variants.
submit complete genome sequences and associated metadata to a publicly available database, such as GISAID.
report initial cases/clusters associated with VOC infection to WHO through the IHR mechanism.
where capacity exists and in coordination with the international community, perform field investigations and laboratory assessments to improve understanding of the potential impacts of the VOC on COVID-19 epidemiology, severity, effectiveness of public health and social measures, diagnostic methods, immune responses, antibody neutralization, or other relevant characteristics.
Indeed, the WHO advised against these travel bans (as has Anthony Fauci).
The WHO has warned against countries hastily imposing travel restrictions, saying they should look to a "risk-based and scientific approach".

South Africa's Health Minister Joe Phaahla told reporters that the flight bans were "unjustified".

"The reaction of some of the countries, in terms of imposing travel bans, and such measures, are completely against the norms and standards as guided by the World Health Organization," he said.
Again, I understand the impulse of politicians to do what they're doing. It not only seems like common sense but has the advantage of showing action. But the longer-term effect of this is to encourage countries to be more like China and less like South Africa: hide news of breakouts as long as possible.
Moreover, skeptical it'll do much good. The WHO statement gives some confidence that the scientific-medical community is on top of things but not much hope for containment.
The Technical Advisory Group on SARS-CoV-2 Virus Evolution (TAG-VE) is an independent group of experts that periodically monitors and evaluates the evolution of SARS-CoV-2 and assesses if specific mutations and combinations of mutations alter the behaviour of the virus. The TAG-VE was convened on 26 November 2021 to assess the SARS-CoV-2 variant: B.1.1.529.

The B.1.1.529 variant was first reported to WHO from South Africa on 24 November 2021. The epidemiological situation in South Africa has been characterized by three distinct peaks in reported cases, the latest of which was predominantly the Delta variant. In recent weeks, infections have increased steeply, coinciding with the detection of B.1.1.529 variant. The first known confirmed B.1.1.529 infection was from a specimen collected on 9 November 2021.

This variant has a large number of mutations, some of which are concerning. Preliminary evidence suggests an increased risk of reinfection with this variant, as compared to other VOCs. The number of cases of this variant appears to be increasing in almost all provinces in South Africa. Current SARS-CoV-2 PCR diagnostics continue to detect this variant. Several labs have indicated that for one widely used PCR test, one of the three target genes is not detected (called S gene dropout or S gene target failure) and this test can therefore be used as marker for this variant, pending sequencing confirmation. Using this approach, this variant has been detected at faster rates than previous surges in infection, suggesting that this variant may have a growth advantage.
My skepticism on containment comes in here:
Individuals are reminded to take measures to reduce their risk of COVID-19, including proven public health and social measures such as wearing well-fitting masks, hand hygiene, physical distancing, improving ventilation of indoor spaces, avoiding crowded spaces, and getting vaccinated.
Only 24.1% of South Africans are vaccinated, compared to 42.7% of the global population and 59.1% in the United States. And, unlike poorer countries in Africa, the issue is not supply but rather demand.
(24 Nov) South Africa has asked Johnson & Johnson (JNJ.N) and Pfizer (PFE.N) to delay delivery of COVID-19 vaccines because it now has too much stock, health ministry officials said, as vaccine hesitancy slows an inoculation campaign.

About 35% of South Africans are fully vaccinated, higher than in most other African nations, but half the government's year-end target. It has averaged 106,000 doses a day in the past 15 days in a nation of 60 million people.

Earlier this year the programme was slowed by insufficient doses. Now deliveries have been delayed due to oversupply, making the country an outlier in the continent where most are still starved of vaccines.

[…]

South Africa's government has been seeking to boost the rate of daily administered doses.

"There is a fair amount of apathy and hesitancy," said Shabir Madhi, who led the clinical study for the AstraZeneca (AZN.L) COVID-19 vaccine in South Africa.

To ramp up vaccinations, the government has launched pop-up vaccination centres and sought help from community leaders. It has also opened inoculations to children aged 12 to 17.
As pretty much everyone has been saying for months, we need to do more to push the vaccine out to the developing world if we're ever to contain this virus and stop new variants from emerging. But we can't get 40% of Americans to take the free vaccines. And, while there are some obvious partisan effects going on here, it's worth noting that the WHO puts the fully vaccinated rate in the European region at just 54 percent (lower than the US) and in the more prosperous EU countries at 65 percent (only somewhat higher than the US).
It's hard to imagine a measure simpler and less inconvenient than getting a couple of shots. And, two years into this, most people are pretty much over the restrictions on their daily lives. We're going to continue losing people in droves and simply accept it as our new normal.