Debt Under Obama Increasing Faster Than Under Bush
The debt has increased at a faster rate in the past three years than in the previous eight, but assigning blame isn't what matters.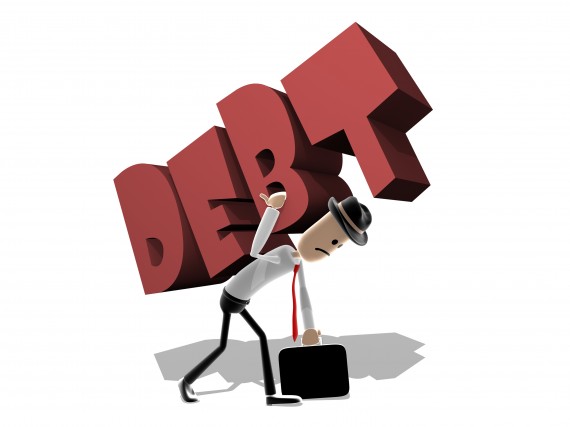 Several conservative bloggers picked up very quickly a report from CBS Radio's White House Correspondent Mark Knoller noting that the National Debt has increased more under President Obama than it did under President Bush:
The National Debt has now increased more during President Obama's three years and two months in office than it did during 8 years of the George W. Bush presidency.

The Debt rose $4.899 trillion during the two terms of the Bush presidency. It has now gone up $4.939 trillion since President Obama took office.

The latest posting from the Bureau of Public Debt at the Treasury Department shows the National Debt now stands at $15.566 trillion. It was $10.626 trillion on President Bush's last day in office, which coincided with President Obama's first day.

The National Debt also now exceeds 100% of the nation's Gross Domestic Product, the total value of goods and services.
Knoller's numbers are absolutely correct, and you can check them yourself at the Treasury Department's Debt To The Penny Calculator if there are any doubts. However, Blue Texan at Crooks & Liars accuses Knoller of misrepresenting facts:
What Knoller doesn't specify, naturally, is what the debt was when Bush began his presidency. And that's a glaring omission, because unless you don't know that, you can't accurately compare the records. So here it is.

In 2001, the national debt Bush inherited was around $5.7T, give or take. Some of that debt in 2001 has to be attributed to Clinton, just as some of the debt in 2009 when Obama took office has to be attributed to Bush. When W. left office in 2009, the debt was nearly $11T. That's an increase of 89%.

Under Obama, the debt has increased from about $11T to about $15T, about 40%.
They're both correct, of course. Knoller's article focuses on the raw numbers of the National Debt and, if you look at it that way, then it is indeed true that the gross Federal Debt has increased more in raw numbers in the first three years of the Obama Administration than it did during all eight years of the Bush Administration. Blue Texan is also correct, though, to note that the $4 trillion-odd increase from 2001 to 2009 constitutes a larger share of what the debate was in 2001 than the raw increase from 2009 to today does of what the debt was when President Obama took office. That's an important perspective to keep in mind because it provides context to the numbers.
However, there's yet another way to look at this.
During the eight years that President Bush was in office, the National Debt increased at the approximate annual rate of $612,375,000,000 per year ($4.899 trillion/8 years). During the time that President Obama has been in office, it has increased at the approximate annual rate of $1,533,850,931,677 per year ($4.939 trillion/3.22 years). So, the rate of increase under President Obama over the past three years has been more than twice what it was for the whole of the Bush Administration.
So, yes Blue Texan, the point you made is correct but it's incomplete, and attacking Knoller for pointing out a simple fact was uncalled for.
But that doesn't mean one President is worse than the other when it comes to this issue. In reality, they are both guilty of fiddling while Rome burns and, to the extent that the deficit has increased over the past three years it is due in no small part to the fact that the President has followed many of the same failed fiscal policies as his predecessor. In fact, I'm not even sure it's worthwhile to sit around and assign blame unless one is just interested in scoring partisan talking points, which is a game I don't care to play. We've now reached a point where the deficit is increasing at an unsustainable rate and, instead of playing political games with the tax code, it's time to start getting serious. Unfortunately, I don't think there's anyone in Washington who's really up to the task.