Democrat Leads All Potential Republican Challengers In Arizona Senate Race
Kyrsten Sinema, the likely Democratic nominee for the Senate in Arizona, is leading all three of her potential Republican challengers. This could spell trouble for the GOP.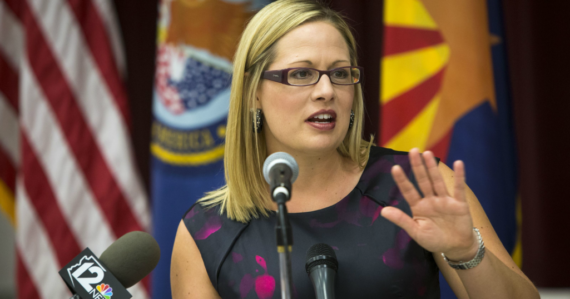 In what could be a bad sign for Republican hopes to retain their razor-thin majority in the Senate, the presumptive Democratic nominee to fill Jeff Flake's seat in that body holds a lead over all of her prospective rivals at this point in the race:
Rep. Kyrsten Sinema (D-Ariz.) is leading all Republican candidates in head-to-head match-ups in the Arizona Senate race, according to a poll released Thursday.

A poll from OH Predictive Insights (OHPI) and ABC15 Arizona found that Sinema leads Rep. Martha McSally (R) by 6 points, 48 to 42 percent. Sinema's margin increases by double digits when pitted against former state Sen. Kelli Ward (R) and former Maricopa County Sheriff Joe Arpaio (R). She leads Ward, 50 to 40 percent, and Arpaio, 59 to 33 percent.

Arizona is one of Democrats' two best pickup opportunities this cycle. Sinema, who's expected to cruise to the Democratic nomination, is vying for the seat being vacated by Sen. Jeff Flake (R-Ariz.). Republicans, meanwhile, are facing a three-way primary that is still wide open.

Sinema's dominance among independent voters gives her a major boost in all three head-to-heads with Republicans. Sinema leads with independents by more than 60 percent in her match-ups against McSally and Ward and 76 percent when facing Arpaio.

That can likely be attributed to the fact that President Trump's favorability is underwater among independent voters, with only 25 percent of those voters viewing him favorably and 74 percent viewing him unfavorably.

Those numbers slightly improve among all voters, with 43 percent viewing Trump favorably, compared to 56 percent who view him unfavorably.

"The issue we are consistently seeing in the numbers is that Democrats are unified, Republicans are less united, and the all-important Independent voters are trending anti-Republican/Trump" said Mike Noble, managing partner and chief pollster at OH Predictive Insights.

"The factors to look for will be if there are enough voters that do not view Trump favorably that still vote the Republican Party and whether or not the winning GOP primary candidate tries to or is able to create a distinct identity."
This same poll also shows a significant change in the race for the Republican nomination:
The contested GOP primary has drastically shifted since OHPI/ABC15's poll from January, which was right around the time both Arpaio and McSally announced their campaigns.

Ward jumped into first place in Thursday's poll with 36 percent, with McSally in second at 27 and Arpaio in third at 22 percent. Fifteen percent of GOP primary voters are undecided.

That's a big decline for both Arpaio and McSally, who were statistically tied in the January poll. In that poll, Ward came in third place.

The new poll also shows a much different landscape of the GOP primary compared to another survey released two days ago. Magellan Strategies poll from Tuesday found McSally in first place with 36 percent, followed by Arpaio at 26 percent and Ward at 25 percent.

In the OHPI/ABC15 poll, Arpaio has nearly universal name ID, while Ward, McSally and Sinema all have similar name recognition, under 70 percent. Sinema is the only one with a positive favorability rating.
As is the case with the Texas Senate race that I wrote about earlier today, there has been sparse polling of the Arizona race to date so it's hard to say whether or not these numbers represent a sea change in the nature of the race. It's also worth noting that we're still quite a long way off from the elections in this case, so polling this early may not indicate much of anything. The primary election doesn't take place until the end of August, for example, and the General Election is still nearly seven months away. Nonetheless, these numbers make it clear that the race in Arizona will likely be one that will draw national attention and most likely significant investment by Democrats eager to retake control of the Senate for the first time since losing it in the 2014 midterm elections.
Looking first at the Republican side of the race, the numbers showing Ward in the lead are most certainly a significant change from where the race appeared to stand until now. Prior to this poll, nearly all of the relevant polls showed Congresswoman Martha McSally leading the race with roughly 34% to 36% of the vote while Kelli Ward, a state legislator, and Joe Arpaio, the former Sheriff of Maricopa County, essentially dividing the support of what one could likely be called the Tea Party/Trump supporter vote. It's also worth noting that another poll that was taken at roughly the same time as the one released today shows McSally leading the race with 36% support while Ward sits at 25% and Arpaio sits at 26%. It's also worth noting that these two polls are the first polls taken in the race since January and they are giving us what are basically completely opposite views of the state of the race. Obviously, they both can't be right but we're going to need more polling of the McSally/Ward/Arpaio race to know for sure who has the edge in the race for the Republican nomination.
In the General Election polling, nearly all of the polls that have been taken show Sinema leading each of her prospective Republican rivals, but again it's worth noting that the polling here remains sparse so it's hard to say if we're getting an accurate picture of the state of the race. It's also worth noting that Sinema is likely benefiting from the fact that she essentially has the Democratic nomination wrapped up while the status of who the Republican nominee will be won't be determined until the end of August. This could, of course, prove to be problematic for whoever wins the nomination since it means that they will have less than two months to heal the wounds of what is likely to be a bruising nomination fight and unite their party behind them while simultaneously reaching out to the independent and other voters who are likely to end up being decisive in deciding who ends up winning the General Election.
Another complicating factor that could have an impact on this race is the health status of Arizona's other Senator, John McCain. It's been just under a year since McCain was diagnosed with an aggressive form of brain cancer and he has been away from Washington for several months now undergoing chemotherapy and radiation treatment as well as the physical therapy made necessary by the side effects of that treatment. Most recently, McCain underwent surgery that was not directly related to his cancer treatment but which will still likely have an impact on his health status. This has lead to some speculation that the state's senior Senator could decide or be forced to resign prior to the end of his term. This is significant because, according to Arizona law, if he resigns prior to June 1st the Governor of Arizona, who is a Republican, would be required to both select a replacement and schedule a Special Election for the same day as the 2018 General Election. Many political observers have assumed that, if this happened, either Arpaio or Ward would decide to switch over to a run for McCain's open seat, thus making more likely that the one who remains behind would have a better chance of beating McSally in the primary. In response to this, Republicans in the state legislature were in the process of trying to change state law in a way that would allow the Governor to appoint a replacement for McCain that would not have to stand for election until the end of McCain's term but that effort appears to have been abandoned. As a result, McCain's health status and his political intentions will remain a focus of attention for at least the next two months.
All of this matters, of course, because of the razor-thin margin that is keeping the Republican Party in control of the Senate. If Democrats are able to gain a net two seats then they will take control of the Senate, and there are already three races in which that could happen. In addition to the Arizona race, the likely Democratic nominee for Senate leads Senator Dean Heller, who is widely seen as the weakest Republican up for re-election this year, currently leads Heller in the polls, although there has been a sizable undecided segment of the vote in that polling. Because of this, the race in Nevada is currently rated a Toss-up by the Cook Political Report, by the Rothenberg Political Report, and by Larry Sabato's Crystal Ball Report. Additionally, recent polling has shown former Tennessee Governor Phil Bredesen leading Congresswoman Marsha Blackburn in the race to replace retiring Senator Bob Corker. Perhaps the most interesting development in that race is the fact that Corker recently spoke quite positively about Breseden and stated that he would not campaign against him in the General Election. By contrast, Republican hopes of picking up a seat from one of the Democrats running in a red state do not, as of yet, seem to be bearing fruit, with Joe Manchin in West Virginia, Joe Donnelly in Indiana, Claire McCaskill in Missouri, and Heidi Heitkamp in North Dakota all holding their own against their likely Republican challengers. Taking all this together, the picture for Republicans in the Senate is cloudy at best and troublesome at worst.
As I've said, it's far too early to make any predictions, but the battle for Senate control, which seemed to be out of Democratic reach a year ago, is now looking troublesome for Republicans.