Despite Oath, McConnell Admits He's Not Impartial On Impeachment
Mitch McConnell and the other 99 members of the Senate will be required to take an oath to "do impartial justice" in the impending impeachment trial. He's already admitted that he won't.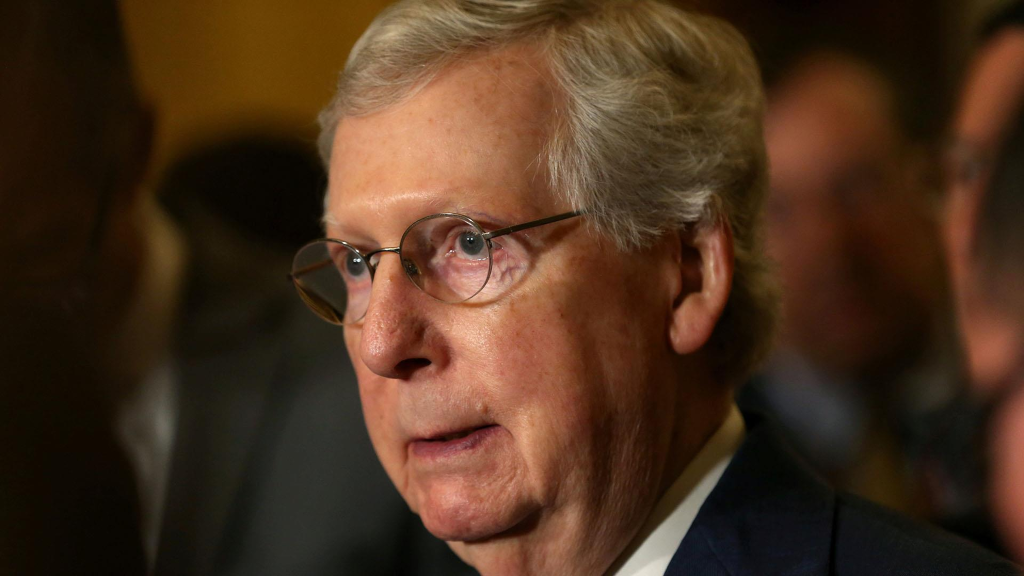 As we get closer to the Senate impeachment trial, Republicans are continuing to demonstrate that this trial will be nothing but a show trial in which Congress's upper chamber will merely go through the motions of purporting to consider the evidence presented by the House:
Senate Majority Leader Mitch McConnell (R-Ky.) says his colleagues should not expect him to handle President Trump's impeachment trial as an impartial juror.

"I'm not an impartial juror. This is a political process," McConnell told reporters Tuesday while fielding questions about the upcoming trial.

When asked about criticism from Democrats over his pledge to coordinate closely with Trump's lawyers during the trial, McConnell said his colleagues shouldn't expect him not to make the proceeding as favorable to Trump as possible.

"I'm not impartial about this at all," he said.

The GOP leader's frank admission outraged counterpart, Senate Democratic Leader Charles Schumer (N.Y.).

"He was asked if he was an impartial juror. He seemed to proudly say no.

I would ask every one of our Republican colleagues, 'Do you want someone who proudly says they're not impartial to be on a jury?" he asked reporters after McConnell spoke.

"Do the American people want Mitch McConnell not to be an impartial juror in this situation? And I would ask every one of my Republican Senate colleagues, 'Are you impartial jurors or are you like Mitch

McConnell, proud not to be?'" Schumer said, appearing clearly frustrated with McConnell's refusal to call key witnesses.

"Leader McConnell, I'm asking you, come to this microphone and give an explicit reason why Mulvaney or Bolton … shouldn't testify," he said, referring to acting White House Chief of Staff Mick Mulvaney and former National Security Adviser John Bolton.

McConnell's remarks on Tuesday afternoon backed up an interview he gave last week to Fox News's Sean Hannity in which he said: "Everything I do during this, I'm coordinating with the White House counsel."

"There will be no difference between the president's position and our position as to how to handle this to the extent that we can," he added.
As I have previously noted, prior to the start of the trial next month, the Senate will take the following oath:
I solemnly swear (or affirm, as the case may be,) that in all things appertaining to the trial of the impeachment of [Insert name of officer being impeached], now pending, I will do impartial justice according to the Constitution and laws: so help me God.
Senator McConnell obviously has no intention of abiding by that oath. Before even hearing the evidence that the House Managers will present, as well as any additional evidence that may be presented during the course of the trial. He has either made up his mind, or he is simply willing to ignore the evidence that will be presented to him against the President. Whether this is because he actually believes what he says or because he is a sycophant pandering to the President and his delusional base supporters in order to protect his own career and the Republican majority in the Senate. Or perhaps because he is a coward unwilling to challenge the President because he fears the backlash of the Trump base in the Republican Party. Whatever the reason may be, the explanation is it's hardly adequate. I would say that McConnell should be ashamed of himself but he clearly has no shame and there is no limit to how low he will go.
This announcement from the Majority Leader comes amid reports that he could seek to short circuit the entire court process before it even begins:
Senate Majority Leader Mitch McConnell (R-KY) said on Tuesday that Republicans may seek to dismiss impeachment charges against President Donald Trump after hearing opening statements in a Senate trial.

McConnell made the remarks from the Senate floor Tuesday afternoon. The Majority Leader said that he was using the 1999 Senate trial of President Bill Clinton as a model for a proposed trial of Trump.

In doing so, McConnell suggested that a motion to dismiss would be put forth by Republicans after opening statements.

"By any ordinary legal standard, what House Democrats have assembled would appear to be woefully, woefully inadequate to prove what they want to allege," McConnell said. "The House should not impeach on this basis in the first place."
To do this, all McConnell would need to do is make a motion to dismiss before the House Managers begin their presentation of evidence or at any point thereafter. All it would take is 51 out of the 53 Republican Senators to support such a motion and the trial would be dismissed. The only thing that would stop McConnell from doing this is the prospect of losing the vote due to the fact that three or more Senators (the Vice-President could not cast a tie-breaking vote on this motion so a 50-50 tie would be a loss) would not support it since they believe the House should be allowed to present its evidence. If the motion passes, then the trial would be over.
As I have said before, it's clear that there would not be 20 Republicans who would join with Democrats to convict and remove the President from office. That fact, however, doesn't make what we're watching unfold any less outrageous, though. The Constitution gives the Senate the duty to preside over the trial of an impeached President, but these Senators have already made clear that they would put party, and loyalty to the President, ahead of the country. They have made clear that they would essentially ignore whatever evidence might be presented to them regarding the President's wrongdoing. It's not surprising, but it is outrageous and it is yet another reason why this party cannot be taken seriously and cannot be trusted with power.