Donald Trump's Ninety Minutes Hate
Donald Trump returned to the campaign trail last night with another one of his red meat speeches. The analogies it causes one to draw are chilling to say the least.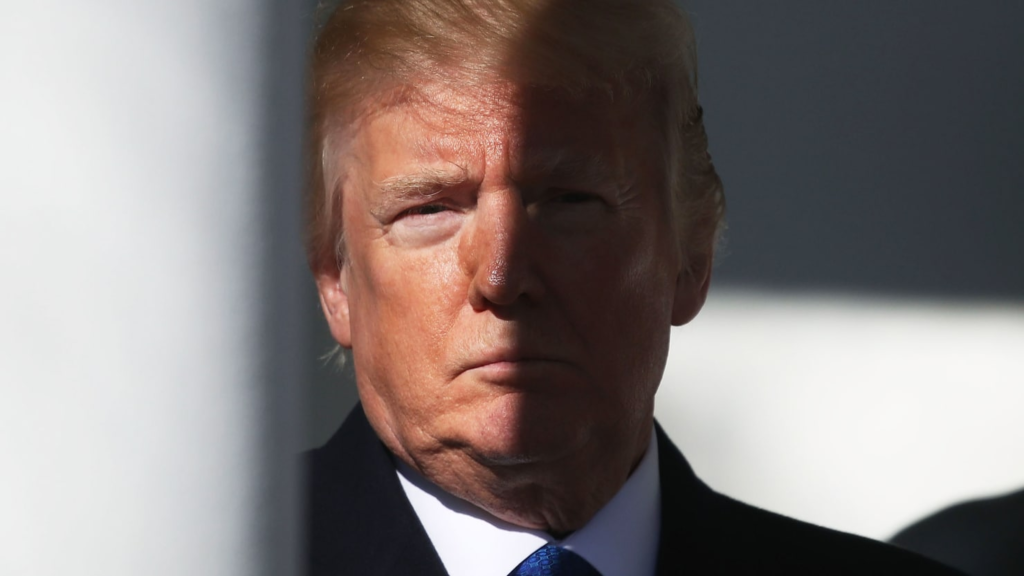 President Trump held another one of his infamous campaign-style rallies in North Carolina last night, and his ongoing attacks against a quarter of minority Democratic Congresswomen who he clearly intends to make the face of the Democratic Party heading into 2020 continued, complete with the shouts of an audience eager to consume the red meat he was throwing at them:
GREENVILLE, N.C. — President Trump road-tested his attacks on four Democratic congresswomen on Wednesday, casting them as avatars of anti-American radicalism and reiterating his call for them to leave the country, in a preview of a slash-and-burn re-election strategy that depicts Mr. Trump as a bulwark against a "dangerous, militant hard left."

"These left-wing ideologues see our nation as a force for evil," Mr. Trump told a packed arena. To roaring applause, he railed against what he called "hate-filled extremists who are constantly trying to tear our country down."

"They don't love our country," he said. "I think, in some cases, they hate our country. You know what? If they don't love it, tell them to leave it."

In recent days, similar comments by Mr. Trump have been met with repugnance across the country. But the capacity crowd in an arena at East Carolina University seemed to savor them. After Mr. Trump reeled off several controversial comments made by one of the four congresswomen, Representative Ilhan Omar of Minnesota, including ones that he depicted as sympathetic to Al Qaeda, the crowd started up a rousing chant of "Send her back! Send her back!"

It was the latest sign that the president's plan for winning a second term in office involves playing to racial and nationalist themes that shock the consciences of many Americans, but which seem to delight his most ardent supporters.

Mr. Trump doubled down with relish on his previous calls for the congresswomen — Ms. Omar, Alexandria Ocasio-Cortez of New York, Rashida Tlaib of Michigan and Ayanna S. Pressley of Massachusetts — to "go back" to their countries of origin, even though all but one were born in the United States and all four are citizens. It left no doubt that he was undaunted by furious condemnations of his remarks as racist, including a Tuesday vote by the House.

As his raucous audience booed repeatedly at his mentions of the women, the atmosphere had echoes of a pro-wrestling match at which the crowd thrills in its collective disdain for the villain of the moment.

Wednesday night's event was billed as a "Keep America Great" rally — a boastful variant of Mr. Trump's 2016 campaign slogan, "Make America Great Again."


"Big Rally tonight in Greenville, North Carolina," the president tweeted early Wednesday, saying he would play up economic growth and the booming stock market in a state that has narrowly tilted right in the past two presidential contests.

Many Republicans, including some of Mr. Trump's advisers, wish he would stick to those themes, saying they think that he is overshadowing an economic success story by engaging in name-calling and divisive cultural clashes. Some feel that his relentless focus on immigration and other nationalist themes before last November's midterm elections alienated suburban swing voters and helped enable Democrats to win the House.

But while the president did devote time to the nation's recent economic growth, and took credit for data showing that China's gross domestic product is growing at its slowest rate in 27 years, he was most animated when attacking his Democratic rivals, particularly Ms. Omar, Ms. Ocasio-Cortez, Ms. Tlaib and Ms. Pressley, who are collectively known as "the squad."

Mr. Trump denounced Ms. Ocasio-Cortez for branding federal migrant detention centers along the southwestern border "concentration camps," saying she had, in effect, called border agents Nazis. And he recalled the way Ms. Tlaib had used what he called a "vicious" expletive when she vowed in January that Mr. Trump would be impeached.

"That's not somebody that loves our country," the president said.

Mr. Trump also ridiculed the 2020 Democratic presidential candidates, like mocking the name of Pete Buttigieg, the mayor of South Bend, Ind., and saying that former Vice President Joseph R. Biden Jr. had "choked" in the last Democratic primary debate after Senator Kamala Harris of California challenged him on the issue of busing.

Depicting the 2020 Democrats as a hapless and left-wing lot, Mr. Trump delivered what may have been his core pitch: "Tonight, we renew our resolve that America will never be a socialist country. A vote for any Democrat in 2020 is a vote for the rise of radical socialism and the destruction of the American Dream — frankly, the destruction of our country."

(…)

In his remarks before leaving Washington, the president responded to a question about Ms. Omar, who has faced scrutiny for filing tax records with her first husband while legally married to her second.

An investigation of public records and state documents by The Minnesota Star Tribune last month could not substantiate a claim circulated online — and which Ms. Omar has denied — that her first husband was her brother, whom she allegedly married for immigration benefits.
Mr. Trump accepted the opportunity to weigh in on the subject.

"There's a lot of talk about the fact that she was married to her brother," the president said, stating as fact something that is unproved. "I know nothing about it," he said, adding that "I'm sure that somebody would be looking at that."
More from The Washington Post:
GREENVILLE, N.C. — President Trump held a campaign rally Wednesday night where the crowd responded to his attacks on a Somali-born Muslim congresswoman with chants of "Send her back! Send her back!"

The crowd's response to Trump echoed the racist remarks he has aimed in recent days at four minority Democratic congresswomen he has accused of making hateful comments about the country, setting off a controversy that led the Democrat-controlled House to vote to formally rebuke him on Tuesday night.

The event here made clear that Trump plans to use his criticism of the liberal lawmakers as a rallying cry during his 2020 campaign as he seeks to frame the election around the nationalistic message that has inflamed racial tensions across the country.

"These congresswomen are helping the rise of a militant, hard left. They never have anything good to say, which is why I say, 'If they don't like it, let them leave.'" Trump said. "They don't love our country, and in some cases I think they hate our country."

The crowd responded by chanting "leave!"

On Sunday, Trump sent out a series of racist tweets attacking Reps. Alexandria Ocasio-Cortez (N.Y.), Ayanna Pressley (Mass.), Rashida Tlaib (Mich.) and Ilhan Omar (Minn.), who have been heavily critical of his administration, by saying the four Democrats should "go back" to "the crime infested places from which they came." All four of the congresswomen are American citizens, and only Omar, a Somali refu­gee, was not born in the United States.

Early in his remarks Wednesday night, Trump elicited loud boos when he went after Ocasio-Cortez, Pressley and Tlaib one by one, but he reserved most of his wrath for Omar.

During his 90-minute appearance here, Trump listed controversial remarks made by Omar, including her comments earlier this year that perpetuated anti-Semitic tropes and he falsely claimed that she had praised al-Qaeda.

The "send her back" chants intensified during the rally and Trump paused to let them continue after he said, "and obviously and importantly she has a history of launching vicious anti-Semitic screeds."

Omar has countered Republican charges that she has made anti-Semitic remarks by saying her criticisms of Israel are based on her concerns over how Palestinians have been treated.

She responded to the rally on Twitter by sharing a poem by Maya Angelou. "You may shoot me with your words, You may cut me with your eyes, You may kill me with your hatefulness, But still, like air, I'll rise."

Democrats running for president quickly condemned Trump's remarks at the rally.

"These members of Congress — children of immigrants, just like so many of us — are an example of exactly what makes America great," former vice president Joe Biden wrote in a tweet. "So, Mr. President, I am here to tell you this. This is OUR country: The United States of America. You'll never understand what makes us strong."

Sen. Kamala D. Harris (D-Calif.), another Democratic 2020 contender, wrote on Twitter: "It's vile. It's cowardly. It's xenophobic. It's racist. It defiles the office of the President. And I won't share it here. It's time to get Trump out of office and unite the country."

Since the controversy began on Sunday, Trump has repeatedly accused the four congresswoman of not loving America because of their criticism of past and current policies.

"Our Country is Free, Beautiful and Very Successful. If you hate our Country, or if you are not happy here, you can leave!," he wrote Tuesday on Twitter.
It's worth noting that this speech was originally intended to be held on the same day as the testimony of former Special Counsel Robert Mueller before the House Judiciary and Intelligence Committees. That testimony, however, was rescheduled late last week to next Wednesday, July 24th and it was too late to reschedule the rally. This raises the prospect, of course, that the President and the White House will try to find some other way to distract the public next week whether it's with another rally or a Twitter rant that goes even further than the hatred and racism that we've seen over the course of the last week, and which reached its apex last night in North Carolina.
Ever since these Trump campaign rallies began, I've been searching for an analogy for what we have seen on our television screens over the past four years. For some time now, on both social media and elsewhere, I've referred to them as Nuremberg rallies, the infamous rallies that were a standard part of the rise of the Nazi Party in Germany. I usually try to avoid Nazi analogies in my political commentary, but the similarities are so clear, whether intentional or not, that it's hard to resist drawing a line between those events and what happened in Germany in the years leading up to World War Two.
I'm not saying that we're necessarily headed down that road, of course. For one thing, our institutions, although they are being battered and tested in a way they have never been since the Civil War and the Nixon Administration, are stronger than the Weimer Republic's were. However, you can't help but see the similarities in the way that propaganda and hatred are being used to rile up crowds and to keep the nation on the edge of its seat wondering nervously what's going to come next.
More recently, though, it's occurred to me that there is a much better analogy for what we're seeing unfold before us when we watch things like last night's speech in Greenville, and it comes not from history but from fiction and the pages of George Orwell's classic 1984. Anyone who has read the book is, of course, familiar with the "Two Minutes Hate," the daily exercise in which the citizens of Oceania were compelled to participate in during which the party would play its propaganda. Here's how Orwell described it, read on tell me if this sounds familiar:
The horrible thing about the Two Minutes Hate was not that one was obliged to act a part, but, on the contrary, that it was impossible to avoid joining in. Within thirty seconds any pretence was always unnecessary. A hideous ecstasy of fear and vindictiveness, a desire to kill, to torture, to smash faces in with a sledgehammer, seemed to flow through the whole group of people like an electric current, turning oTne even against one's will into a grimacing, screaming lunatic. And yet the rage that one felt was an abstract, undirected emotion which could be switched from one object to another like the flame of a blowlamp.

(…)

The Hate rose to its climax. The voice of Goldstein had become an actual sheep's bleat, and for an instant the face changed into that of a sheep. Then the sheep-face melted into the figure of a Eurasian soldier who seemed to be advancing, huge and terrible, his sub-machine gun roaring, and seeming to spring out of the surface of the screen, so that some of the people in the front row actually flinched backwards in their seats. But in the same moment, drawing a deep sigh of relief from everybody, the hostile figure melted into the face of Big Brother, black-haired, black-moustachio'd, full of power and mysterious calm, and so vast that it almost filled up the screen. Nobody heard what Big Brother was saying. It was merely a few words of encouragement, the sort of words that are uttered in the din of battle, not distinguishable individually but restoring confidence by the fact of being spoken. Then the face of Big Brother faded away again, and instead the three slogans of the Party stood out in bold capitals:

WAR IS PEACE

FREEDOM IS SLAVERY

IGNORANCE IS STRENGTH

But the face of Big Brother seemed to persist for several seconds on the screen, as though the impact that it had made on everyone's eyeballs was too vivid to wear off immediately. The little sandy-haired woman had flung herself forward over the back of the chair in front of her. With a
tremulous murmur that sounded like 'My Saviour!' she extended her arms towards the screen. Then she buried her face in her hands. It was apparent that she was uttering a prayer.

At this moment the entire group of people broke into a deep, slow, rhythmical chant of 'B-B!…B-B!'—over and over again, very slowly, with a long pause between the first 'B' and the second—a heavy, murmurous sound, somehow curiously savage, in the background of which one seemed to hear the stamp of naked feet and the throbbing of tomtoms For perhaps as much as thirty seconds they kept it up. It was a refrain that was often heard in moments of overwhelming emotion. Partly it was a sort of hymn to the wisdom and majesty of Big Brother, but still more it was an act of self-hypnosis, a deliberate drowning of consciousness by means of rhythmic noise.
Here's how that scene was dramatized in the film version that was released in, well, 1984 and which starred John Hurt in the role of Winston Smith:
The similarities are too present to ignore, and if Orwell were around today I suspect he'd recognize exactly what is happening here in the United States for what it is.
We're at the point now where there is almost nothing left to say about this President and his hate-filled, xenophobic, rants against real and perceived political enemies. If this week's tirades against these four Democratic Congresswomen, and by extension the entire Democratic Party and anyone else who disagrees with or criticizes him, prove anything it proves that Trump intends to win re-election not by trying to broaden his appeal in the manner that nearly every modern two-term President before him has but by stirring up his base with more of the same xenophobia, paranoia, fear, and hatred that we've come to expect from Trump and his supporters. He intends to win not by uniting the country like Reagan and Clinton in particular tried to do, but by deliberately seeking to divide the nation with hatred, fear, and xenophobia.
Whether that will be enough to win him re-election remains to be seen, but it most certainly is not healthy for a pluralistic representative democracy such as ours. We are witnessing one of the ugliest times in the history of our country. As ugly as the politics of the antebellum era before the Civil War. As ugly as Jim Crow and the rise of the Ku Klux Klan. As ugly as the rhetoric of men like Father Charles Coughlin and others during the early years of the Great Depression. As ugly as the way the governing authorities in the south reacted to the Civil Rights Movement. The difference this time is that the hatred is being stoked and directed by the President of the United States.
Here's the video of the rally if you're at all interested. Trump's speech begins after a short introduction from Vice-President Pence