Dylann Roof Sentenced To Die For Charleston Church Murders
Not surprisingly, Dylann Roof received a sentence of death for the murder of nine people at a historic African-American church.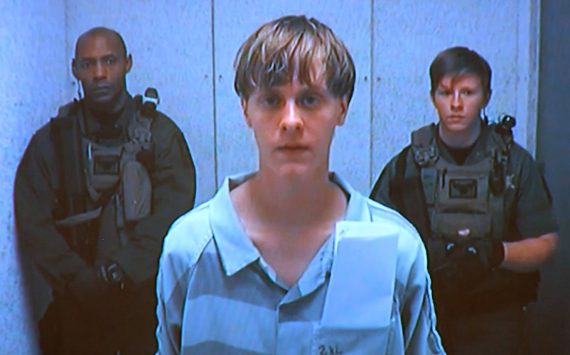 Dylann Roof, the shooter who killed nine people at a historic African-American church in Charleston, South Carolina in June 2015, has been sentenced to die by a Federal Court jury:
CHARLESTON, S.C. — Dylann S. Roof, the unrepentant and inscrutable white supremacist who killed nine African-American churchgoers in a brazen racial rampage almost 19 months ago, an outburst of extremist violence that shocked the nation, was condemned to death by a federal jury on Tuesday.

The jury of nine whites and three blacks, who last month found Mr. Roof guilty of 33 counts for the attack at this city's Emanuel African Methodist Episcopal Church, returned their unanimous verdict after about three hours of deliberations in the penalty phase of a heart-rending and often legally confounding trial.

Mr. Roof, who had said in a closing argument hours earlier that he could ask jurors "to give me a life sentence, but I'm not sure what good that would do," showed no expression as Judge Richard M. Gergel of Federal District Court announced the verdict.

Melvin Graham, whose sister Cynthia Hurd, 54, a librarian, died in the attack, welcomed the decision.

"It's a hard thing to know that someone is going to lose their life, but when you look at the totality of what happened, it's hard to say that person deserves to live when nine others don't," Mr. Graham said at a news conference. "How do you justify saving one life when you took nine, and in such a brutal fashion?"

The Rev. Anthony B. Thompson, the widower of another victim, Myra Thompson, said in an interview on Tuesday that while he remained "in awe" at how much Mr. Roof enjoyed doing what he did, he would not relinquish his forgiveness. "I forgave him, and I'm not going to take that back ever," he said.

Members of Mr. Roof's family, who have been mostly silent since his arrest, said in a statement on Tuesday that they would "struggle as long as we live to understand why he committed this horrible attack, which caused so much pain to so many good people."

The jury's decision offered some vindication for the Justice Department, which sought the death penalty over the misgivings of the attack's adult survivors and the relatives of many victims. During a two-hour closing argument on Tuesday, Julius N. Richardson, an assistant United States attorney, urged jurors to "hold this defendant fully accountable for his crimes."

The guilt of Mr. Roof, who coolly confessed to the killings and then justified them without remorse in a jailhouse manifesto, was never in serious doubt during the first phase of the proceedings in December. And by the time jurors began their sentencing deliberations on Tuesday, it seemed inevitable that they would lean toward death, not only because of the heinous nature of the crimes but because Mr. Roof, 22, insisted on denying any psychological incapacity, called no witnesses, presented no evidence in his defense and mostly sidelined his court-appointed lawyers.

The jury's sentencing decision effectively capped Mr. Roof's federal trial for the killings on June 17, 2015, the Wednesday when he showed up in Emanuel's fellowship hall and was offered a seat for Bible study by the Rev. Clementa C. Pinckney. Mr. Roof sat quietly, his head hung low, for about 40 minutes while the group considered the Gospel of Mark's account of the Parable of the Sower.

(…)

Although Mr. Roof declined to testify or present any evidence, his trial was unusual for the jury's ability to hear from an accused mass murderer in his own unapologetic words. They watched video of his two-hour confession and heard readings of his online essays, a journal found in his car, letters to his parents and his jailhouse manifesto.

The trial became a duel of competing narratives on the defendant, a slightly built ninth-grade dropout. In the prosecution's depiction, Mr. Roof was the personification of evil, a racist ideologue, radicalized on the internet, who plotted an intensely premeditated assault over more than six months, waiting only until he was 21 and old enough to buy a weapon.

In his closing argument on Tuesday, Mr. Roof said, "I felt like I had to do it, and I still feel like I had to do it."

But in the portrayal suggested by defense lawyers, Mr. Roof was a deeply disturbed delusionist who most demonstrated his incapacity by denying it. Indeed, Mr. Roof insisted on representing himself during the sentencing phase to prevent his experienced capital defense team from introducing potentially mitigating evidence about his family, educational background or mental health.

The results of at least two psychiatric evaluations have been kept under seal by Judge Gergel, who ruled Mr. Roof competent to stand trial and to represent himself.
Given the evidence against him, including his own confession and the testimony of survivors of his rampage, and the fact that he chose not to offer any evidence or testimony in defense in either the guilt or sentencing phases of this trial, the outcome of this case is hardly surprising. Many people will also point to the fact that he was representing himself throughout the trial, but it seems unlikely to me that this made much of a difference. On the question of guilt, the confession and other evidence were sufficiently clear to make any effort to undermine them seem rather fruitless. In fact, it was clear at the start of the trial that Roof's court-appointed defense team would have handled the guilt phase of the trial in much the same way he did. They perhaps would have attempted to adduce some evidence or testimony from prosecution witnesses that they believed would have helped him in the sentencing phase, but as with the trial of Dzhokhar Tsarnaev in the Boston Marathon bombing, they would have recognized that trying to delay the inevitable would only serve to annoy the jury and ruin any hope of avoiding the death penalty in the sentencing phase. The difference between how Roof handled his case and how his lawyers would have handled it would have been more evident during the sentencing phase of the case. Instead of presenting essential no case at all as Roof did and doing nothing to give the jury a reason to show mercy, Roof's lawyers would have directed their energies toward trying to give the jury a reason to opt for life in prison without parole rather than death as the appropriate sentence for Roof. This likely would have included testimony from psychiatrists and others regarding Roof, testimony from Roof's family members, and other evidence that might have put a seed of doubt in the mind of jurors regarding the appropriateness of a death sentence. Since Federal law requires that the jury unanimously agree on a death sentence, even convincing one juror that death wasn't the right way to go and Roof would now be on a path that would likely lead to a lifetime locked away in one of the Federal Super-Max prisons. Would it have worked? That's anyone guess. Roof clearly has no remorse for what he did, and the crime reverberated so strongly with the people of South Carolina that it's hard to believe that even the best defense attorneys could have spared him his life.
As with Tsarnaev, the path from here to Roof's execution will be a long one, and at the least it will be several years or more before we get to the point where his days are numbered. Federal law provides for a series of mandatory appeals of all death sentences whether the Defendant desires them or not. While I did not follow this case closely, though, it does not appear that there are many, if any, issues arising from it that would be a solid basis for appeal, and the same seems to apply to the sentencing phase. If there's any single issue that stands out, it's the fact that Roof represented himself at trial and during the sentencing phase of the trial, but it's not likely that this would be a valid basis for appeal. Supreme Court precedent is clear that defendants have a Constitutional right to defend themselves in a criminal case regardless of whether or not it would be a wise decision. Since the court found after a hearing that Roof was sufficiently mentally competent to be tried, it had no choice but to grant his request. Additionally, as I've said before, the fact that Roof represented himself despite being warned on the record that this was probably not a wise decision means that he is barred as a matter of law from arguing ineffective assistance of counsel as a ground for appeal. In all likelihood, then, Roof will lose his appeals and will eventually come to an execution date, but that date is likely to be several years from now at least.