Efforts To Influence Foreign Investigations Of Biden Deeper Than Thought
More information released last night confirmed the extent to which the United States was linking progress on its relationship with Ukraine to an investigation of Joe Biden and his son.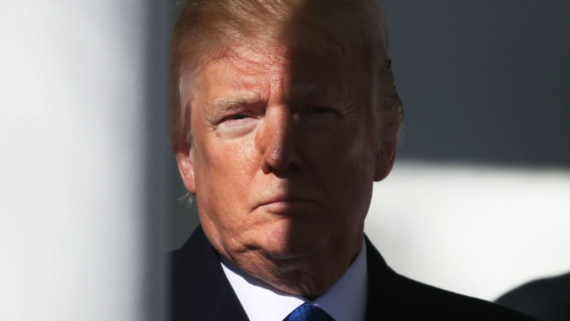 Hours after President Trump stood on the South Lawn of the White House and once again asked a foreign nation to intervene in the 2020 Presidential election by investigating and potentially providing what would amount to opposition research about a political rival. This first came up, of course, in the July 25th phone call with the President of Ukraine in which Trump clearly links future military aid to reopening the investigation of former Vice-President Joe Biden and his son Hunter regarding the younger Biden's position on the board of a Ukrainian energy company. Yesterday, the President repeated that call publicly and also as said that China should investigate the Bidens, something that he appeared to tie into the success of upcoming trade talks.
The latest revelation came last night when the committees at the head of the impeachment inquiry, House Intelligence, House Oversight, and House Finance, jointly released a series of text messages that showed that the effort to link progress on American-Ukrainian relations with Ukraine agreeing to investigate Biden was far more extensive than previously believed:

House investigators released numerous text messages late Thursday night illustrating how senior State Department officials coordinated with the Ukrainian president's top aide and President Trump's personal lawyer to leverage a potential summit between the heads of state on a promise from the Ukrainians to investigate the 2016 U.S. election and an energy company that employed the son of 2020 Democratic candidate Joe Biden.

The texts, which former special U.S. envoy to Ukraine Kurt Volker provided investigators during a nearly 10-hour deposition Thursday, reveal that officials felt Trump would not agree to meet with Ukrainian President Volodymyr Zelensky unless Zelensky promised to launch the investigations — and did so publicly. Though the texts do not mention Biden by name, congressional Democrats leading an impeachment inquiry are pointing to them as clear evidence that Trump conditioned normal bilateral relations with Ukraine on that country first agreeing "to launch politically motivated investigations," top Democrats said in statement Thursday night.

"heard from White House — assuming President Z convinces trump he will investigate / 'get to the bottom of what happened' in 2016, we will nail down date for visit to Washington," Volker texted Zelensky's aide, Andrey Yermak, on July 25, hours before Trump and the Ukrainian president spoke via phone. The transcript of that conversation was released by the White House last week.

Yet two weeks after that call the president still had not agreed to meet with Zelensky — and administration officials sought to convince the Ukrainians that Trump would need a public pledge before agreeing to the meeting, according to the text messages.

"I think potus really wants the deliverable," U.S. ambassador to the European Union Gordon Sondland texted to Volker on Aug. 9, noting that Zelensky might give a news conference announcing his intent to investigate. "To avoid misunderstandings, might be helpful to ask Andrey for a draft statement (embargoed) so that we can see exactly what they propose to cover."

By the next day, the Ukrainians had agreed to announce their plans to carry out Trump's investigations alongside the date for a meeting between the two heads of state, the messages indicate.

"Once we have a date, will call for a press briefing, announcing upcoming visit and outlining vision for the reboot of US-UKRAINE relationship, including among other things Burisma and election meddling in investigations," Yermak texted Volker on Aug. 10. Hunter Biden, the former vice president's son, sat on the board of Burisma for five years.

But Trump never committed to a meeting. And as the United States resisted giving Zelensky an audience with Trump, administration officials' discussions suggest the White House was issuing an escalating series of demands.

"Are we now saying that security assistance and WH meeting are conditioned on investigations?" U.S. charges d'affaires in Ukraine William B. "Bill" Taylor texted to Sondland on Sept. 1, after Trump skipped a trip to Poland where he was meant to visit with Zelensky. Sondland swiftly moved the conversation from text messages to a phone call.

"As I said on the phone, I think it's crazy to withhold security assistance for help with a political campaign," Taylor later texted Sondland on Sept. 9, complaining that the Trump administration's decision to withhold congressionally approved military aid to Ukraine had already created a "nightmare scenario."

"The president has been crystal clear no quid pro quo's of any kind," Sondland replied. "The president is trying to evaluate whether Ukraine is truly going to adopt the transparency and reforms that president zelensky promised during his campaign I suggest we stop the back and forth by text."

Sondland declined to comment through an attorney, Jim McDermott. Volker did not respond to requests for comment. The State Department did not immediately respond to messages, nor did the White House.
The release of the text messages followed yesterday's closed-door appearance before House Intelligence Committee Staffers of Kurt Volker, the former Trump Administration special envoy to Ukraine who at one point came to serve as something of a guardian between Ukrainian officials and Trump envoys such as his personal attorney Rudy Giuliani. Volker, of course, had resigned earlier this week in the wake of the unfolding scandal and while the details of his testimony are unclear since it was behind closed doors, it appears to have been quite revealing:
 Rudy Giuliani, the president's personal lawyer, ran a "shadow shakedown" in Ukraine, according to evidence former U.S. envoy to Ukraine Kurt Volker provided to lawmakers during more than eight hours of closed-door testimony Thursday, Rep. Eric Swalwell, D-Calif., told reporters once the deposition on Capitol Hill ended.

According to Swalwell, who attended the marathon deposition, Volker provided evidence that President Donald Trump, through Giuliani and other State Department officials, withheld aid to the country and asked Ukraine to look into former Vice President Joe Biden as well as matters related to the 2016 election.

Volker abruptly resigned last week after being named in a whistleblower complaint about a July phone call during which Trump discussed with Ukrainian President Volodymyr Zelenskiy an investigation into Biden and his son Hunter Biden. The whistleblower's complaint alleged that Volker went to Kyiv to try to guide Ukraine officials on how to handle Trump's demands for them to investigate the younger Biden's nearly five years as a member of the board that manages Ukraine's Burisma, a natural gas producer.

"We saw further evidence that there was a shadow shakedown going on, and that the lead, the lead deputy for the president was Rudy Giuliani. You had an experienced diplomat working for free, special envoy Mr. Volker, who, in many ways, was a front for work that was being done on the side parallel to his efforts by Rudy Giuliani," Swalwell, a member of the House Intelligence Committee said. Volker testified to members of the House Intelligence, Oversight and Foreign Affairs committees.

Swalwell's takeaway came in stark contrast to that of his Republican colleagues.

"The facts we learned today undercut the salacious narrative that [House Intelligence Chairman] Adam Schiff is using to sell his impeachment ambitions," Reps. Jim Jordan of Ohio and Devin Nunes of California said in a joint statement following the deposition. "We hope the American people get to read the transcript of today's testimony and see the truth."

Democrats on the Intelligence panel plan to release further evidence presented by Volker possibly as early as Thursday night, Swalwell said.

"We have evidence of text messages between State Department officials expressing concern as early as May that there was a Giuliani-Biden thing going on that had concerned a State Department official. We have evidence that a State Department official was concerned that there was a linkage between security assistance [to Ukraine], and as he described, a domestic political campaign," Swalwell said.

Democrats learned a lot, he said, that will advance their impeachment inquiry.

"You have more and more evidence that the president of the United States was improperly using his office, using our taxpayer dollars to leverage help from an ally, in our upcoming 2020 election," Swalwell said.
What we have here isn't so much new information as it is corroboration of what we already knew. The transcript of the July 25th phone conversation between Trump and Zelensky, along with the whistleblower's complaint and the Inspector General's report makes clear, and yesterday's performance on the White House South Lawn confirmed, that there was, in fact, a quid pro quo for both military aid and a meeting between Trump and Zelensky, whether that meeting was to take place in Washington or elsewhere. Indeed, the release of these messages places a new light on the seemingly out of the blue decision at the end of August by the President to cancel a trip to Poland to mark the anniversary of the start of World War II since it appears that this trip was also supposed to include a one-on-one between Trump and Zelensky. Since the Ukrainians had not followed through on the Administration's demands regarding an investigation, that may be one of the reasons why that trip was canceled.
In any case, the evidence against the President appears to be mounting on a daily basis. We already know that he has directly asked two countries to investigate a political rival and that other Administration officials sought to influence a host of other countries to investigate discredited conspiracy theories regarding the 2016 election and Robert Mueller's Russia investigation. As I've said before, this seems to be a clear violation of at least one Federal law, and it is worth noting that this law does not require the existence of a quid pro quo for there to be a violation of the law. All that is required that an American official, candidate for office, campaign, or person solicit a foreign national or foreign government for money or some other thing of value in connection with a campaign for Federal office. It's also likely that other Federal laws are implicated in all of this and that they too do not require the existence of a quid pro quo for a violation to take place. Nonetheless, the fact that there was a quid pro quo makes the scandal all the worse and shows the extent to which this President used foreign affairs to his own advantage.
More to come, I'm sure.
Here's is a copy of a letter released last night released by Chairmen of the three relevant committees along with copies of the text messages:
Ukraine Text Messages by Doug Mataconis on Scribd