Trump Now Asking China To Investigate Joe Biden
Donald Trump is now committing his crimes in public.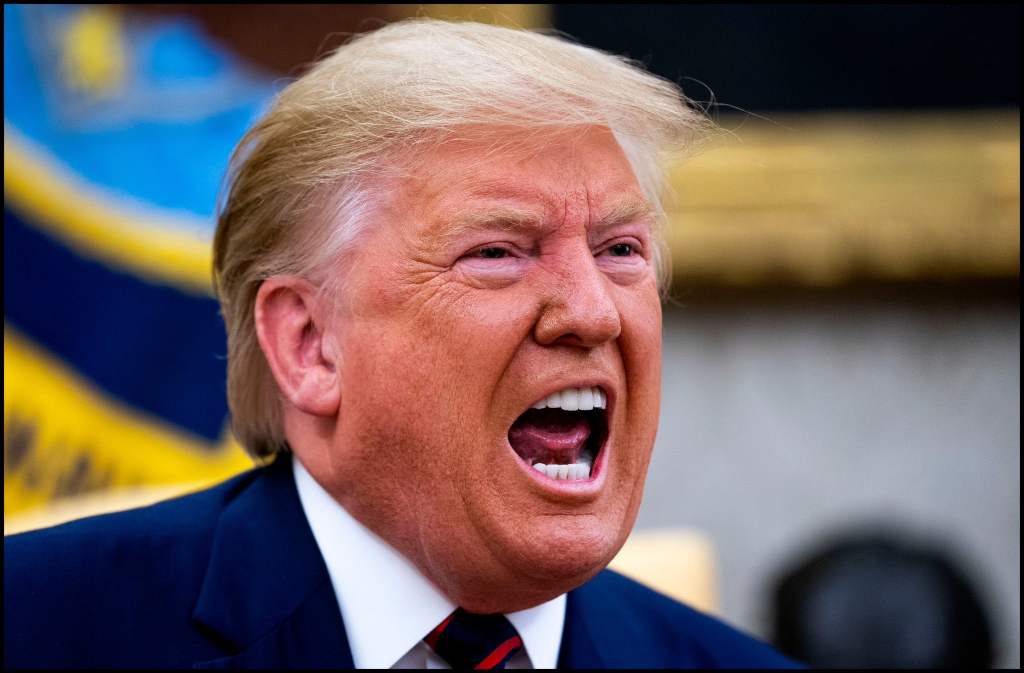 Even as he faces a growing impeachment inquiry based on his private conversation with the President of Ukraine asking for his assistance in investigating former Vice-President Joe Biden and his son Hunter, President Trump is now publicly asking China to do the same thing:
President Trump on Thursday publicly called on China to investigate a political rival, former Vice President Joseph R. Biden Jr., in an extraordinary presidential request to a foreign country for help that could benefit him in the 2020 election.

"China should start an investigation into the Bidens," Mr. Trump said Thursday as he left the White House to travel to Florida where he was expected to announce an executive order on Medicare.

The call for China to investigate Mr. Biden and his son Hunter's business dealings there came as the first witness appeared on Capitol Hill to be interviewed by House investigators as part of an impeachment inquiry into the president's request in a phone call for help from President Volodymyr Zelensky of Ukraine.

Mr. Trump has defended his conversation with Mr. Zelensky as "perfect" even after a reconstructed transcript of the call was released that showed him seeking help from Ukraine in investigating the Bidens. And he doubled down on his request on Thursday.

"I would say that President Zelensky, if it were me, I would recommend that they start an investigation into the Bidens," Mr. Trump said.

"Because nobody has any doubt that they weren't crooked."

These requests, which critics argue are an abuse of presidential power, echo comments Mr. Trump made as a presidential candidate in 2016 for Russia to release missing emails of his political opponent, Hillary Clinton.

Mr. Trump made the comments about China ahead of the latest round of trade talks, which are set to take place next week.

"We're going to have a meeting with them, we'll see," Mr. Trump said of the talks. "I have a lot of options on China. But if they don't do what we want, we have tremendous power."

In calling for China to investigate the Bidens, Mr. Trump referred to a business deal Hunter Biden was in that involved a fund drawing from investment from the Chinese government-owned Bank of China.

The fund was announced in late 2013 — days after Hunter Biden and one of his daughters flew to China from Japan aboard Air Force Two with the vice president, who was in the midst of a diplomatic mission to calm rising tensions in the region, warning Chinese leaders not to use fighter jets to enforce an air defense zone created by Beijing over contested waters. Hunter Biden and his daughter participated in a few public events there with Mr. Biden.

The conservative author Peter Schweizer claimed that Hunter Biden used the trip to secure a deal with the Bank of China. That allegation has been echoed by Mr. Trump's allies, and by the president himself on Thursday.

But a lawyer for Hunter Biden has said that he did not conduct any business related to the China investment fund on that trip, and that he was never an equity owner in the fund while his father was vice president. Hunter Biden later acquired a 10 percent interest in the entity that oversees the fund, but to date has not received any money from the arrangement, according to the lawyer.

Mr. Trump on Thursday said he had not personally asked President Xi for assistance. "But it's certainly something we can start thinking about because I'm sure that President Xi does not like being under that kind of scrutiny."
More from Politico:
President Donald Trump on Thursday openly called for China to launch an investigation into the Bidens, boldly engaging in activity similar to the allegations at the heart of House Democrats' rapidly intensifying impeachment probe.

Speaking to reporters as he departed the White House for Florida, the president once again urged Ukrainian President Volodymyr Zelensky to open a corruption investigation into the Bidens, but brought up China unprompted when asked what action he wanted his Ukrainian counterpart to take.

"Well, I would think that if they were honest about it, they would start a major investigation into the Bidens. It's a very simple answer. They should investigate the Bidens," the president told reporters about Ukraine. "Likewise, China should start an investigation into the Bidens. Because what happened in China is just about as bad as what happened with Ukraine."

The admission provides a new dimension to the ongoing impeachment inquiry into Trump, which centers on Democrats' allegations that he withheld U.S. military aid for Ukraine as he pressured Zelensky for an investigation into former Vice President Joe Biden and his son Hunter. Trump's comments about a potential China probe came shortly after he discussed how the two superpowers are locked in intense trade negotiations.

Trump has repeatedly hammered Hunter Biden's foreign business dealings over the last few weeks as he's defended urging the Ukrainian president to open an investigation during a July phone call. That call, and a whistleblower complaint raising alarms about his request, have landed the president in the middle of an impeachment inquiry in Congress.

Trump and his allies have claimed that Hunter Biden convinced China to put $1.5 billion in a fund for an investment firm he had a stake in, assertions lawyers for the former vice president's son have denied.

Lawyers for Hunter Biden have told multiple media outlets that he did not have a financial stake in the firm until after his father left public office.

(…)

Trump noted — also unprompted — that Chinese negotiators would be in town next week as high-stakes trade talks between the two countries resume, with potentially billions of dollars in tariffs on the line.

"I have a lot of options on China," he said of the trade talks, "but if they don't do what we want, we have tremendous power."

Biden critics have pointed to a trip to China in 2013 that Joe Biden took while vice president. Hunter accompanied his father on the trip, where he arranged a meeting between the vice president and a Chinese banker involved with the firm, though Hunter Biden's lawyer denied any business was conducted on the trip.

The president on Thursday denied that he'd already reached out to China's president, Xi Jinping, about a potential probe into the Bidens. "I haven't, but it's certainly something we can start thinking about," Trump said.

He also predicted that the business dealings of the Biden would weigh heavily on his presidential campaign.

"Well, I think Biden is going down, and I think his whole situation, because now you may very well find that there are many other countries that they scam just like they scam China and Ukraine," Trump said.
In essence, we now have the President doing in public vis a vis China the same thing that he did in a private July 25th phone call with the President of Ukraine and the same thing he did in 2016 when he asked Russia to find Hillary Clinton's "missing" emails. Specifically, he is soliciting the leader of a foreign nation to find compromising information on a political opponent. As I've said before, this is a clear violation of the law, specifically 50 U.S.C. 30121(2) which states that "It shall be unlawful for… a person to solicit, accept, or receive a contribution or donation [of a thing of value] from a foreign national." Additionally, there would be potential violations of 18 U.S.C. 371(1) which states:
If two or more persons conspire either to commit any offense against the United States, or to defraud the United States, or any agency thereof in any manner or for any purpose, and one or more of such persons do any act to effect the object of the conspiracy, each shall be fined under this title or imprisoned not more than five years, or both
As with Ukraine, there isn't a direct quid pro quo the fact that the President appears to have directly linked progress on ongoing trade negotiations with China to the Biden matter makes it fairly clear that China would stand to benefit in the trade talks if it opened an investigation of the former Vice President and his son. The statute above, of course, does not require a quid pro quo. All it requires is that the President is soliciting a thing of value, and opposition research is most assuredly a thing of value, from a foreign government. This is essentially a public call for the exact same thing he asked Ukraine for in the July 25th phone call.
What's most remarkable about this, I suppose, is that the President is doing this in public now. He is quite literally impeaching himself and opening yet another avenue for potential impeachment. In addition to this, of course, there are also reports from earlier this week that Trump has asked foreign leaders from nations such as Australia for assistance in the investigation of what amounts to a debunked conspiracy theory about the Russia investigation. This includes direct appeals by Attorney General William Barr to authorities in Australia, Italy, and Ukraine regarding the same manner. The fish stinks from the head down.