Everyone Hates Newt
With Gingrich surging in the polls, the pundit class has gotten out the long knives.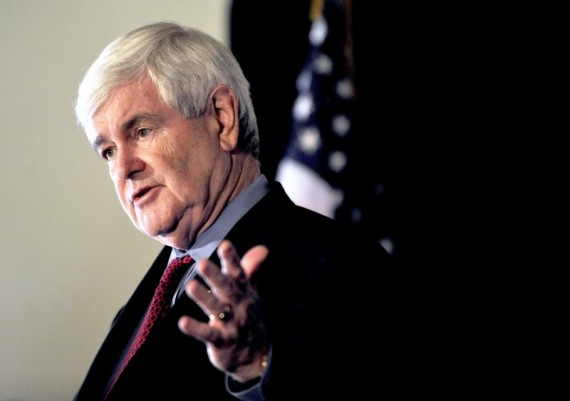 This morning, Joe Scarborough tweeted, "National Review, George Will and Red State all rightly find Newt Gingrich to be an unacceptable choice for conservatism."
It is an interesting phenomenon. Gingrich, who most of us presumed was a novelty candidate running solely to feed his ego and sell more books, is now the Republican frontrunner, holding the widest lead anyone has had thus far in the horserace. But, not only does the Establishment not like Gingrich, even major bastions of the Tea Party brand of anti-Establishment Republicanism are leery.
The Washington Examiner, for example, has endorsed Mitt Romney and explicitly cautions against nominating Gingrich.
Several weeks ago on this page, we urged conservatives to "think twice" before deciding to back Gingrich, saying that he "has been seen as an ultimate Washington insider, as exemplified in that $1.6 million he was paid to represent Fannie and Freddie, and his work with Nancy Pelosi on behalf of cap-and-trade."

The fact is, Gingrich is part of the problem, not part of the solution. He has tried mightily to shift attention away from his Washington insider status, saying, "I have never done lobbying of any kind." But that claim simply does not square with the facts, especially concerning Gingrich's lobbying Republicans in Congress for a new Medicare entitlement in 2003

[…]

Try as he might, Gingrich cannot change the fact that, as rival Ron Paul has pointed out in a TV spot, his reported net worth went from $10,000 when he entered Congress in 1978 to $7.5 million when he left Congress in 1998. And remember, it was only then that he began making millions by selling access to his vast networks of influential Washington contacts to clients like PhRMA and Freddie Mac. Combined with his rhetorical unpredictability and short-fuse temperament — he is like an exploding cigar, waiting to be lit — Gingrich's insider status makes him a symbol of congressional back-scratching and an easy target for Obama's political hit squads.

It is not unusual in politics for voters to project their hopes and dreams onto a fresh candidate. But Gingrich is hardly a blank slate. It should be remembered that he is the only Speaker ever to be reprimanded by the House of Representatives, and was ordered to pay $300,000 in penalties because of his ethical transgressions. It also needs to be remembered that he was engaging in an adulterous affair with a twentysomething aide (now his wife) even as he was preparing the impeachment of President Clinton for having an adulterous affair with a twentysomething intern. Republican voters seem to be engaging in willful amnesia about what is euphemistically called Gingrich's "baggage." They shouldn't: It would be used against him in ugly ways in a general election campaign.
Even Ann Coulter–hardly a bastion of pragmatism–piles on:
If all you want is to lob rhetorical bombs at Obama and then lose, Newt Gingrich — like recent favorite Donald Trump — is your candidate. But if you want to save the country, Newt's not your guy.

Gingrich makes plenty of bombastic statements, but these never seem to translate into actual policy changes.

After becoming the first Republican speaker of the House in nearly half a century, for example, Newt promptly proposed orphanages and janitorial jobs for children on welfare.

It was true that welfare had destroyed generations of families shorn of the work ethic and led to soaring illegitimacy rates, child abuse and neglect. Maybe orphanages and child labor would have been better.

But we didn't get any orphanages. We didn't get jobs for children in families where no one works.

What we got was the cartoonish image of Republicans as hard-hearted brutes who hated poor kids.

[…]

With Gingrich we get the worse of all worlds. He talks abrasively — offending moderates and galvanizing liberals — but then carries a teeny, tiny stick.

We want someone who will talk softly and unthreateningly while implementing vital policy changes. Even when Gingrich doesn't completely back off conservative positions, his nutty rhetoric undermines the ability of Republicans to get anything done.

By the time of the 1996 Republican National Convention, Gingrich was so widely reviled that the Democrats' main campaign strategy against all Republican candidates for office was to link them with Gingrich.
When Ann Coulter is condemning your "nutty rhetoric," you may have crossed a line.
The National Review editorial Scarborough mentions praises Gingrich before burying him:
We say that mindful of his opponents' imperfections — and of his own virtues, which have been on display during his amazing comeback. Very few people with a personal history like his — two divorces, two marriages to former mistresses — have ever tried running for president. Gingrich himself has never run for a statewide office, let alone a national one, and has not run for anything since 1998. That year he was kicked out by his colleagues, the most conservative ones especially, who had lost confidence in him. During his time as Speaker, he was one of the most unpopular figures in public life. Just a few months ago his campaign seemed dead after a series of gaffes and resignations. That Gingrich now tops the polls is a tribute to his perseverance, and to Republicans' admiration for his intellectual fecundity.

Both qualities served conservatives well in the late 1980s and early 1990s, when Gingrich, nearly alone, saw the potential for a Republican takeover of Congress and worked tirelessly to bring it about. Even before the takeover, Gingrich helped to solidify the party's opposition to tax increases and helped to defeat the Clinton health-care plan. The victory of 1994 enabled the passage of welfare reform, the most successful social policy of recent decades.

Gingrich's colleagues were, however, right to bring his tenure to an end. His character flaws — his impulsiveness, his grandiosity, his weakness for half-baked (and not especially conservative) ideas — made him a poor Speaker of the House. Again and again he combined incendiary rhetoric with irresolute action, bringing Republicans all the political costs of a hardline position without actually taking one. Again and again he put his own interests above those of the causes he championed in public.

He says, and his defenders say, that time, reflection, and religious conversion have conquered his dark side. If he is the nominee, a campaign that should be about whether the country will continue on the path to social democracy would inevitably become to a large extent a referendum on Gingrich instead. And there is reason to doubt that he has changed. Each week we see the same traits that weakened Republicans from 1995 through 1998: I'd vote for Paul Ryan's Medicare reform; Paul Ryan's Medicare reform is radical right-wing social engineering; I apologize for saying that, and no one should quote what I said because I was wrong; actually, what I said was right all along but nobody understood me. I helped defeat Communism; anyone who made money in the '80s and '90s owes me; I'm like Reagan and Thatcher. Local community boards should decide what to do with illegal immigrants. Freddie Mac paid me all that money to tell them how stupid they were. Enough. Gingrich has always said he wants to transform the country. He appears unable to transform, or even govern, himself. He should be an adviser to the Republican party, but not again its head.
George Will's most recent column chastising Gingrich is comparatively mild. He was more blistering a month ago:
"Gingrich's is an amazingly efficient candidacy in that it embodies everything that is disagreeable about modern Washington. He's the classic rental politician," George Will said on "This Week" today.

"People think that his problem is his colorful personal life. He'll hope that people concentrate on that rather than, for example, ethanol. Al Gore has recanted ethanol. Not Newt Gingrich. Industrial policy of the sort that got us Solyndra, he's all for it. Freddie Mac, he says, hired him as a historian. He's not a historian."
The bottom line is that people who have been paying rapt attention to American politics since at least 1994 simply don't like Newt Gingrich very much. The average voter–even the average primary voter–has only fuzzy recollections of Gingrich as Speaker. To them, his carny act seems original. And, in contrast to previous frontrunners Rick Perry and Herman Cain, his ability to speak in paragraphs makes him seem positively brilliant.
This act will wear thin this go-round just as it did in the 1990s. The only question is whether it'll happen in time to derail his train to the nomination or we'll have to wait until November.