Gingrich Clear Frontrunner; Can't Beat Obama
The former Speaker has the biggest lead of any candidate thus far in the race for the 2012 Republican presidential nomination.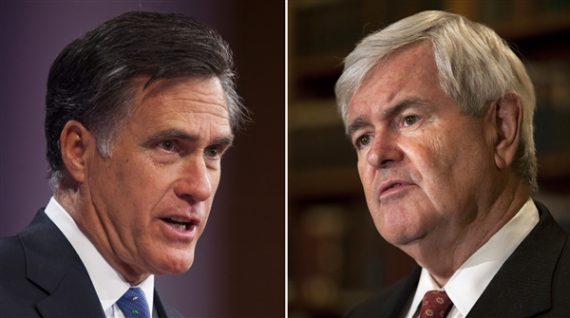 The latest NBC/WSJ poll finds that Newt Gingrich has the biggest lead of any candidate thus far in the race for the 2012 Republican presidential nomination but that Republicans remain unenthusiastic about their choices.
MSNBC ("Romney struggles with primary voters, Gingrich with general electorate"):
Exactly three weeks until the first Republican presidential nominating contest in Iowa, front-runners Newt Gingrich and Mitt Romney have two different challenges, according to a new NBC News/Wall Street Journal poll.

Romney faces a challenge with the Republican primary electorate, trailing Gingrich nationally by 17 percentage points as nearly two-thirds of Republicans view him as either liberal or moderate. Gingrich, meanwhile, faces a challenge with the general electorate, as half of all voters say they wouldn't vote for him in November, and as he trails President Barack Obama by more than 10 percentage points in a hypothetical contest — compared with Romney's two-point deficit versus the Democratic incumbent.

"Romney has not caught on [with Republican voters]," says Democratic pollster Peter D. Hart, who conducted this survey with Republican pollster Bill McInturff. "And Gingrich is so deeply flawed." "I think the Republican Party for the next four months is on the razor's edge," Hart adds. "Here is a year where they have a superlative opportunity to capture the White House. The question is whether they will self-destruct."

According to the poll, Gingrich, the former House speaker, is the first choice of 40 percent of GOP primary voters — the highest percentage any Republican presidential candidate has received in the party horserace so far. Romney, the former Massachusetts governor, is the first choice of 23 percent of Republicans. He's followed by Texas Rep. Ron Paul at 9 percent, Minnesota Rep. Michele Bachmann at 8 percent, Texas Gov. Rick Perry at 6 percent, former Utah Gov. Jon Huntsman at 5 percent, and former Pennsylvania Sen. Rick Santorum at 3 percent.

Reduced to a three-person GOP race, Gingrich gets 53 percent, Romney gets 31 percent and Paul gets 13 percent. And in a two-way Republican contest, Gingrich leads Romney by 23 points, 59 percent to 36 percent.

What's helping Gingrich and hurting Romney? Look no further than ideology. Fifty-seven percent of Republican primary voters view Gingrich as a conservative, 28 percent see him as a moderate and 10 percent believe he's liberal. By comparison, 53 percent of them view Romney as a moderate, 29 percent see him as a conservative and 11 percent believe he's a liberal.
My late wife's firm, Public Opinion Strategies, did the polling along with Peter Hart. They summarize the results thusly:
In the latest NBC News/The Wall Street Journal poll conducted December 7-11, Americans signal that 2011 is a year to forget. Compared to past years, 76% see 2011 as below average or one of the worst. That's the second worse rating across nine years this poll has asked that question stretching back off-and-on to 1991.

The modestly good news is that 30% of adults think the economy will get better over the next 12 months with 22% saying it will get worse. While still grim, this is the first time the economic outlook measure has been a net positive since April.

President Obama's overall job approval remains a slight net negative (46-48) and his Very Positive image rating is lower than his Very Negative image rating for the fourth consecutive survey. Meanwhile, both political parties have double-digit net negative image ratings.

Looking forward to the 2012 race, overall enthusiasm continues to drop and now just 43% of voters say they're more enthusiastic about the 2012 elections than past elections. However, Republicans continue to have a steady and significant enthusiasm gap compared to Democrats. Among Republicans, 55% are "more enthusiastic" about the 2012 election compared to previous elections while just 38% of Democrats are more enthusiastic. That's the same high level enthusiasm as November for Republicans but for Democrats it represents a five percent drop in just one month. Independents dropped precipitously from 40% "more enthusiastic" in November to 28% this month.
WSJ wants you to subscribe to read their write-up, despite it being widely available elsewhere.
While it's noteworthy that this survey is something of an outlier–nobody else has Gingrich leading by as much–the general direction is consistent with other polling. Gingrich has led every single national poll taken in the past month and his RealClearPolitics average lead is 11.2 percent.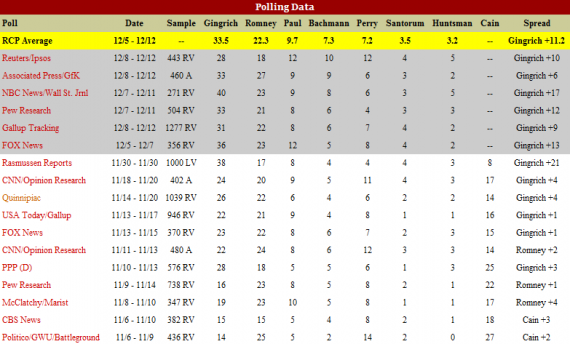 The bottom line is that, while I still think Romney the most likely nominee, I'm much less confident in that than I've been the entire cycle to date. Romney simply hasn't broken through the 25 percent number that has been his ceiling thus far and Republicans seem willing to overlook Gingrich's huge flaws in order to nominate someone they see as a True Conservative.
Given that denying Obama a second term is their chief goal, though, that's not a sound strategy. MSNBC again:
But while Gingrich runs ahead of the Republican pack, he doesn't fare as well as Romney in a hypothetical general-election race.

Obama leads the former House speaker by 11 points among registered voters, 51 percent to 40 percent. But the president's lead narrows to just two points against Romney, 47 percent to 45 percent. Against a generic Republican, 43 percent say they will probably vote for Obama, while 45 percent say they will probably vote for the GOP candidate.

Why the difference between Gingrich and Romney? Look no further than their favorability ratings.

Gingrich enjoys strong numbers among Republicans (46 percent positive vs. 21 percent negative), conservatives (42 percent positive vs. 23 percent negative) and Tea Party supporters (54 percent positive vs. 16 percent negative). In fact, they are higher than Romney's numbers among these same three key Republican groups. But Gingrich struggles with other important voting blocs — like women (20 percent positive vs. 38 percent negative), independents (16 percent positive vs. 40 percent negative) and suburban residents (25 percent positive vs. 41 percent negative).

By comparison, Romney fares better among women (22 percent positive vs. 31 percent negative), independents (21 percent positive vs. 29 percent negative) and suburban dwellers (29 percent positive vs. 30 percent negative). What's more, 50 percent of registered voters say they would not vote for Gingrich in a general election — compared with 45 percent who said that about Obama and 44 percent who said that about Romney.
Gingrich's sleaziness and general unlikability may not keep him from getting the nomination. It will almost certainly keep him out of the White House.