Why the Establishment Doesn't Like Newt Gingrich
The Establishment opposition to the current frontrunner has little to do with his policy ideas.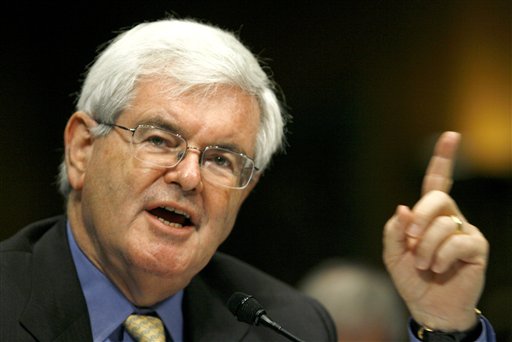 As I've been following the news out of the corner of my eye these past two weeks, I've seen a spate of stories on Newt Gingrich's improbable rise to frontrunner status. Quite a few take the snide tone of Christian Whiton's "Why Washington Is Shocked, Shocked By Newt Gingrich's Rise Over Mitt Romney."
One of the more enjoyable spectacles out of Washington lately has been the horror of establishment Beltway Republicans that Newt Gingrich just might be their presidential nominee, having jumped ahead of Mitt Romney in recent polls. The cause of this is simple if often disguised: Newt is the opposite of everything they just know to be true.

[…]

The problem is that most of what Gingrich proposes runs counter to what they have been conditioned to accept.

[…]

Now reenter Newt Gingrich, the man whom Republican Washington just knows failed as Speaker of the House, despite the welfare, capital gains tax and balanced budget reforms that bear his fingerprints.

On EPA replacement, for example, Gingrich says: "I don't think you can train the current bureaucrats. I think their bias against capitalism, their bias against local government, their bias against economic rationality, is just amazing."

Here, Gingrich is revealing his reverence for Andrew Jackson, who in his presidency succeeded in replacing fully one-fifth of the federal bureaucracy, seeing this as a requirement for radical change.

Most Washingtonian Republicans view desires like this as hopelessly naive. During their careers, they have seen modest changes, but nothing like the major shifts in Washington that have occurred at turning points in American history. Those with historical knowledge of them tend to know only of times the bureaucracy grew as opposed to those where it was actually tamed.

The idea of reversing federal growth is fine to keep on the wish list, but those who advocate it seriously are seen as rubes—either new arrivals in Washington who just fell off a turnip truck or unsophisticated congressmen from 'flyover country.' To be a true Beltway Republican is to have accepted the assumption that the scope of government cannot be radically altered. And they think it is politically foolish to try.

Thus the establishment just knows that you run a moderate like Mitt Romney for president. Conservatives have no place else to go and independents will be attracted—historical evidence to the contrary be damned.

Gingrich challenges this, believing 2012 may be one of those historical turning points where voters will be most attracted by a candidate who offers a radical divergence.
There's more but you get the idea.
The problem with all of this is that it presumes that the only meaningful factor in assessing a potential president is the policy positions they take as a candidate. In reality, though, neither "the establishment" nor ordinary voters actually operate that way.
Policy positions are pretty far down the list of reasons most of us don't want Gingrich to be our standard bearer. Indeed, despite being closer to me on a host of public policy issues than Obama, I'd be hard pressed to vote for Gingrich in a head-to-head matchup. Simply put, I don't believe Gingrich is morally fit to be president.
I continue to believe Bill Clinton should have been removed from the presidency for his sleazy conduct as president and that his sleazy conduct as governor should have been enough to keep him out of office. Once upon a time, Gingrich professed to believe that, too. But Clinton's problems all stemmed from an inability to keep it in his pants; his crimes were limited to lying about it when caught. Gingrich seems to be a pretty disgusting fellow across the board.  There are the two divorces under very unfortunate circumstances. The numerous ethics violations in four short years as Speaker. The personal pettiness. The hypocrisy. The lobbying.
I was a big Gingrich fan in 1994. While, in hindsight, I find some of the tactics used to get attention for himself and bring discredit on the Democratic House leadership of the day unsavory, he was a shrewd tactician. And he was as articulate a spokesman for core Republican principles as any national politician since Reagan.
But, like many a revolutionary, he was a lousy leader once he took power. He was constantly maneuvered into corners by Bill Clinton, who managed to use Gingrich as a foil in his triangulation policy. Gingrich alienated most of his own caucus and the country within a few months and became the bogey man of the 1996 elections, with every Republican morphing into his likeness in all the ads.
As to the issues, Gingrich makes Mitt Romney look like a pillar of consistency. At least Romney has an excuse, even if he can't use it: he was running to govern and then governing one of the most liberal states in the union back then and is now looking to run the whole country now. It's hardly surprising that he'd take different policy stances under those vastly different circumstances. Gingrich, on the other hand, has been a public intellectual for the past fifteen years and has been known to flip-flip on an issue in the space of a weekend.
Whiton's specific examples illustrate the other major problem I have with Gingrich: he's an unserious wonk who likes to throw ideas against a wall and see what sticks.
Here's the EPA idea, as listed on his campaign website, in full:  "Replacing the Environmental Protection Agency with an Environmental Solutions Agency that works collaboratively with local government and industry to achieve better results." That's simply a non-policy. Changing the name of an agency doesn't give us "better results," any more than rearranging agencies (see: Department of Homeland Security) does. Whatever you call the EPA, its employees would still, by definition, be "government bureaucrats" and no more trainable than they are now. Similarly, there's no reason to think the employees of the new agency would be magically free from "bias against local government" and "bias against economic rationality." And, if those obstacles can somehow be overcome by executive order, why, just issue the order.
Gingrich is a bright man–I hear he has a PhD in history–but he's still got the mentality of the young graduate student who thinks the world could be radically reshaped if only it were run by people as clever as himself.