Expectations High For Paul Ryan Ahead Of Debate
Expectations are high for Paul Ryan heading in to Thursday's Vice-Presidential debate. That's not necessarily a good thing.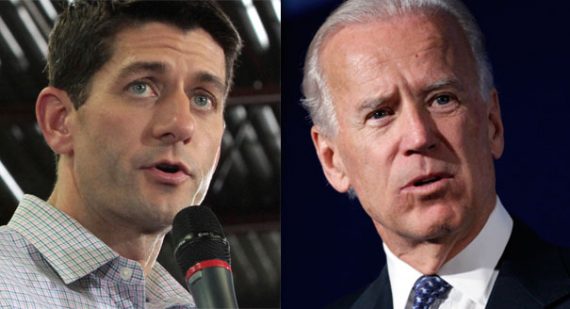 With the Vice-Presidential debate only four days away, there are a lot of people expecting Paul Ryan to perform very well:
Conservatives have been licking their chops in anticipation of a debate between Paul Ryan and Joe Biden ever since Ryan was announced as the Republican vice presidential candidate. After GOP nominee Mitt Romney's strong performance in the first presidential debate, the pressure is on Ryan to maintain the momentum, and many on the right don't think that will be difficult.

Confidence in Ryan's intellect is matched only by a sense that the gaffe-prone vice president can't be taken seriously. "Ryan is going to be a great, articulate spokesperson out there. He is going to wipe up the floor with Biden in the debates," Republican strategist Ed Rollins told Fox News this summer. Former New York Mayor Rudy Giuliani has said of Biden: "I think the vice president of the United States has become a laugh line on late-night television."

Biden's reputation took another hit this past week, when he told a campaign crowd that the middle class has been "buried" during the four years of President Obama's leadership. Former New Hampshire Gov. John Sununu, a Romney surrogate, hopped on the phone with reporters to declare, "Vice President Biden finally got something right." The latest CNN/ORC International poll found that among likely voters, 55 percent think Ryan is likely to do a better job in the debate than Biden. Only 39 percent gave Biden the advantage.

But Biden's no fool, and the sky-high expectations for Ryan could set him up for failure. The House Budget Commmittee chairman fromWisconsin may be smart, but he struggles to give policy specifics when pressed by journalists. Biden may make clumsy remarks, but he's a seasoned debater, with a gut connection to the middle-class voters who'd be hit by budget cuts Ryan has proposed.

The vice president is "a really knowledgeable debater," said former Michigan Gov. Jennifer Granholm, host of The War Room on Current TV and Alaska Gov. Sarah Palin's stand-in during Biden's 2008 debate prep.

(…)

Ryan's reputation as an "intellectual policy wonk" carries real vulnerabilities, said Professor Kathleen Hall Jamieson of the Annenberg School for Communication at the University of Pennsylvania. If Biden "can catch him in an error, he'll be able to dislodge the dominant narrative about Ryan," she said.

For a self-described "numbers guy," Ryan can be oddly hazy on specifics, analysts noted. In an interview with Fox News' Chris Wallace on Sunday, Ryan wouldn't say how much the GOP ticket's proposed tax cuts would cost, just that they'd be paid for by eliminating loopholes in the tax code. "You haven't given me the math," Wallace prodded.

"Well, I don't have the ti—It would take me too long to give you all of the math," Ryan said. "But let me say it this way: You can lower tax rates by 20 percent across the board by closing loopholes and still have preferences for the middle class."

"What intellectual policy wonks are supposed to be able to do is clearly communicate policy alternatives," Jamieson said.

The Obama campaign has been equally hazy on many of their policy specifics, Jamieson said. But Biden isn't expected to be as adept at explaining policy as Ryan.
It's also worth noting that this will be Ryan's first debate on a national stage, in the middle of his first campaign outside of his Wisconsin Congressional District. While Republicans have generally given Ryan high marks for his speech at the Republican National Convention, other observers noted at the time that he seemed nervous to be on such a big stage for the first time in his political career. Similar emotions at the debate could be a problem for him.
The bigger problem, though, is the fact that so many people on the right have been building up Ryan to the point where, arguably, even if his does his best his may end up disappointing people. From the moment that Mitt Romney named him as his running mate, conservatives have been looking forward to this debate with open glee. Ryan, they assume, will be able easily ride over a Vice-President that they see as mostly idiotic. Maybe that's the case, but when you start building up the expectations for a candidate you set that candidate up to disappoint if they don't live up to them. Sarah Palin was deemed to have done fairly well in her 2008 debate with Biden mostly because the expectations for so low that she couldn't have possibly done any worse than what people were expecting. In Ryan's case, if he walks onto the debate stage with sky high expectations, he's basically being set up to be designated the "loser" of the debate.
Vice-President Biden, of course, comes into the debate with expectations of his own. Over the course of his four years in office, he's built up a reputation, far or not, as someone who is gaffe-prone and likely to say the wrong thing in a political situation. After all, it's not every politician who would even think about letting a picture like this make it into the national media. At the same time, though, I think conservatives tend to underestimate Joe Biden in many respects. Gaffes or not, he's generally very well received in working class communities in states like Pennsylvania, Ohio, and other states in the Midwest that are quite important to this election. During the 2008 Democratic primaries, he was widely seen as being a far better debater than Obama, Hillary Clinton, or John Edwards even though his campaign never exactly took off.  Republicans who underestimate him do so at their peril.
On the whole, there's very little evidence that Vice-Presidential debates have much of an impact on the race as a whole. George H.W. Bush was widely panned for what many thought were overly aggressive attacks on Geraldine Ferraro in their 1984 debate, but the Reagan-Bush ticket ended up winning in one of the biggest landslides in American history. Lloyd Bentsen absolutely clobbered Dan Quayle in their 1988 debate, but the Dukakis-Bentsen ticket ended up losing by more than 300 Electoral Votes and eight percentage points in the Popular Vote. Of course, with an election this close, things could end up being a little different. Dick Cheney clearly out debated John Edwards in their 2004 encounter, for example, and it may be the case that this was one of the reasons that the Bush-Cheney ticket was able to pull off a narrow victory. Could something similar happen this year? Perhaps. At the very least, if the Vice-President does well on Thursday it may help stop whatever slide the ticket is experiencing in the polls, and a solid Ryan win could keep the momentum from Romney's good debate performance last week going. As always, we'll have to wait and see.