False Missile Alert In Hawaii Causes Panic And Raises Questions And Concerns
Fortunately, yesterday's missile alert in Hawaii was a false alarm. However, it is raising questions about the early warning system that's in place and the state's preparedness in case of an actual attack.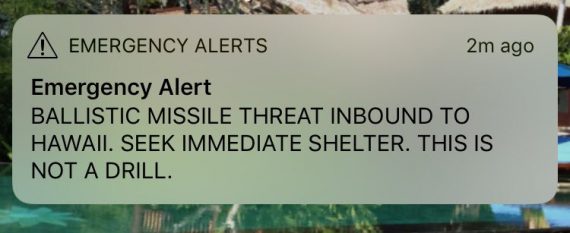 Yesterday Hawaiians woke up to something truly terrifying, a message coming across via text message, social media, television, and radio that a ballistic missile was headed to the islands. The message ended with the ominous words "This is not a drill," words well known in Hawaii as being the final sentence of the first and only warning that was issued just minutes before the Japanese began their attack on Pearl Habor on the morning December 7, 1941 at virtually the same time that this warning was broadcast, shortly after 8:00 am yesterday morning. The obvious implication of the warning was that North Korea had launched a missile in the direction of America's 50th state and that the authorities had reason to believe that it was armed with a nuclear warhead. Across the islands, people reacted about as you might expect, huddling in a safe room somewhere in their house if they were able to or, in some cases, waiting and worried that they could be just minutes away from either annihilation. As it turned out, of course, the whole thing was a false alarm, but that is only raising the level of concern and leaves people wondering just how prepared Hawaii and the rest of the United States is in case the unthinkable really does happen:
An early-morning emergency alert mistakenly warning of an incoming ballistic missile attack was dispatched to cellphones across Hawaii on Saturday, setting off widespread panic in a state that was already on edge because of escalating tensions between the United States and North Korea.

The alert, sent by the Hawaii Emergency Management Agency, was revoked 38 minutes after it was issued, prompting confusion over why it was released — and why it took so long to rescind. State officials and residents of a normally tranquil part of the Pacific, as well as tourists swept up in the panic, immediately expressed outrage.

"What happened today was totally unacceptable," said Gov. David Y. Ige. "Many in our community were deeply affected by this. I am sorry for that pain and confusion that anyone might have experienced."

Officials said the alert was the result of human error and not the work of hackers or a foreign government. The mistake occurred during a shift-change drill that takes place three times a day at the emergency command post, according to Richard Rapoza, a spokesman for the agency.

"Someone clicked the wrong thing on the computer," he said.

State officials said that the agency and the governor began posting notices on Facebook and Twitter announcing the mistake, but that a flaw in the alert system delayed sending out a cellphone correction. As a result, they said a "cancellation template" would be created to make it easier to fix mistaken alerts. A new procedure was instituted Saturday requiring two people to sign off before any such alert is sent.

At no time, officials said, was there any indication that a nuclear attack had been launched on the United States. The Federal Communications Commission announced that it had begun "a full investigation into the FALSE missile alert in Hawaii."

The alert went out at about 8:10 a.m., lighting up phones of people still in bed, having coffee by the beach at a Waikiki resort, or up for an early surf. "BALLISTIC MISSILE THREAT INBOUND TO HAWAII. SEEK IMMEDIATE SHELTER. THIS IS NOT A DRILL," it read.

Hawaii has been on high emotional alert — it began staging monthly air-raid drills, complete with sirens, in December — since President Trump and Kim Jong-un, the leader of North Korea, began exchanging nuclear threats. Estimates vary, but it would take a little more than half an hour for a missile launched from North Korea to reach Hawaii, traversing an arc of roughly 5,700 miles. State officials said that residents here would have as little as 12 minutes to find shelter once an alert was issued.

Within moments of the first announcement, people flocked to shelters, crowding highways in scenes of terror and helplessness. Emergency sirens wailed in parts of the state, adding to the panic.

"I was running through all the scenarios in my head, but there was nowhere to go, nowhere to pull over to," said Mike Staskow, a retired military captain.

Allyson Niven, who lives in Kailua-Kona, said her first instinct was to gather her family as she contemplated what she thought would be her final minutes alive.

"We fully felt like we were about to die," she said. "I drove to try to get to my kids even though I knew I probably wouldn't make it, and I fully was visualizing what was happening while I was on the road. It was awful."

Ray Gerst was vacationing on Oahu with his wife to celebrate their 28th wedding anniversary. He received the alert as they pulled up for their tour of Kualoa Ranch.

"All the buses stopped, and people came running out of the ranch and said, 'Just sit still for a minute, nobody get off the bus, nobody get off the bus,'" he said.

They were taken into the mountains, Mr. Gerst said, and dropped off at a concrete bunker. They sheltered in place for about 15 minutes, he said, during which time they had no cell signal.

"It was scary," Mr. Gerst said. "I mean, there was no intel."

(…)

Senator Brian Schatz of Hawaii said the mistake was "totally inexcusable."

"The whole state was terrified," he said. "There needs to be tough and quick accountability and a fixed process."

While the cellphone alerting system is in state authorities' hands, the detection of missile launches is the responsibility of the United States Strategic Command and Northern Command. It was the military — not Hawaiian officials — that was the first to declare there was no evidence of a missile launch.

The false alert was a stark reminder of what happens when the old realities of the nuclear age collide with the speed — and the potential for error — inherent in the internet age. The alert came at one of the worst possible moments — when tension with North Korea has been at one of the highest points in decades, and when Mr. Kim's government has promised more missile tests and threatened an atmospheric nuclear test.

(…)

The Hawaii Emergency Management Agency has been holding "are you ready" drills. As a chain of islands, Hawaii is subject to all kinds of threats — hurricanes, volcanoes, earthquakes and tsunamis — but officials have made clear that none is more urgent now than the threat of an attack by North Korea, given how little time there would be between an alert and the detonation of a bomb.

The fifth page of an emergency preparation pamphlet issued by the Hawaii Emergency Management Agency features a picture of a rocket lifting off: "Nuclear Threat — Unlikely But Cannot Ignore It."

Vern T. Miyagi, the administrator of the agency, said that during the drill, an employee — whom he did not identify — mistakenly pushed a button on a computer screen to send out the alert, rather than one marked to test it. He said the employee answered "yes" when asked by the system if he was sure he wanted to send the message.

Mr. Miyagi, going through a detailed timeline of the events at an afternoon news conference, said the agency tried to correct the error on social media. It took 38 minutes to send out a follow-up message canceling the original alert, which he acknowledged was a shortcoming with the alert system that the agency would fix.

Mr. Rapoza said he did not know if anyone would be disciplined for the mistake. "At this point, our major concern is to make sure we do what we need to do to reassure the public," he said. "This is not a time for pointing fingers."

The panic that followed the alert — if relatively short-lived — gripped the islands. There were reports of people seeking shelter by parking their cars inside a highway tunnel that cuts through a mountain. When the announcement was rescinded, a digital highway sign read: "Missile alert in error: There is no threat."
The text alert that was sent out is depicted above, and a similar message apparently went out over Twitter and via the emergency alerts that can be sent to cell phones in emergency situations. Additionally, the alert also made its way to television:
Holy hell this is terrifying.
This is the exact moment the Hawaii Emergency Alert System for the Ballistic Missile alert interrupted Hawaiian TV. #Hawaii #BallisticMissle #EAS pic.twitter.com/gzLCBgqHVG

— Chris Strider (@stridinstrider) January 13, 2018
It took a full 38 minutes for the authorities to send out the message that the missile threat was an error, although it's worth noting that Hawaii Congresswoman Tulsi Gabbard was doing her best to spread that message on social media well before that. If there had been an actual missile launch, it's estimated that Hawaiians would have at most 15 minutes from the time of the warning, which went out at roughly 8:07 am Hawaii Standard Time according to screenshots sent on social media by many people on the ground in the Aloha State, to find shelter and prepare for either a nearby impact or the fallout that would follow if there was indeed a nuclear attack. Even Congresswoman Gabbard's social media statement stating that there was no threat didn't come until about 12 minutes after the initial alert, although that appears to be due to the fact that it took her that long to verify that fact with state and military officials. That means, of course, that the withdrawal of the alert came long after it would have mattered and likely did very little to calm the nerves of the 1.5 million people who live there, or the thousands of people who were vacationing there and wondering if they had just bought a one-way ticket to annihilation.
As expected, the events of the day have already caused public officials and others to ask a number of questions about the reliability of emergency warning systems not only in Hawaii but nationwide. The fact that something that appears for all the world can be sent out, not only via text message and social media but also via television and radio, as easily as via the inadvertent pushing of a button raises a lot more questions than it answers, and there ought to be a full investigation by state and Federal authorities alike, although this appears for all the world to be strictly a failure at the state level in which neither the military nor the Federal Government played a role. Additionally, as Jazz Shaw notes this morning, there are some people who are raising questions about whether the state government's report on what happened is completely accurate. In that regard, The Atlantic has an article quoting an official from Hawaii's emergency mangement agency that offers a somewhat different perspective on the initial official explanation:
According to [Hawaii Emergency Management Agency representative Richard] Rapoza, the agency was undergoing a shift change. "During shift change they do a drill and somebody clicked the wrong thing on a computer," he said. To send a meaningful all-clear notice, which appeared about a half hour later ("There is no missile threat or danger to the State of Hawaii. Repeat. False Alarm.") required properly composing and offsending a new IPAWS civil emergency message.

So how could this happen? For many reasons. In part, it's because emergency systems have long decoupled from the threat of war in general, let alone global thermonuclear war specifically, even as they've become incredibly robust at sending peacetime messages. In part, it's because media have splintered and fragmented, making it hard to get detailed official messages to everyone. In part, though, it's because media have consolidated in devices everyone holds in their hands and pockets, but which work best with small quantities of narrow-bandwidth information. And, in part, it's because someone pressed the wrong button on a computer, which then did exactly what it was programmed to do.
This, of course, raises a whole host of questions, including why they'd be holding a drill in the middle of a shift change, which is undoubtedly a point in time when the likelihood that confusion and missteps are the most likely. It's true, of course, that had there been an actual attack it could have been happening in the middle of a shift change to take advantage of this very fact, and the authorities need to be prepared and train for that possibility. At the same time, however, it seems as though there ought to be some kind of safeguard during a drill to prevent an actual alert from being sent out without the need for further clarification. This is especially true given the fact that one would logically expect that any missile warning that came to state authorities would have first been passed on by the military, specifically by either NORAD or the U.S. Pacific Command, which is in charge of the military forces in Hawaii and elsewhere in the Pacific. In this case, there was no such warning issued and in fact apparently no communication at all between state authorities before the alert was sent out. Given all of that, it seems clear that some changes need to be made to current procedures to ensure that this doesn't happen again. If not, then it's possible that we'll end up something akin to the boy who cried wolf, and that some future warning of an actual attack won't be taken as seriously as it ought to be.