FBI Using Anti-Muslim Literature To Train Counterterroism Agents
The FBI has been using some odd materials to train its counterterrorism agents.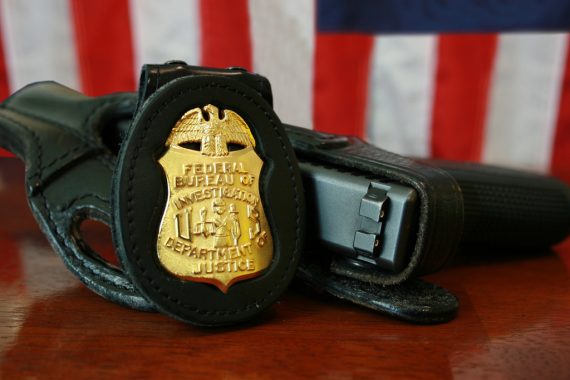 Spencer Ackerman is out with what strikes me as being a disturbing report about the training being given to FBI agents regarding radical Islamic terrorism:
The FBI is teaching its counterterrorism agents that "main stream" [sic] American Muslims are likely to be terrorist sympathizers; that the Prophet Mohammed was a "cult leader"; and that the Islamic practice of giving charity is no more than a "funding mechanism for combat."

At the Bureau's training ground in Quantico, Virginia, agents are shown a chart contending that the more "devout" a Muslim, the more likely he is to be "violent." Those destructive tendencies cannot be reversed, an FBI instructional presentation adds: "Any war against non-believers is justified" under Muslim law; a "moderating process cannot happen if the Koran continues to be regarded as the unalterable word of Allah."

These are excerpts from dozens of pages of recent FBI training material on Islam that Danger Room has acquired. In them, the Constitutionally protected religious faith of millions of Americans is portrayed as an indicator of terrorist activity.

"There may not be a 'radical' threat as much as it is simply a normal assertion of the orthodox ideology," one FBI presentation notes. "The strategic themes animating these Islamic values are not fringe; they are main stream."

(…)

An FBI presentation titled "Militancy Considerations" measures the relationship between piety and violence among the texts of the three Abrahamic faiths. As time goes on, the followers of the Torah and the Bible move from "violent" to "non-violent." Not so for devotees of the Koran, whose "moderating process has not happened." The line representing violent behavior from devout Muslims flatlines and continues outward, from 610 A.D. to 2010. In other words, religious Muslims have been and always will be agents of aggression.

Training at Quantico isn't designed for intellectual bull sessions or abstract theory, according to FBI veterans. The FBI conducts its training so that both seasoned agents and new recruits can sharpen their investigative skills.

In this case, the FBI's Allen says, the counterterrorism agents who received these briefings have "spent two to three years on the job." The briefings are written accordingly. The stated purpose of one, about allegedly religious-sanctioned lying, is to "identify the elements of verbal deception in Islam and their impacts on Law Enforcement." Not "terrorism." Not even "Islamist extremism." Islam.
Many counterterrorism experts who've worked in or with the FBI aren't at all impressed with the effectiveness of these materials, or their usefulness. One expert called it the equivalent of trying to teach someone about the Catholic Church by starting with exorcisms. More importantly, though, they are concerned that training like this reduces the ability of agents to detect actual terrorism:
Not all counterterrorism veterans consider the briefings so benign. "Teaching counterterrorism operatives about obscure aspects of Islam," says Robert McFadden, who recently retired as one of the Navy Criminal Investigative Service's al-Qaida-hunters, "without context, without objectivity, and without covering other non-religious drivers of dangerous behavior is no way to stop actual terrorists."

(…)

The FBI isn't just treading on thin legal ice by portraying ordinary, observant Americans as terrorists-in-waiting, former counterterrorism agents say. It's also playing into al-Qaida's hands.

Focusing on the religious behavior of American citizens instead of proven indicators of criminal activity like stockpiling guns or using shady financing makes it more likely that the FBI will miss the real warning signs of terrorism. And depicting Islam as inseparable from political violence is exactly the narrative al-Qaida spins — as is the related idea that America and Islam are necessarily in conflict. That's why FBI whistleblowers provided Danger Room with these materials.
Reading through some of this material, such as one document [PDF] called "Militancy Considerations," one almost begins to think that they were prepared by the likes of Robert Spencer, Pamela Geller, or any one of the other Anti-Muslim writers who have sprung up over the past ten years. Well, it turns out that you wouldn't be very far off with that thought:

Several of these briefings were the work of a single author: an FBI intelligence analyst named William Gawthrop. In 2006, before he joined the Bureau, he gave an interview to the website WorldNetDaily, and discussed some of the themes that made it into his briefings, years later. The Prophet "Muhammad's mindset is a source for terrorism," Gawthrop told the website, which would later distinguish itself as a leader of the "birther" movement, a conspiracy theory that denies President Obama's American citizenship.

At the time, Gawthrop's major suggestion for waging the war on terrorism was to attack what he called "soft spots" in Islamic faith that might "induce a deteriorating cascade effect upon the target." That is, to discredit Islam itself and cause Muslims to abandon their religion. "Critical vulnerabilities of the Koran, for example, are that it was uttered by a mortal," he said. Alas, he lamented, he faced the bureaucratic obstacle of official Washington's "political taboo of linking Islamic violence to the religion of Islam,"

Back then, however, Gawthrop didn't work for the FBI. He had recently stepped down from a position with the Defense Department's Counterintelligence Field Activity. That agency came under withering criticism during the Bush administration for keeping a database about threats to military bases that included reports on peaceful antiwar protesters and dovish Church groups. It is unclear how Gawthrop came to work for the FBI.according to the website.
Relying on someone who advocates what can only be described as Holy War against Islam and was quoted as a source by one of the nuttiest websites of the wingnut blogosphere doesn't strike me as effective law enforcement training, As the experts quoted above note, the training materials really don't seem to contain anything that helps law enforcement understand and stop actual terrorism. Instead, it tells them that all of Islam is the enemy, which may explain why part of the FBI's counterterrorism strategy has been to send agents into Islamic community centers and mosques. While there's a value in obtaining information from these sources, it's typically been the case that the most useful information has come from other Muslims who overheard things. For the most part, it seems like all the FBI's surveillance has accomplished is catching potential terrorists who got caught up in sting operations, such as last year's arrest of a man who thought he was plotting with al Qaeda to attack stations in Washington, D.C's Metro system, or the man who thought he was helping with a plot to attack a Christmas festival in Oregon. As I noted at the time of the second arrest, there's a legitimate question of whether these kind of arrests actually stop a terrorist, or whether they're a case of entrapment.
One of the FBI's most successful counterterrorism agents has a unique perspective on the program that Ackerman writes about:
The FBI didn't always conflate terrorism with Islam. "I never saw that," says Ali Soufan, one of the FBI's most distinguished counterterrorism agents and author of the new memoir The Black Banners, who retired from the bureau in 2005. "Sometimes, toward the end of my time, I started noticing it with different entities outside the FBI. You started feeling like they had a problem with Islam-as-Islam, because of the media. But that was a few people, and was usually hidden behind closed doors."

Soufan, a Muslim, has interrogated members of al-Qaida and contributed to rolling up one of its cells in Yemen after 9/11. But by the logic of the FBI's training materials, Soufan's religious practices make him a potential terrorist.
In the years after the September 11th attacks, George W. Bush sought to make it clear that the United States was not at war with the Islamic faith, but with terrorists who were using their religious faith to justify a murderous agenda. It was the right thing for him to do, particularly since taking the opposite position would have been so easy under the circumstances, Indeed, Bush was roundly criticized for those comments and the Geller's, Spencer's, and Larry Kudlow's of the world have spent a good part of the last ten years trying, with unfortunate success, to make the anti-Muslim meme the dominant one among conservatives. The fact that such an ideology has seeped into the FBI, though, is pretty troubling.
Ackerman was on Rachel Maddow's show discussing his story last night, the segment is worth viewing:
Visit msnbc.com for breaking news, world news, and news about the economy
And here's an interesting follow-up segment with NBC foreign correspondent Richard Engel:
Visit msnbc.com for breaking news, world news, and news about the economy