FDA Makes Plan B Available Over The Counter To 15 Year Olds
The FDA has modified it's rules on the availability of a politically controversial form of birth control.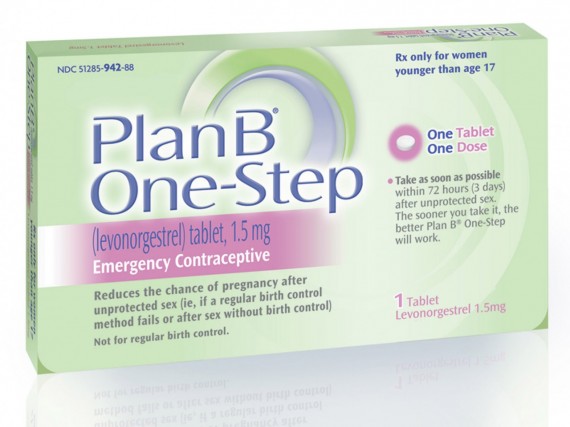 Earlier this month, a Federal District Court Judge in New York struck down a rule promulgated by the Food And Drug Administration that stated that "Plan B" and similar "morning after" pills would only be available to girls under seventeen years of age.  Today, in what seems like a partial response to that ruling, the FDA has revised its rule so that the drugs will now be available over the counter to girls as young as 15:
The U.S. Food and Drug Administration announced Tuesday that it approved the availability of the Plan B One-Step emergency contraception pill without a prescription for women 15 and older.

This move comes just weeks after a federal judge in Brooklyn, New York, ordered the FDA to make the morning-after birth control pill available to women of any age, without a prescription. Tuesday's FDA announcement, which pertains to an application from Teva Women's Health, Inc., is not related to that, the FDA said.

"The FDA's approval of Teva's current application for Plan B One-Step is independent of that litigation and this decision is not intended to address the judge's ruling," the FDA said in a statement.

In early April, the U.S. Justice Department indicated an appeal of the Brooklyn judge's order was under consideration. "The Department of Justice is reviewing the appellate options and expects to act promptly," department spokeswoman Allison Price said.

According to the new FDA decision, Plan B One-Step will now be labeled to reflect that proof of age is required to purchase it, and it cannot be sold where age cannot be verified. The packaging will include a product code that prompts the cashier to ask and verify the age of the customer.

The product will be available in retail outlets with pharmacies, but the pill can be sold during non-pharmacy hours, too.

"While we fully support this expansion of access to birth control, we continue to believe that the administration should lift all unnecessary restrictions to emergency contraception, consistent with the prevailing science and medicine," Planned Parenthood Federation of America President Cecile Richards said Tuesday in a statement.

The FDA decision does not pertain to the two other emergency contraceptive drugs marketed in the United States. Plan B is available from generic manufacturers over-the-counter for women 17 and older and Ella is available by prescription only, for all ages, and prevents pregnancy within five days of unprotected sex or contraceptive failure.

"Research has shown that access to emergency contraceptive products has the potential to further decrease the rate of unintended pregnancies in the United States," said FDA Commissioner Dr. Margaret A. Hamburg in a statement. "The data reviewed by the agency demonstrated that women 15 years of age and older were able to understand how Plan B One-Step works, how to use it properly, and that it does not prevent the transmission of a sexually transmitted disease."
The Washington Post's Sarah Kliff comments:
This is not, as the FDA points out in a statement, a response to the recent court decision on emergency contraceptives. In that April 5 case, a federal judge ordered the Obama administration to make Plan B available over the counter to women of all ages — not just those who are 15 and older.

"The Department of Justice is considering next steps in the litigation," FDA officials said in a statement. "In the meantime, the FDA took independent action to approve the pending application on Plan B One-Step for use without a prescription by women 15 years of age or older."

We don't know yet whether the Department of Justice will file an appeal to the court decision, but we will know soon: The Obama administration only has until May 5 to do so.

If the federal government does not appeal and does comply with the federal court ruling, it would make this FDA rule, in a way, moot. Under that scenario, the FDA would agree to allow emergency contraceptives to be sold without any age verification.

If Justice goes the other route, and appeals the court decision, then this policy would have a lot more meaning. It would liberalize access to emergency contraceptives for women of all ages by making Plan B One-Step available in situations when a drug store may be open — but it's pharmacy is closed.
Jon Terbush, though, points out that the new FDA rule isn't likely to please anyone:
For one, it falls short of the unrestricted access favored by leading science and health groups like the American Medical Association. They're joined by liberal lawmakers, including Sen. Patty Murray (D-Wash.), who called the change a "step in the right direction," but said she would keep pushing for more open access. Planned Parenthood vowed to do the same, as did the Center for Reproductive Rights, which filed the lawsuit that led to the recent court ruling.

"Lowering the age restriction to 15 for over-the-counter access to Plan B One-Step may reduce delays for some young women — but it does nothing to address the significant barriers that far too many women of all ages will still find if they arrive at the drugstore without identification or after the pharmacy gates have been closed for the night or weekend," Nancy Northup, president and CEO of the Center for Reproductive Rights, said in a statement.

Social conservatives, meanwhile, are miffed that the FDA has granted wider access to a pill they oppose on principle.

"This ruling places the health of young girls at risk," a spokesperson for the Family Research Council told Life News. "Making Plan B available for girls under the age of 17 without a prescription flies in the face of medical information and sound judgment."
Kate Sheppard also points out another part of the new rule that is likely to displease advocates of wider availability of morning after pills. Specifically, because there's an age restriction on availability without a prescription, the rule requires pharmacies to check identification to verify that the person making the purchase is over the age of fifteen. Obviously, most girls who are fifteen, or even sixteen, are not going to have a driver's license and would not typically carry around some other form of government identification. One also presumes that the identification cards that many High Schools now issue to students is not going to be considered sufficient unless it includes a date of birth. This requirement also conflicts with the Court Order issued last month which requires the FDA to make Plan B available over the counter to women of all ages. That order goes into effect on May 5th unless the Justice Department decides to appeal the case and obtains a stay of the ruling. So far, there's been no word from the DoJ in that regard, although it strikes me that they are more likely than not to appeal the decision at least to the Circuit Court level.
Politically, of course, this is as likely to set off a political firestorm as the court decision last month did. Scientifically, it appears to be the case that there is no valid reason for the FDA to place an age restriction on the use of Plan B, which is why the Judge ruled the way that he did. Given that, restrictions based on age would seem to be outside the bounds of FDA rulemaking. At the same time, though, it's quite obvious that the idea of making a drug like this available to teenage girls without a prescription and, presumably, without parental knowledge and consent is something that's likely to make a substantial group of people, including people who might not necessarily qualify as hard-core social conservatives, uncomfortable to say the least. As I when discussing this last month, it is entirely possible for Congress to take control of this issue by passing a law directing the FDA to require a prescription for minors who want this medication, although that's unlikely to happen in the current political climate. Nonetheless, I think we an expect to see candidates forced to take a position on this issue.