Federal Judge Blocks New Jersey Sports Betting, But N.B.A. Commissioner Says 'Legalize It'
Once again, a Federal Judge has barred New Jersey's effort to legalize sports betting based on Federal law. it's time for the Federal Government to get out of the way on this issue.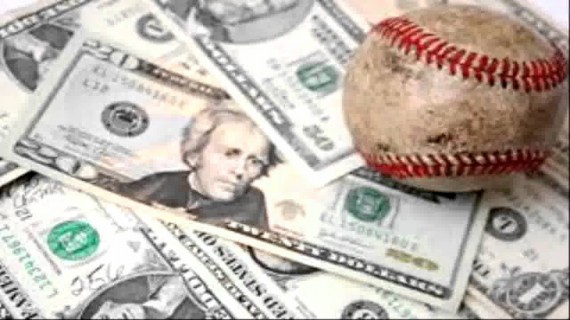 Not unexpectedly, a Federal Judge in New Jersey has blocked a renewed effort by New Jersey legislators, and Governor Chris Christie, to legalize sports betting in the Garden State in an effort to revitalize a gambling industry that has seen revenue decline in the face of competition from casinos in neighboring states:
TRENTON — A judge ruled on Friday that New Jersey cannot partially lift a prohibition on sports betting in an effort to aid the state's struggling horse racing and casino industries.

The decision from Judge Michael Shipp of Federal District Court was the expected outcome since the judge had ruled similarly in the past.

The state, locked in a legal battle with the National Collegiate Athletic Association and four professional sports leagues, is expected to appeal.

"We are going to continue pursuing every legal option available," Stephen M. Sweeney, a Democrat and president of the State Senate, said in a statement. "The economic impact that sports wagering can have on New Jersey is far too important to simply shrug our shoulders and move on.

A federal law bans New Jersey and most other states from authorizing betting on sports. But the state contended that it did not want to license or authorize the betting. Instead, New Jersey was seeking to end the prohibition on sports betting, but would not regulate it.

But Judge Shipp agreed with the sports leagues that setting parameters like limiting sports gambling to certain places amounts to regulation. But he noted that he "finds that the present case is not nearly as clear as either the leagues or the defendants assert."

While the judge agreed with the central part of the sports' leagues argument, he dismissed some of their other arguments.

New Jersey has been pushing to allow sports betting at horse tracks and casinos in an effort to support both struggling industries. Voters have approved the concept, but a federal court rejected it in a slightly different form. The United States Supreme Court declined to hear the case earlier this year, and it seemed that might be the end of it.

But as the financial crisis in Atlantic City's casinos deepened, Gov. Chris Christie's administration tried a new approach. Instead of legalizing sports gambling in defiance of the leagues and federal government, it called for not enforcing the state's ban. The Legislature followed with a bill to lift the ban as it pertains to casinos and tracks. Mr. Christie, a Republican, signed that into law last month.

The N.C.A.A. and the professional sports leagues contend that federal law would allow the state to lift the ban entirely — but not to allow sports betting with some conditions, like limiting it to certain locations and keeping minors from participating.
As noted above, this is the second time that this issue has been before the Federal Courts, and indeed before this very same Judge. The 2011 referendum in which New Jersey voters authorized the legalization of sports betting at casinos and race tracks around the state was quickly challenged in Federal Courts by the same Plaintiffs involved in the present case and, in 2012, Judge Shipp ruled that the plan the legislature had adopted violate a Federal law known as the Professional and Amateur Sports Protection Act (PASPA), which banned sports betting nationwide except in those small number of states where it was already legal at the time the law was authorized. That decision was upheld by the Third Circuit Court of Appeals, but in their decision the Third Circuit noted that there was a loophole in PAPSA that would allow a state to repeal all its laws against sports betting and allow the activity to take place. The only caveat is that this loophole would not allow the state to have a direct role in operating sports betting itself. After the Supreme Court rejected the states appeal of the Third Circuit's decision, New Jersey legislators acted to follow the path laid out by the Third Circuit by repealing the state's laws against sports betting. In response, one of the state's largest horse racing tracks, in Monmouth, went forward with a plan to allow limited sports betting as a pilot project with a well-established British sports betting firm handling the project as manger/operator. It is that program that is now being challenged in Federal Court, and without diving too far into the legal minutia of Judge Shipp's analysis of PASPA  and how it applies to what New Jersey is doing here, the core of his finding seems to be that the state is still sufficiently involved for the loophole that the Third Circuit talked about in 2013 to be inapplicable. That, quite obviously, will be a big part of the appeal to the Third Circuit that New Jersey officials have already vowed to go ahead with.
The Court's ruling is not unexpected given Judge Shipp's previous ruling on this issue, but it is interesting in no small part because it comes just over a week after N.B.A. Commissioner Adam Silver published an Op-Ed in The New York Times calling for the legalization of sports betting nationwide:
For more than two decades, the National Basketball Association has opposed the expansion of legal sports betting, as have the other major professional sports leagues in the United States. In 1992, the leagues supported the passage by Congress of the Professional and Amateur Sports Protection Act, or Paspa, which generally prohibits states from authorizing sports betting.

But despite legal restrictions, sports betting is widespread. It is a thriving underground business that operates free from regulation or oversight. Because there are few legal options available, those who wish to bet resort to illicit bookmaking operations and shady offshore websites. There is no solid data on the volume of illegal sports betting activity in the United States, but some estimate that nearly $400 billion is illegally wagered on sports each year.

Times have changed since Paspa was enacted. Gambling has increasingly become a popular and accepted form of entertainment in the United States. Most states offer lotteries. Over half of them have legal casinos. Three have approved some form of Internet gambling, with others poised to follow.

There is an obvious appetite among sports fans for a safe and legal way to wager on professional sporting events. Mainstream media outlets regularly publish sports betting lines and point spreads. Voters in New Jersey overwhelmingly voiced their support for legal sports betting in a 2011 referendum. Gov. Chris Christie of New Jersey recently signed a billauthorizing sports betting at local casinos and horse racetracks, a law the N.B.A. and other leagues have opposed — and a federal court has blocked — because it violates Paspa.

Outside of the United States, sports betting and other forms of gambling are popular, widely legal and subject to regulation. In England, for example, a sports bet can be placed on a smartphone, at a stadium kiosk or even using a television remote control.

In light of these domestic and global trends, the laws on sports betting should be changed. Congress should adopt a federal framework that allows states to authorize betting on professional sports, subject to strict regulatory requirements and technological safeguards.

These requirements would include: mandatory monitoring and reporting of unusual betting-line movements; a licensing protocol to ensure betting operators are legitimate; minimum-age verification measures; geo-blocking technology to ensure betting is available only where it is legal; mechanisms to identify and exclude people with gambling problems; and education about responsible gaming.
As the Times notes, it's unlikely that we'll see any of the other sports leagues joining in Silver's call for legalized sports betting any time in the near future. In some cases, such as baseball, that's due to institutional memories about the impact that betting once had on the integrity of the game. For other leagues its because they are already in the process of finding ways to profit for themselves off of things that involve quasi forms of gambling such as fantasy sports leagues. If sports gaming is going to become legalized in the future, these leagues seem to be saying, it is going to happen on our terms and in a way that we can profit from it. Perhaps that is what it will take, and in that case I don't necessarily object to the idea, although I will note that if one is concerned about the possibility of corruption it would seem to be more likely in an environment where the leagues themselves are involved somehow in the process. Instead, as I said last month, the ideal solution here would be to allow individual states to proceed however they wish when it comes to legalization of sports betting. Some states will choose to legalize, others will not, and, as with the ongoing movement to build more and more casinos, the market will decide just how much demand there is for such a thing. The point, though is that there is no rational reason for Congress to be banning sports betting, especially since the only real justification that seems to exist for doing so is the idea of protecting the "integrity" of sports. As much as I realize the powers of Congress have been expanded in the last two centuries, I struggle to find any provision in the Constitution that can fairly be said to give it the job of protecting the integrity of private businesses. Silver is correct. Sports betting should be legalized, and if the loophole that New Jersey is trying to pursue does not prove to be sufficient, then PASPA should be repealed immediately.
Here's Judge Shipp's opinion: