Feel Free To Skip Tonight's Vice-Presidential Debate, Because It's Not Going To Matter
Nothing that happens tonight during the Vice-Presidential debate is likely to matter, so feel free to skip it.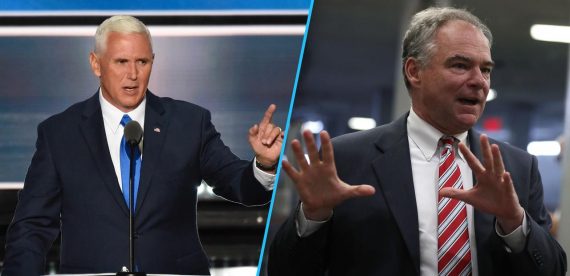 Robert Tracinski has some advice about tonight's Vice-Presidential debate between Senator Tim Kaine and Governor Mike Pence, namely that you can feel free to skip it. He's largely correct, which is why you should feel free to head to bed early, go out and catch a movie, watch tonight's American League Wild Card Game between the Blue Jays and the Orioles, or even just watch paint dry. Any one of those activities is likely to be far more productive than the ninety minutes you'll spend watching the two candidates for an office that former Vice-President John Nance Garner,  who served as Franklin D. Roosevelt's Vice-President for his first two terms in office, described as "not worth a bucket of warm piss."
First of all, as Tracinski notes, there are unlikely to be any surprises coming out of tonight's exchange. Both Kaine and Pence are experienced politicians who,, between them, have run for office numerous times stretching back at least a decade for Pence and some two decades for Kaine. They've debated their opponents on countless occasions and, while this debate will be different thanks to the size of the audience, this isn't exactly a new format for them. Both men have likely been well-rehearsed and are familiar with the styles of the man at the other podium. Most importantly, that debate preparation will have included the instruction given to all running mates, namely that the first rule is to do no harm to the campaign or the candidate at the top of the ticket. The odds that either candidate will say or do something that could have an impact on the race, or even be newsworthy the next day, are therefore pretty low.
Second, Tracinski argues that gaffes don't seem to matter in this election cycle, and his argument seems to be largely correct. The primary example of this, of course, is Donald Trump, who has said or done numerous things since the beginning of his campaign last June that, in any other election year, would mean the end of someone's campaign. The same is true of Hillary Clinton, who has tripped over herself trying to answer questions about things like her use of a private email server while serving as Secretary of State numerous times with no real impact on her campaign. Given that the Presidential candidate's own gaffes have failed to derail their campaign, the odds that something their running mate says tonight will do that are basically zero.
More importantly, as we've seen through many election cycles now, it is almost never the case that a running mate has any measurable impact on the outcome of a Presidential race, for either good or bad:
In 1988, for example, Massachusetts Governor Michael Dukakis selected Texas Senator Lloyd Bentsen as his running mate. Bentsen was highly regarded by politicians on both sides of the aisle and arguably could have been a good candidate for President in his own right, and there was little question that he was someone the nation could consider ready to take over should something happen to the President.  That same year, to the surprise of many, George H.W. Bush selected Dan Quayle, the 42 year old junior Senator from Indiana, as his running. To say that the selection was puzzling is an understatement, and Quayle did not exactly impress many people during his roll out on the national stage. Despite the contrast in the qualifications and perceptions about their respective running mates, picking Bentsen didn't help Dukakis significantly and picking Dan Quayle didn't seem to hurt George Bush, who won the Presidency in a landslide, albeit one that wasn't quite as overwhelming as President Reagan's wins in1980 and 1984 and which didn't deliver control of either house of Congress. Similarly, John McCain's selection of Sarah Palin likely didn't have much of an impact on the outcome of the 2008 election, which Republicans were unlikely to win in any case and Mitt Romney selecting Paul Ryan didn't help him capture Midwestern statesthat have been out of the Republican orbit since the 1992 election.
So, feel free to do something productive tonight, or something totally unproductive if you so choose, because there's really nothing about tonight's debate that's going to matter in the long run. Which is appropriate, I suppose, considering that these two men are running for an office that John Nance Garner, Franklin D. Roosevelt's first Vice-President, described as "not worth a bucket of warm piss," this is entirely appropriate.