First Black Woman Supreme Court Justice
Democrats are already jockeying to influence President Biden's pick should a vacancy arise.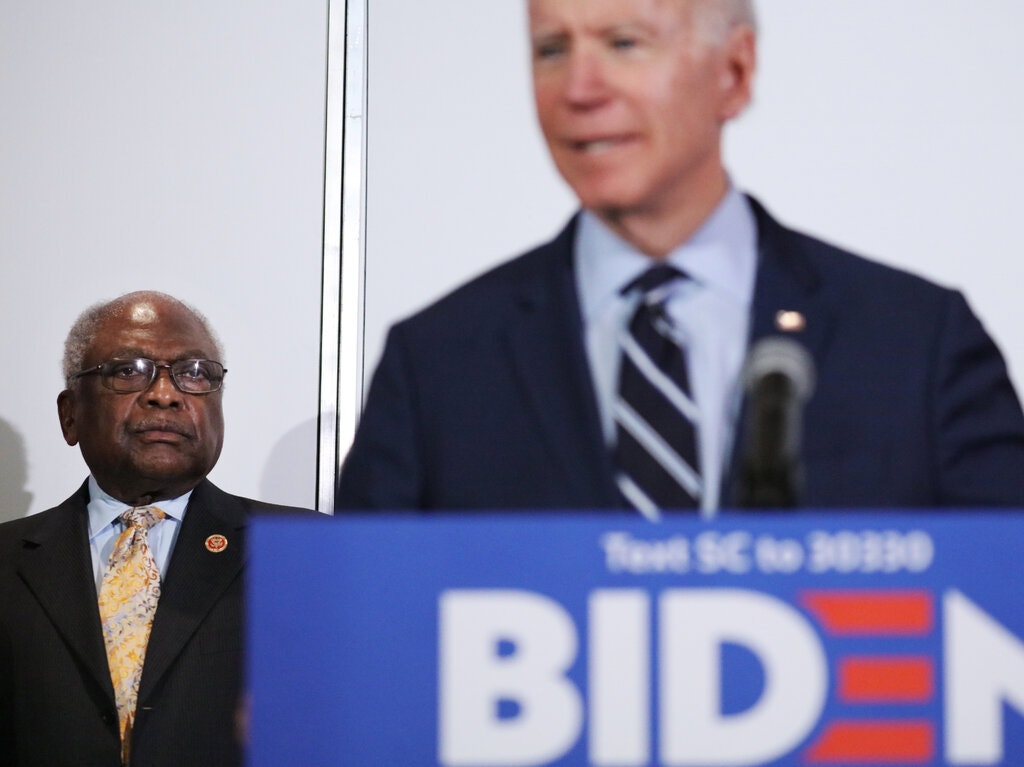 The NYT's Jonathan Martin reports on "How Democrats Are Already Maneuvering to Shape Biden's First Supreme Court Pick."
After meeting in the Oval Office earlier this month with President Biden, Vice President Kamala Harris and his fellow senior House Democrats, Representative James E. Clyburn of South Carolina made a beeline to Ms. Harris's office in the West Wing to privately raise a topic that did not come up during their group discussion: the Supreme Court.

Mr. Clyburn, the highest-ranking African-American in Congress, wanted to offer Ms. Harris the name of a potential future justice, according to a Democrat briefed on their conversation. District Court Judge J. Michelle Childs would fulfill Mr. Biden's pledge to appoint the first Black woman to the Supreme Court — and, Mr. Clyburn noted, she also happened to hail from South Carolina, a state with political meaning for the president.
Clyburn is widely credited at turning out Black voters in his state's pivotal primary and thereby turning the tide for Joe Biden. Certainly, Biden seems to think so, as he has given Clyburn enormous sway in picking personnel, including his insistence on a Black Secretary of Defense.
Childs would be an unconventional choice, indeed, for SCOTUS. My initial instinct was the Biden's pledge to pick the first Black woman to the bench put him in the same position as Ronald Reagan was in four decades ago having pledged to nominate the first woman, period: being forced to pick someone less qualified than typical for the position because of a shallow pool of candidates. But there's more going on here:
The early jockeying illustrates how eager Democratic officials are to leave their mark on Mr. Biden's effort to elevate historically underrepresented contenders for a landmark Supreme Court nomination. But it also casts a spotlight on discomfiting issues of class and credentialism in the Democratic Party that have been just below the surface since the days of the Obama administration.

Some Democrats like Mr. Clyburn, who have nervously watched Republicans try to repackage themselves as a working-class party, believe that Mr. Biden could send a message about his determination to keep Democrats true to their blue-collar roots by choosing a candidate like Ms. Childs, who attended public universities.
At first blush, that strikes me as silly symbolism. After all, Berkley and the University of Virginia are public universities but their law schools are more well-regarded than those at many Ivies. But this is a strong argument:
"One of the things we have to be very, very careful of as Democrats is being painted with that elitist brush," said Mr. Clyburn, adding: "When people talk to diversity they are always looking at race and ethnicity — I look beyond that to diversity of experience."

Representative G.K. Butterfield of North Carolina, like Mr. Clyburn a veteran member of the Congressional Black Caucus, made a similar point in an email to the White House counsel, Dana Remus, last month listing the caucus's preferred criteria for federal court appointments. Near the top of the list, Mr. Butterfield said, was: "The judge should have a diversity of experience in multiple settings and in multiple areas including experiences outside of the law."
As I noted recently, I've changed my mind on this issue in recent years. While I prefer brilliant legal minds on the Supreme Court, drawing its justices exclusively from the federal Courts of Appeal (and especially the DC Circuit) or the faculty of the elite law schools creates too narrow a view of the law. We should certainly have people with other experience—including criminal defense attorneys and probably a seasoned politician or two.
As to Childs in particular, there's just not enough to go on here:
Unlike eight of the nine current Supreme Court justices, Ms. Childs, 54, did not attend an Ivy League university. Her mother worked for Southern Bell in Columbia, S.C. and Ms. Childs won a scholarship to the University of South Florida. She later graduated from the University of South Carolina's law school and became the first Black woman to make partner at one of the state's major law firms. In the fashion of an earlier generation of jurists, she rose in state politics before being appointed to the bench. Ms. Childs served as a top official at South Carolina's labor department before being appointed to the state's workers' compensation board.

"She is the kind of person who has the sort of experiences that would make her a good addition to the Supreme Court," Mr. Clyburn said.
She's clearly accomplished. And I like her diversity of experience. I have no idea, though, of her judicial philosophy or, indeed, whether she even has one.
As the piece goes on to note, there are plenty of Black women for Biden to choose from. There are few who have checked the federal Appeals Court box but many with elite credentials and experience in prominent legal posts. It shouldn't be hard to find one that will sail through confirmation, should a vacancy arise.