Was I Wrong on Harriet Miers?
Rethinking what qualities we should be looking for in Supreme Court Justices.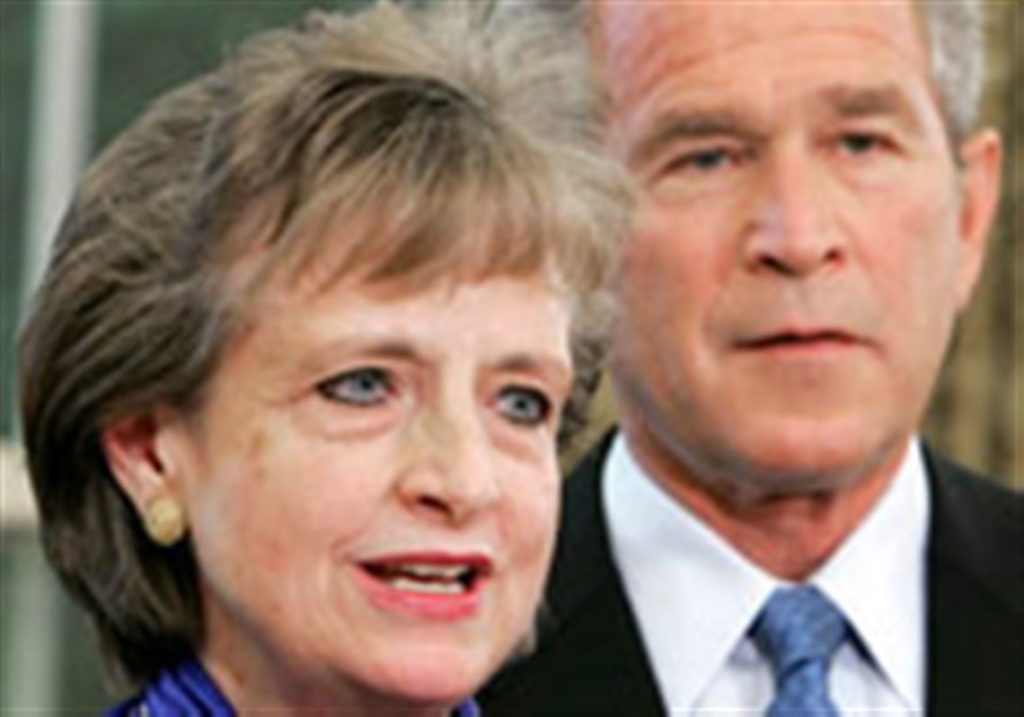 Fifteen years ago, President George W. Bush nominated White House Counsel Harriet Miers to the United States Supreme Court. She was almost universally derided as a mediocrity, unworthy of the nomination, and ultimately withdrew from consideration. The OTB gang, myself included, joined in with dozens of posts. But maybe we were wrong.
I concluded my initial posting reacting to the nomination,
. . . Article III judges are supposed to have an independent perspective. I prefer a judge who will read and apply the Constitution, not factor in their career experience.
In a posing the next day, titled "Harriet Miers: Not So Mediocre?" I laid out my counter to the handful of conservative legal bloggers defending her, notably Miers' fellow Texas attorney Bill Dyer,* aka "Beldar."
[Beldar] refutes the "not qualified" label that most have bestowed on Miers. I agree with his reasoning and, indeed, remarked that "her resume is impressive enough" in my initial posting on the subject. Miers is a perfectly competent lawyer who has been quite successful throughout her career, despite having spent the formative part of it in an era when women simply did not become prominent attorneys, least of all in Texas. And she did that long before George W. Bush was in any position to help her.

Still, the former academician in me does expect a Supreme Court nominee to have a "well-considered 'judicial philosophy'" a'la Randy Barnett. Perhaps that is a luxury of those who live in an ivory tower but it is the most effective way to guage what type of Justice the appointee will make. This is especially important for someone without a substantial tenure as an appelate judge. Pragmatism is likely a good and necessary trait in a litigator. It is likely a recipe for inconsistency as a judge.

Beldar notes that Miers' resume compares quite favorably with Sandra Day O'Connor and Justice Lewis F. Powell, Jr. at the time of their nominations. To which conservative critics will say: Exactly. Both are bright, decent, hard-working citizens who served their nation honorably. Neither, however, had a consistent view of the Constitution.

To return to now-Chief Justice John Roberts' sports analogy, judges are umpires. I prefer one whose strike zone is the same from inning to inning and game to game. Ideally, I prefer one whose strike zone is the same as that in the Official Rules of Baseball. If I'm going select an umpire for the World Series who has never called a game before, I would at least like to know what their view of the strike zone is. If they tell me they've never thought about it much because they've been too busy working, I am unlikely to be impressed.
My views on Miers haven't changed nor, fundamentally, have my views on the role of the Supreme Court. If nine individuals are going to decide what the Constitution means on an ongoing basis, I want the nine brightest legal minds that we can find.
Further, I still agree with what I wrote fifteen years ago in that closing paragraph. Consistency is perhaps the most important trait for umpires, both literal and figurative. A strike zone or a Constitution that changes willy-nilly is bad for the game or the country.
Still, the bitterness over the election-year vacancies caused by the deaths of octogenarian giants unable to outlast an opposite-party president and the increasing sense of the Supreme Court as a partisan institution have me rethinking the value of both wide real-life experience and relative unpredictability.
Antonin Scalia and Ruth Bader Ginsburg are arguably the two most brilliant Justices of my lifetime and they had well-considered, internally-consistent judicial philosophies. Despite being ideological opposites, they were fast friends. And, instinctually, they remain my archetype of what we should aspire to in selecting Justices.
Yet maybe we'd be better off with more Sandra Day O'Connors, Lewis Powells, and Anthony Kennedys. They were all swing justices who vexed their Republican cohorts for being inconsistent and mushy. But the upside was that they were seldom seen as partisan or team players but rather honorable folks carefully weighing the consequences of their votes.
Neither O'Connor nor Powell would be considered for the Supreme Court today. The former was a top graduate of Stanford Law (finishing third in a class where future Chief Justice William Rehnquist was first) but spent her career in state politics, first in the Arizona Senate and then on the Superior Court and Court of Appeals. Powell spent several years in the military, then a stint in private practice, and many years in Virginia politics before his selection.
Kennedy, who replaced Powell, had a more traditional path to the Supreme Court, spending a dozen years on a US Court of Appeals before his nomination. Still, he spent several years in private practice and as a law professor at a relatively mediocre institution. Nowadays, the path dependency is such that one's chances of becoming a Justice all but evaporate if one fails to obtain a Supreme Court clerkship at 25.
Again, I'm still an intellectual at heart and, indeed, much more steeped in it professionally than I was in 2005. I still admire the sterling credentials and achievements of a Scalia, Ginsburg, or John Roberts or even an Amy Comey Barrett. But the reverse side of that coin is Brett Kavanaugh: a self-entitled jerk who has never had a moment of self-reflection because he's hit all the right wickets at the right times and believes he's damned well earned everything he has.
Maybe we were better when we had the likes of Earl Warren as Chief Justice. Not so much ideologically but, indeed, precisely because of the ideological unpredictability. A lifelong Republican appointed by Dwight Eisenhower (who very much rued the choice) he presided over perhaps the most liberal court in American history. But his experience before his appointment was rather stellar: Berkeley Law, local prosecutor, state attorney general, governor, and failed candidate for both Vice-President and President. And he brought a politician's knack for negotiation, managing to wrangle unanimous decisions on most of his Court's most controversial cases.
Granted, Warren's tenure was incredibly controversial and, indeed, may have been a genesis of the modern notion that the Court was the epicenter of social policy and the thorough vetting of potential nominees to game the system. But there's something to be said for having at least some Justices who have legislated and governed overseeing those who write and execute the laws rather than leaving the task entirely to brilliant theorists.
_____________________
*Does anyone know Bill's whereabouts? He stopped commenting at OTB as much after the Miers flap but never forgave my insistence that Sarah Palin was an ignoramus unfit to be Vice-President. He stopped blogging suddenly in 2017 and his personal legal page is also down.