First Democratic Presidential Debate Draws 15 Million Viewers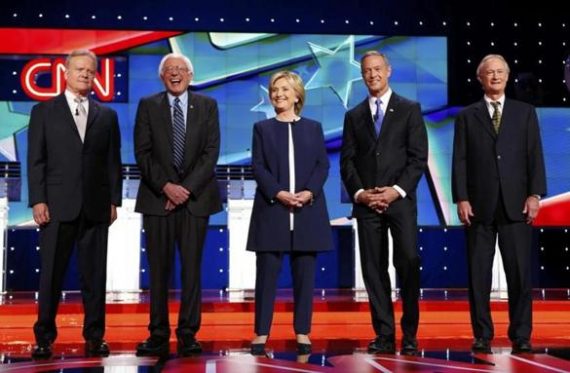 Last night's Democratic debate didn't have Donald Trump to draw in viewers like the first two Republican debates have had, but it still managed to post some pretty respectable viewership numbers:
More than 15 million people tuned in to CNN to watch the Democratic presidential candidates' debate on Tuesday night, according to Nielsen ratings data provided by the network.

The audience for the debate was nearly two-thirds the size of the two earlier Republican presidential debates, but it was the highest rating ever for a Democratic presidential primary debate — signaling continued interest in the 2016 race.

The previous record for a Democratic presidential debate was set by the 2008 debate in Philadelphia, which averaged 10.7 million viewers for ABC. Tuesday's debate in Las Vegas, which was moderated by Anderson Cooper, averaged 15.3 million total viewers.

CNN also streamed the debate on its website, CNN.com, mobile apps and Apple TV, where usage peaked at 980,000 concurrent streams at 10:20 p.m. That beat the network's live stream of the Republican debate last month, which, at its peak, had 921,000 streams viewed at one time.
These numbers are less than the August debate broadcast by Fox News Channel, which garnered some 24 million viewers, or the second Republican debate on CNN, which had some 23.1 million viewers, but it's still far more than I think most people were expecting, especially considering the fact that there were high-profile baseball playoffs being broadcast on TBS at the same time. If nothing else, this would seem to suggest that the high numbers that we saw in the first two GOP debates isn't just about the presence of Donald Trump on the stage, but that there are a lot of people out there who are highly interested in the 2016 election at a very early point in the cycle. Whether that will keep up as we get into the weeds of the campaign, of course, remains to be seen.