First Republican Debate Sets Viewership Record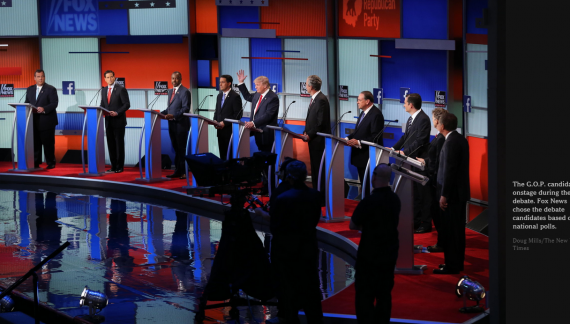 Last night's Republican debate on Fox News Channel was a record-setter when it comes to viewership:
Last night's GOP debate on Fox News was the most watched primary debate in history, averaging a whopping 24 million viewers from 9 to just past 11 pm, according to data from Nielsen. 7.9 million of those viewers were in the cable news core demo of adults 25-54.

For comparison, the most watched primary debate in the 2012 election cycle averaged 7.63 million viewers on the broadcast network ABC Dec. 10, 2011. The most watched debate in the demo was the Jan. 23 debate on NBC, which averaged 2.59 million demo viewers. The previous record-holder on cable news was the Dec. 15, 2011 Fox News debate, which averaged 6.71 million total viewers, including 1.86 million demo viewers.

In other words, more viewers in the 25-54 demo watched the debate last night than total viewers did for any of the 2012 primary debates. The debate was the most watched non-sports telecast in cable TV history, and the most watched program in Fox News Channel's history as well.

The most watched primary debate in the 2008 cycle was the April 16, 2008 Democratic debate on ABC. That debate drew 10.7 million viewers

The 5 pm debate averaged 6.1 million viewers, a number more in line with primetime debates from previous election cycles.

The moderators of last night's debate, Megyn Kelly, Chris Wallace and Bret Baier were widely praised for their aggressive questioning of the 10 candidates on stage. The number of candidates, combined with the presence on the always unpredictable Donald Trump, made it "must-see TV."

In a statement to POLITICO, Fox News CEO Roger Ailes "I think "I think that was the best political debate team ever put on television. Their performance was outstanding."

Earlier this week, a senior producer at a competing cable news channel predicted to POLITICO that the debate would bring in 10 million viewers. That figure ended up being conservative.
No doubt, the main reason for this substantial uptick in viewership — and 24,000,000 million people watching a debate on a Thursday in August is quite impressive — is the fact that Donald Trump would be at the debate and that, after the past month and half of news coverage a lot of people just wanted to see what would happen. Beyond that, though, it seems clear from what I read elsewhere that there is a tremendous amount of interest in the Republican Presidential race among activist conservatives, more than seemed apparent in either 2008 or 2012. To some extent, I think that's because Republicans are hungry for a win in the Presidential race after being shut out twice in a row, and the fact that their likely Democratic opponent is Hillary Clinton the interest in winning is even higher. Since both of these factors will be present for some time to come, I expect that we'll see similarly high numbers for the next debate on September 16th on CNN.