The Trump Effect? MSNBC Reaches No. 1 In Total Viewers
A big change appears to have taken place in American cable news viewing habits.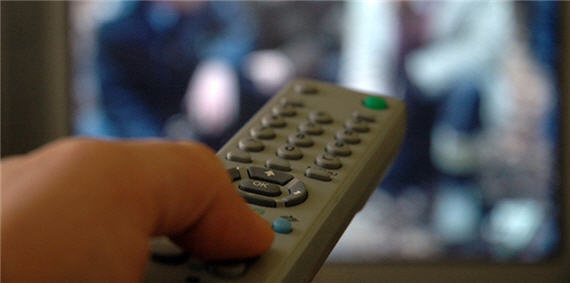 In what seems to be a reaction to the continuing train wreck that is the Trump Administration, there's been an interesting shake up in the world of cable news:
MSNBC ranked as the number one network across all of cable in total viewers for the first time in its history, according to Nielsen data.

For Wednesday, Aug. 16, MSNBC averaged 1.52 million viewers for the total day across all of cable, edging out second place Fox News, who averaged 1.5 million. CNN ranked fourth among all cable networks for the day with 1.13 million total viewers. Nickelodeon was third with 1.17 million. However, in the key adults 25-54 demographic, CNN was number one among the cable news networks for the total day, averaging 381,000 viewers in that measure. Fox News was second in the demo for total day with 353,000 viewers, and MSNBC was third with 343,000.

In primetime, MSNBC was also first in total viewers among the cable news networks with 2.61 million viewers. Fox News was second with 2.4 million. CNN was third with 1.59 million. In the key demo for primetime, MSNBC was first with 613,000. Fox News narrowly outpaced CNN for second place with 560,000, with CNN averaging 557,000.

Across all of broadcast in primetime, Wednesday's episodes of "The Rachel Maddow Show" and "The Last Word with Lawrence O'Donnell" were among the top 10 shows of the night in total viewers, with Maddow averaging 3.25 million viewers at 9 p.m. and O'Donnell averaging 2.54 million at 10. They were both the highest-rated and most-watched cable news programs in their respective time slots, with Maddow also nabbing 778,00 viewers in the key demo and O'Donnell nabbing 597,000.

Airing against Maddow, Fox's "The Five" averaged 2.31 million viewers and 577,000 viewers in the demo. CNN's Anderson Cooper averaged 1.52 million viewers with 550,000 in the demo. At 10 against O'Donnell, Fox's Sean Hannity pulled in 2.46 million viewers and 594,00 in the demo. CNN's Don Lemon drew 1.58 million viewers and 542,000 in the demo.
It's hard to tell what is behind this change, but one possibility is that it's a combination of two factors.
The first is the fact that there have been tremendous changes in the lineup at Fox News Channel over the past year. Beginning with the departure of Roger Ailes due to a series of sexual harassment lawsuits and claims filed or asserted by women who had worked at Fox News during his two-decade, the network has lost Megyn Kelly, arguably its most popular hosts and one who had and has credibility outside of the conservative media universe, and then Bill O'Reilly who had the highest rated show on the network and in the cable news world for nearly twenty years. As with Ailes, O'Reilly's departure was linked to charges of sexual harassment from women he had worked with at Fox. Between the two men, it's been estimated that the network and its parent company 21st Century Fox have paid out tens of millions of dollars in mostly confidential settlements. These payouts came just as the company was getting the scandal over wiretapping that had struck several of its British newspapers behind it and was apparently particularly troublesome for the sons of Rupert Murdoch, who are increasingly taking over his roles as the head of the various companies under the News Corporation umbrella. Replacing Kelly and O'Reilly have been a show hosted by the increasingly unhinged Tucker Carlson, who is so far from being the seemingly sane conservative he was ten years ago, and The Five, a panel show that used to be aired in the afternoon. The only member of the long-standing Fox lineup left is Sean Hannity, whose show has become nothing more than a wall-to-wall cheering section for Donald Trump. It's quite likely that many of FNC's viewers, especially those who started their evenings with O'Reilly, have moved on.
In addition to Fox News losing viewers, it's likely that the Presidency of Donald Trump is leading more people to both watch more cable news and to watch a network such as MSNBC, where the disdain that the hosts in the evening especially hold for the current President is quite evident. Many of these new viewers are likely people turned off by the President looking for something to hang on to, as well as Hillary Clinton supporters and newly energized Democrats who are looking for at least some solace in dark times. There's no way to know for sure, of course, but it seems unlikely that the rise of Trump is unconnected with the success that MSNBC is experiencing these days.
Personally speaking, when I'm working from home I tend to have cable news on in the background. Usually, that means CNN, but since I generally start the morning with Morning Joe, I sometimes end up sticking with MSNBC up until the afternoon. Over on CNN, Jake Tapper's afternoon show is one I try to actually pay attention to if time allows, after which I switch between Chuck Todd on MSNBC and Wolf Blitzer on CNN, who I can honestly take only in small doses and who I really can't stand when CNN is in "Breaking News" mode, which has been all too common these days. I rarely watch Fox News Channel except perhaps for sometimes watching Shepard Smith, who may be the only sane person at that entire network at this point. As for the evenings, I generally don't watch any of the networks in the evening unless there's some compelling news event to follow. It's baseball season after all! (speaking of which, how about them Yankees?) Yes, I am a news junkie.
How long this viewership change will last is, of course, a different question. Another interesting factor that continues to be true is that the bulk of Fox News's viewership tends to skew older, something that has apparently concerned many top executives at the channel's parent company and has been at least part of the effort that has been made, albeit a small one, to make the network's more of a 'hard news' outlet and less of a conservative propaganda network. MSNBC, meanwhile, has shuffled its own lineup to the point where it too has become more of a 'hard news' outlet than it had been in the past, especially in the afternoons. Both networks have their opinion shows in the evenings, of course, and its in this category that the big change appears to be most evident, especially since the network has ditched controversial hosts like Ed Schultz and Al Sharpton and built its lineup around Rachel Maddow, who is decidedly liberal but does give at least some voice to opposing points of view that Fox News's evening hosts do not. That strategy appears to be paying off.