First Quarter GDP Report: Economic Growth Sluggish At Best
A disappointing beginning to 2012.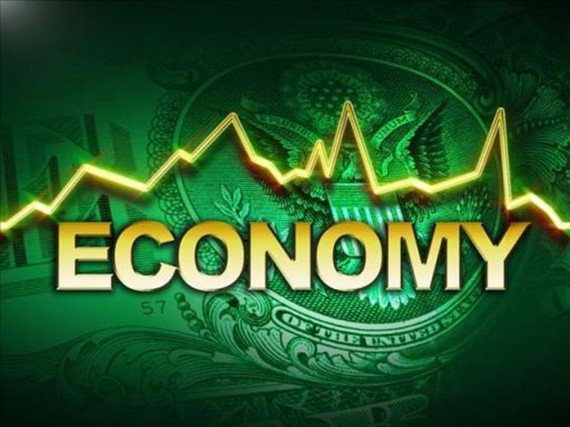 After showing fairly decent growth in the final quarter of 2011, the nation's Gross Domestic Product showed that the economy grew at a slower than expected, and somewhat sluggish, pace during the first three months of 2012:
The economic output of the United States grew at an annual rate of 2.2 percent in the first quarter of the year, largely on the strength of consumer spending and a surge in residential building helped by unseasonably warm weather.

The pace of growth slowed from the prior quarter's rate of 3 percent but maintained what many economists have started to refer to as a "sustainable" recovery speed.

But as with so much economic data lately, there was plenty of forage in the gross domestic product report for both the sanguine and the skeptical. Business investment, which had been a bright spot in the previous quarter, declined, and some economists warned that consumer spending could not continue without more hiring and wage growth.

"There are mixed messages in this report," said Dean Maki, the chief United States economist at Barclays. "None of this is going to change fundamental views on the economy."

The United States may be lumbering, but it has not followed the euro zone, where growth halted in the fourth quarter and where the first quarter is expected to show a contraction. Britain said this week that it is already in a double-dip recession.

But even a growth rate of 2.2 percent is too slow to make up for lost ground. "I don't think the issue is whether or not the growth rate is sustainable," said Steven Blitz, chief economist of ITG Investment Research. "I think the question is whether the growth rate that's sustainable is acceptable — politically and socially acceptable."

The American economy has been growing since the second half of 2009, and the recovery accelerated throughout 2011. Economists had initially predicted a much weaker showing this quarter, with growth accelerating a bit in the second half. But in the past few weeks, many revised their numbers upward as several economic indicators came in better than expected.

Then, some of the numbers seemed to soften. Shipments of durable goods increased last month, but new orders showed their steepest drop since January 2009. The trade balance improved, but job growth weakened and, more recently, new claims for unemployment benefits have risen.

Some analysts shrug off the oscillation as normal, pointing out that economies do not move in a straight line. Others see momentum breaking down. "The G.D.P. report was disappointing," economists at Morgan Stanley wrote. "The mix of activity pointed to slower growth ahead."
This comes after a final quarter of 2011 in which GDP growth was originally pegged at 3.2%, but later revised downward to 2.8% when the final report came out in January, and a year in which real GDP growth for all of 2011 was a pathetically weak 1.7%. That, combined with the fact that much of the growth that we saw later in the year was due to businesses building up inventory that had depleted over time suggests strongly that the economy never really was as strong as those 4th Quarter numbers were telling us it was. Over the next six weeks, these number will be revised, of course, and the real question will be whether they'll be revised upward or downward, something that is quite honestly anyone's guess. At best, though, an upward revision would end up meaning that the economy is growing that the expected but hardly much better rate of around 2.5% per year, or that it's potentially growing at less than two percent per year which is barely sustainability level.
Jared Bernstein comments:
-2.2% is about the trend growth rate for the economy right now, and so you could look at this and say "steady as she goes."   That's not how I see it.  The trend is what you want to return to after you've made up your losses, which we have yet to do.   Coming out of such a deep trough as we experienced in the great recession, we need a number of consecutive growth quarters well above trend.  Then we can be content to settle back into trend growth.

As Jack Nicholson might put it: "You want the trend!  You don't deserve the trend!!"
Bernstein's comments are largely in line with what Steven Blitz says in the highlighted section above, and goes to what I think is the core of our problem. Yes, the economy is growing, which is certainly better than the alternative, but this is hardly the kind of growth that one would normally expected after a major economic downturn, and hardly what's needed to get us out of the trough that we fell into. At this point in 1984, after what were in reality to successive deep and painful recessions, the economy was growing at an 8% clip, but even a sustained growth rate of 5% would be in the neighborhood of what we need to get the economy moving again. The question is how we get there. The levers of government policy don't seem to be having the same impact that they used to, and the Federal Government's fiscal problems mean that the idea of simply blindly dumping money into the economy just isn't possible anymore. The Federal Reserve has dropped interest rates to near zero and it's two attempts at Quantitative Easing have had little impact on the economy outside of Wall Street, and even there it was temporary.
That raises the possibility, of course, that we've entered a period of "new normal," where economic growth is sluggish (which also means that the danger of recessions is higher) and unemployment has a higher "natural" rate. Whether people find that acceptable politically is, of course, a separate question.