GDP Growth 2.8% In 4th Quarter: Not Great, Not Good, Barely Okay
Another weak GDP report that portends stagnation ahead.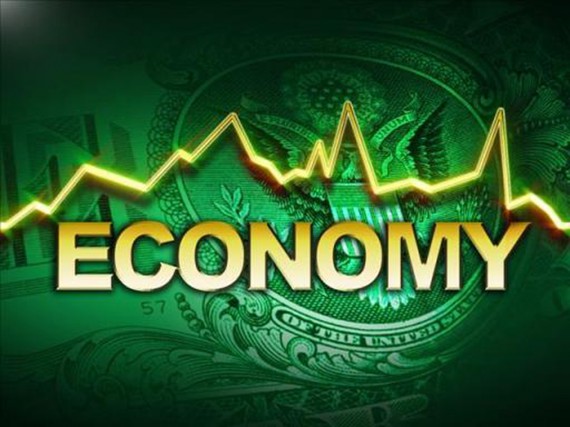 The Commerce Department released its first estimate of economic growth in the final quarter of 2011 and, while the economic continued to expand, the pace at which it did so wasn't very impressive:
The American economy picked up a little steam last quarter, with output growing at an annualized rate of 2.8 percent, the Commerce Department reported Friday.

The pace of growth was faster than in the third quarter, when gross domestic product expanded at an annual rate of 1.8 percent.

Even so, both  figures were below the average speed of economic expansion in the United States since World War II. And it would take above-average growth to recover the ground lost during the Great Recession.

"At this rate, we'll never reduce unemployment," said Justin Wolfers, an economist at the University of Pennsylvania. "The recovery has been postponed, again."

Still, the 2.8 percent rate is likely to be seen by many as something of a relief, given that just last summer many economists were predicting the country would soon dip back into recession. Few analysts are still forecasting a double-dip in the near term, but they say the recovery is likely to remain disappointingly sluggish.

Growth in the fourth quarter, after all, was driven mostly by companies rebuilding their stockroom inventories, and not by consumers who were shopping more or foreign businesses buying more American-made products. And companies are likely to have only so much appetite for refilling their backroom shelves if consumers are still unwilling to buy those products.

Consumer spending rose at an annual pace of 2 percent, slightly better than the 1.7 percent in the previous quarter, Friday's report showed. But based on early data, it looks as if consumer spending deteriorated toward the end of the year. This may be because of unseasonably warm December weather, which probably lowered families' household electricity and gas bills, said Jay Feldman, an economist at Credit Suisse.

Consumers also benefited from lower gasoline prices, but that was not enough to offset consumers' concerns about their stagnant incomes.

"We did have some relief on gasoline prices in the fourth quarter, but that didn't cause people to go out and spend more vigorously," said Nigel Gault, chief United States economist at IHS Global Insight. "It just means they didn't have to dip into savings."

One of the biggest drags on growth in the last quarter was government spending cuts at the federal, state and local levels, according to the Commerce Department report. National defense spending fell a whopping 12.5 percent, for example, an unusually large dip that economists do not expect to see repeated in the beginning of 2012. Strapped state and local governments are likely to continue cutting back in 2012, as they have done nearly every quarter for the last several years.

At the federal level, Congress has not decided whether to renew a temporary payroll tax cut and extended unemployment benefits past February, when both are scheduled to expire. Allowing these policies die as planned would shave a percentage point from gross domestic product growth this year, said Ian Shepherdson, chief United States economist at High Frequency Economics.

One of the more positive surprises in the report was in housing. Investments in sectors like home construction and repairs rose 10.9 percent last quarter. The housing sector is so small now, though, that it didn't provide much oomph.
Based on the retail sales report for December that we saw earlier this month, it's pretty clear that consumer spending did slow during the final month of the year. Something that is very atypical for a month that includes the biggest shopping season of the year. Therefore, it's not surprising to see the consumer side of the economy contributing to a less than expected GDP report. Additionally, as Reuters notes, a large part of the growth in the 4th Quarter came from business building up inventories:
The economy in the fourth quarter got a temporary boost from the rebuilding of business inventories, which logged the biggest increase since the third quarter of 2010. The buildup followed a third quarter decline that was the first since late 2009.

Excluding inventories, the economy grew at a tepid 0.8 percent rate, a sharp step-down from the prior period's 3.2 percent pace and a sign of weak domestic demand.

(…)

Inventories increased $56.0 billion, adding 1.94 percentage points to GDP growth. Excluding inventories, the economy grew at a tepid 0.8 percent rate, a sharp step-down from the prior period's 3.2 percent pace.

The robust stock accumulation suggest the recovery will lose a step in early 2012.
In other words, inventory growth, which is not something likely to occur again in the current quarter unless consumer activity picks up, accounted for two thirds of the increase in economic output in the 4th Quarter. It helps boost the number up for one quarter, but it's not a sign of sustained economic growth. And that's what we need.
Moreover, it turns out that the economy only grew at a pathetic 1.7% rate for the entirety of 2011. As Brad Plumer notes, this is far from sufficient to lead to the kind of  economic growth we need to get back to full employment:
Ever since the financial crisis hit, "real GDP" (what the economy is actually producing) has been lagging way below "potential GDP" (what the economy could be producing, given our existing workforce and resources). That means the country needs some catch-up growth to get back to full employment. Dave Altig, senior vice president and research director at the Atlanta Fed, drew up a chart showing how much growth we'd need to get back to close the output gap. If the United States grows at just a 3 percent rate, it will take until 2020 to get back to full employment.
Here's the chart that Plumer is referencing: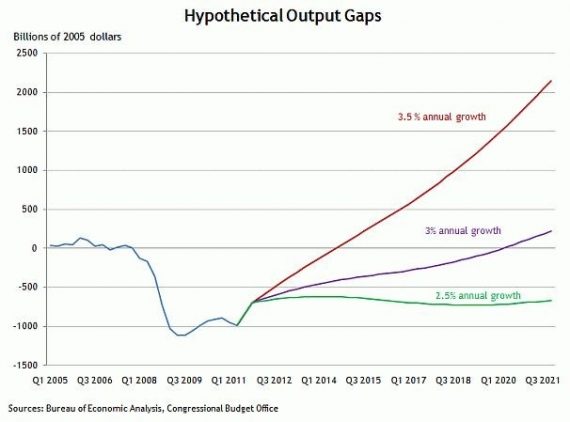 Cuts in government spending are also a factor slowing down economic growth, but its worth noting that this is part of a vicious cycle created by a slow economy. Especially for state and local governments that must balance their budgets, slow economic growth means less tax tax revenue, which means that something will need to be cut somewhere. That's a reality that every state government has had to face over the past several years, and even Democratic Governors like Jerry Brown and Andrew Cuomo have been forced to pare state budgets bloated by years of generosity. Furthermore, real economic growth is only going to come when manufacturing, industrial production, and consumer spending are moving forward and there's very little government can do about that.
This number will, obviously, be revised at least twice more over the coming months. If the past is any indication, we're more likely to see a downward revision than an upward one  so, it may turn out in two months that actual 4th quarter growth was closer to 2.5%. Good, maybe, but not good enough.  We're far from being out of the woods yet, folks.
Update: As far as future economic growth goes, I believe the best indication of just how anemic it is likely to be came in the Federal Reserve's announcement earlier this week that it does not plan to raise interest rates for at least the next three years:
WASHINGTON — The Federal Reserve, declaring that the economy would need help for years to come, said Wednesday it would extend by 18 months the period that it plans to hold down interest rates in an effort to spur growth.

The Fed said that it now planned to keep short-term interest rates near zero until late 2014, continuing the transformation of a policy that began as shock therapy in the winter of 2008 into a six-year campaign to increase spending by rewarding borrowers and punishing savers.

The economy expanded "moderately" in recent weeks, the Fed said in a statement released after a two-day meeting of its policy-making committee, but jobs were still scarce, the housing sector remained deeply depressed and Europe's flirtation with crisis could undermine the nascent domestic recovery.

The Fed forecast growth of up to 2.7 percent this year, up to 3.2 percent next year and up to 4 percent in 2014, but at the end of that period, the central bank projected that the recovery would still be incomplete. Workers would still be looking for jobs, and businesses would still be looking for customers.

"What did we learn today? Things are bad, and they're not improving at the rate that they want them to improve," said Kevin Logan, chief United States economist at HSBC. "That's what they concluded — 'We've eased policy a lot, but we haven't eased it enough.' "

The economic impact of the low-interest rate extension, however, is likely to be modest. Many businesses and consumers can't qualify for loans, a problem the Fed's efforts do not address. Moreover, long-term rates already are at record low levels and, like pushing on a spring, the going gets harder as it nears the floor. Finally, the Fed already was widely expected by investors to hold rates near zero well into 2014, limiting the benefits of a formal announcement.

"I wouldn't overstate the Fed's ability to massively change expectations through its statements," the Fed's chairman, Ben S. Bernanke, said at a press conference Wednesday after the announcement. "It's important for us to say what we think and it's important for us to provide the right amount of stimulus to help the economy recover from its currently underutilized condition."
This forecast, of course, assumes that there won't be any outside factors such as an international crisis or a resumption of Europe's Soverign Debt problems, that end up retarding economic growth in the coming years. There's reason for optimism, but also caution. And there's really nothing to celebrate right now.