Forays into Hackery (Tucker and Derschowitz)
Wherein I explore the notion that ignorance is bliss.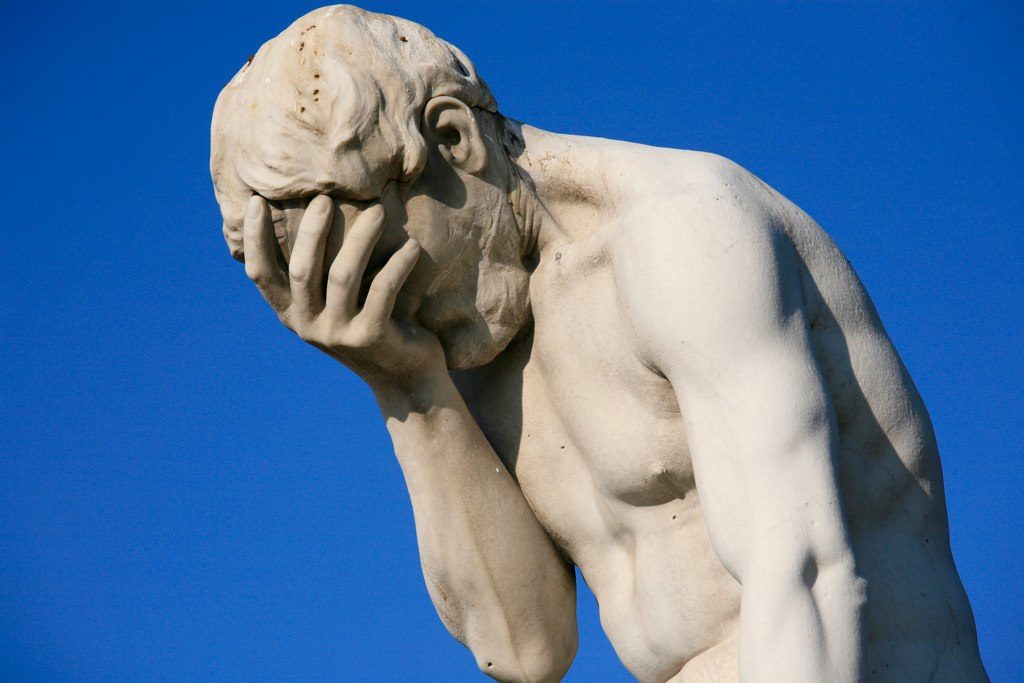 Most weekend mornings I like to sit on my back patio with coffee and my laptop and catch up news from the week and to specifically take time to write about said news. It is, perhaps, an insane thing to do during what is ostensibly "relax time." More than once I have been semi-paralyzed in terms of choosing topics to address as so much goes on in a given week upon which I might want to comment.
For example, in just the last 24 hours or so, there was yet another mass shooting in the United States, more possible evidence of presidential obstruction of justice emerged, and Trump has decided that merging trade policy and immigration policy is a great idea. This is all in a week wherein Mueller finally spoke, Israel has to have new elections, Trump aides blocked the President from having to see John McCain's name,and, oh by the way, half (give or take) of the United States is running to be the Democratic nominee for president. (Not to mention the roiling abortion debate, the ongoing Brexit drama, and the unbearable smugness of Mitch McConnell).
Now, you say, there is always a lot going on, so quit your bellyaching.
Fair enough.
But Good Lord, the Era of Trump feels more filled than any in my lifetime.
And, really, one could argue that all of us (the writers and the readers of this site) could just slip off into the land of ignorance and not pay attention. But, since that ain't going to happen, let me press on.
Now what makes all of this worse is that in the context of a remarkable amount of very important news out there to digest and understand, the level of hackery is off the chain. Note just two examples that hit my radar screen since yesterday: Tucker Carlson and Alan Dershowitz.
The hackery in question is problematic, as most hackery of scale is, because it simply takes an already complicated and very significant set of circumstances and then creates greater confusion in the audience which consumes said hackery (an audience, I would note, that includes Donald J. Trump).
First, Tucker:
This is absurd. Mexico is our largest trading partner and an ally. It is by no definition "a hostile foreign power." Beyond that, levying tariffs on Mexican imports is, as I am sure readers here know, a tax on Americans. They will ultimately damage American businesses and the broader American economy.
Further, if the tariffs do cause economic harm to Mexico that damage will a) decrease their policy capacity to deal with Central American migrants, and b) increase the number of Mexicans who seek to come to the US to work.
Beyond that, Tucker is just stoking flames of xenophobia and white nationalism with his audience here.
Second, to an opinion piece in The Hill: Dershowitz: Supreme Court could overrule an unconstitutional impeachment.
President Trump has said that if the House were to impeach him despite his not having committed "high crimes and misdemeanors," he might seek review of such an unconstitutional action in the Supreme Court. On April 24, he tweeted that if "the partisan Dems ever tried to Impeach, I would first head to the U.S. Supreme Court. Not only are there no 'High Crimes and Misdemeanors,' there are no Crimes by me at all."

[…]

Commentators have accused Trump of not understanding the way impeachment works and have stated quite categorically that the courts have no constitutional role to play in what is solely a congressional and political process. Time magazine declared in a headline "That's Not How It Works," and Vox called the president's argument "profoundly confused."

Scholars also echoed the derision. The influential legal blog Lawfare wrote confidently that "The Supreme Court Has No Role in Impeachment," and my friend and colleague Larry Tribe, an eminent constitutional law scholar, called Trump's argument simply "idiocy," explaining that "the court is very good at slapping down attempts to drag things out by bringing it into a dispute where it has no jurisdiction."

Not so fast. Our nonlawyer president may be closer to the truth than his lawyer critics. In fact, the Lawfare blog noted that "Trump's suggestion of resorting to the Supreme Court to appeal an impeachment did not come out of nowhere. … Alan Dershowitz recently made an argument along the same lines, writing in an essay on 'The Case Against Impeaching Trump' that '[w]ere a president to announce that he refused to accept the actions of the Senate in voting for his removal … and that he would not leave office unless the Supreme Court affirmed his removal, the people might well agree with him.'"
I will state up front that I have never been overly impressed by Derschowitz, who has been a fixture on TV for decades. But his hackery has reached amazing heights of late, as he clearly loves the attention he gets on FNC defending Trump more than he likes maintaining intellectual integrity.
This argument is nonsense–and Trump got the idea because he saw Derschowitz make it on FNC.
First, the US Constitutional clearly places the power of impeachment an removal in the hands of the Congress.
Second, the notion that the impeachment process has to prove a crime was committed, as if it was a criminal trial, is a novel notion, to say the least.
Third, SCOTUS has previously ruled on this question, as Dershowitz clearly knows. In Nixon v. United States, 506 U.S. 224 (1993), the Court unanimously ruled against Judge Nixon (this was not a case about the President Nixon) and upheld the lower court's ruling: " The District Court held that his claim was nonjusticiable, i.e., involved a political question that could not be resolved by the courts. The Court of Appeals affirmed."
From the unanimous opinion by Rehnquist:
In this case, we must examine Art. I, § 3, cl. 6, to determine the scope of authority conferred upon the Senate by the Framers regarding impeachment. It provides:

"The Senate shall have the sole Power to try all Impeachments. When sitting for that Purpose, they shall be on Oath or Affirmation. When the President of the United States is tried, the Chief Justice shall preside:


And no Person shall be convicted without the Concurrence of two thirds of the Members present."


The language and structure of this Clause are revealing. The first sentence is a grant of authority to the Senate, and the word "sole" indicates that this authority is reposed in the Senate and nowhere else.
Emphasis mine.
Not only is Dershowitz a constitutional law professor, so clearly knows of the Nixon case, he selectively quotes two of the concurring opinions from the case in his column (without making reference to their source). His manages to link to Marbury v. Madison in the column (as well as to the Goodreads page for his book) but not even a mention of Nixon v, United States, despite directly quoting from it.
Dershowitz does not deserve to be treated as a scholar (and this has likely been true for some time), but here he is clearly acting as a paid television personality, as well as a person trying to sell a book.
It would be blissful of the Fox News (and wider) audiences were ignorant of both these individuals
I know I'd be happier if I had never heard this nonsense (so, sorry to have shared).