Former Virginia Governor Bob McDonnell Loses Appeal On Corruption Conviction
Former Virginia Governor Bob McDonnell is likely going to Federal Prison very soon.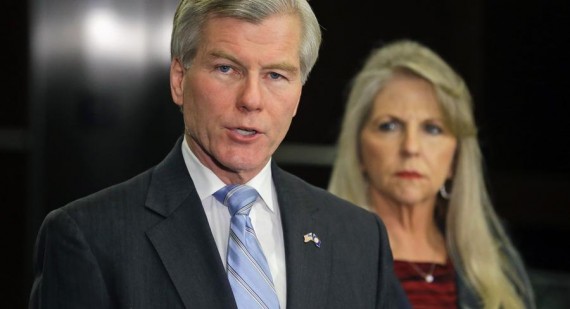 Yesterday, former Virginia Governor Bob McDonnell lost his appeal of his conviction last year on corruption charges:
A three-judge federal appeals court panel on Friday unanimously affirmed the public corruption convictions against former Virginia governor Robert F. McDonnell, thoroughly rejecting each argument from the onetime Republican rising star and declaring that it had "no cause to undo what has been done."

The 89-page opinion from the U.S. Circuit Court of Appeals for the 4th Circuit brings to a close an important chapter in the story that emerged more than two years ago when The Washington Post first reported on the governor's strange relationship with a Richmond businessman. It also means that the first Virginia governor to be convicted of a crime will probably have to go to prison in the coming months.

Experts say it could energize federal prosecutors across the country and put public officials on notice that almost anything they do on behalf of a benefactor can be construed as the illegal end of a corrupt bargain.

"I think it is precedent-setting," said Barry Pollack, a white-collar criminal defense lawyer at the Miller & Chevalier law firm who is unaffiliated with the case.

McDonnell and his wife, Maureen, were convicted in September after a gripping trial in which the former governor's financial woes and marital troubles were aired publicly. Prosecutors paraded before jurors example after example of the luxurious life the McDonnells were able to lead when Richmond businessman Jonnie R. Williams Sr. paid the tab — a life that included expensive vacations, a Ferrari ride, a Rolex watch and $120,000 in sweetheart loans. Jurors, in turn, convicted the McDonnells of helping Williams promote his business as part of a corrupt quid pro quo exchange.

McDonnell, 61, was ultimately sentenced to two years in prison; his wife was sentenced to a year and a day.

Although the appeals court's decision is a major blow to McDonnell's chances of exoneration, the case is far from over. Maureen McDonnell is still pressing her own appeal, and Friday's ruling did not explicitly affect her. Her attorney declined to comment.

The former governor, too, has myriad options left to pursue. His attorneys have 14 days to ask the same three-judge panel — or the entire 4th Circuit Court of Appeals — to hear the case again. After — or instead of — that, they could go to the Supreme Court.

McDonnell said in a statement that he was "greatly disappointed" with the court's decision but remained optimistic that he would ultimately be cleared.

"During my nearly 40 years of public service, I have never violated my oath of office nor disregarded the law," McDonnell said. "I remain highly confident in the justice system and the grace of our God that full vindication will come in time. I remain very blessed to have the unwavering support of my family and great friends which continues to sustain me."

McDonnell's attorneys asserted: "The fight for justice for our client is far from over."

(…)

McDonnell's appeal hinged largely on the argument that he neither performed nor promised to perform any "official acts" for Williams — a point prosecutors were required to prove. He also argued that the definition jurors were given for the term "official act" was so broad that it would criminalize routine political dealings.

Williams, indeed, got little of what he wanted. He received no state studies of his dietary supplement, Anatabloc, and no other type of state funding. He was also unable to add his supplement to the state's health plan.

The appeals court judges, though, rejected McDonnell on every front. The opinion — written by judge Stephanie D. Thacker, who was appointed by President Obama, and joined by Robert B. King and Diana Gribbon Motz, who were appointed by President Bill Clinton — asserted that the government had "exceeded its burden" in the case. Thacker wrote that jurors were instructed appropriately and that McDonnell's actions for Williams were official, no matter how inconsequential the former governor thought they were.

"Appellant argues that these actions — asking a staffer to attend a briefing, questioning a university researcher at a product launch, and directing a policy advisor to 'see' him about an issue — are too insignificant to constitute official acts," Thacker wrote. "We disagree."

Thacker cited three particular ways in which McDonnell tried to use his office to help Williams: trying to get researchers to study Anatabloc; trying to get the state tobacco commission to fund studies of an ingredient in Anatabloc; and trying to get Anatabloc included in the health insurance plan for state employees. Such acts were undeniably official, she wrote.

"These were all government matters, and Appellant, as head of the Commonwealth's government, was in a prime position to affect their disposition," Thacker wrote.

Experts said overturning the ruling will not be easy. Jacob Frenkel, a white-collar criminal defense lawyer, said that the judges' decision was an "emphatic endorsement" of how the case was tried and that it might affect other public corruption cases.

"A resounding decision like this will energize prosecutors and cause defense lawyers to think far more aggressively about whether to accept plea terms," Frenkel said.
As noted, this isn't the necessarily the end of the road for McDonnell in the legal system. He could attempt to have the matter reheard in the Fourth Circuit, either by the full court or by the same panel that just ruled against him, or he could appeal the matter to the Supreme Court. The first avenue, though, doesn't seem as though it would be a very fruitful one given the the fact that this was a unanimous opinion and that panel's argument was fairly emphatic in its rejection of the contentions that McDonnell is making on appeal. An appeal to the Supreme Court, of course, would depend upon there being at least four Justices willing to hear the case to begin with and that is by no means certain, Potentially, the fact that this prosecution involved a somewhat unique interpretation of the Federal Law by the prosecution, the trial judge, and now the Fourth Circuit, could itself be enough reason to get McDonnell review at the nation's highest court. However, given the number of criminal cases that are appealed to the Supreme Court each year, and the number that are rejected, the odds are decidedly against the former Governor at this point. Additionally, since the sentence that was imposed against him in January was only stayed pending this current appeal to the Fourth Circuit, there's nothing preventing the trial judge from proceeding to order him to report for sentencing in the near future. In other words, it does seem as though McDonnell as reached the end of his road.
As I noted at the time he was convicted, McDonnell really has nobody to blame for the situation that he ended up in other than himself. Whether due to stupidity or greed, or a combination of the two, he allowed the office of Governor of Virginia to become his own personal cash cow to the extent that he was allowing Jimmy Williams to pay for expensive purchases by his wife and even a portion of his daughters wedding. In exchange for that, he used his office to promote Williams's business interests as if they were the interests of the Commonwealth of Virginia itself, which of course they were not. He violated the trust of everyone that voted for him, and when he was caught he prevaricated and dismissed suggestions that he had even done anything wrong. To make it worse, when he went to trial, a trial that could have been avoided had he accepted the Federal Government's incredibly generous plea offer, he put forward a defense that threw his wife under the bus rather than accepting any responsibility for what he did. Some political observers her in Virginia have called the whole a tragic fall from grace, but what it really was is the tale of a self-centered venal politician who got what he deserved.
Here's the opinion: