Former Virginia Governor Bob McDonnell Convicted On Corruption Charges
A once rising GOP star hits bottom.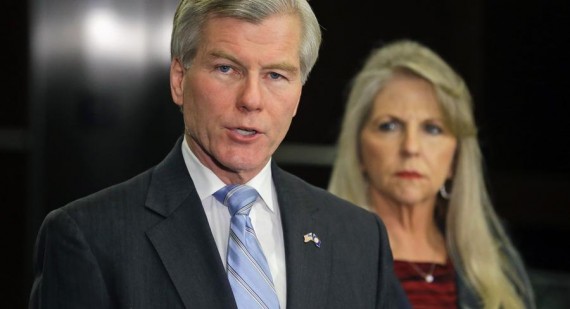 Former Governor Bob McDonnell, whose 2009 victory in the Virginia Governor's race came as a surprise to many given the GOP's problems in the state just a year earlier and who went on to become a rising star in the GOP nationally to the point where he was mentioned as a potential running mate in 2012, has been convicted on a broad series of corruption charges along with his wife Maureen by a Federal Court jury in Richmond:
RICHMOND — A federal jury Thursday found former Virginia governor Robert F. McDonnell and his wife, Maureen, guilty of public corruption — sending a message that they believed the couple sold the office once occupied by Patrick Henry and Thomas Jefferson to a free spending Richmond businessman for golf outings, lavish vacations and $120,000 in sweetheart loans.

After three days of deliberations, the seven men and five women who heard weeks of gripping testimony about the McDonnells' alleged misdeeds acquitted the couple of several charges pending against them–but nevertheless found that they lent the prestige of the governor's office to Jonnie R. Williams Sr. in a nefarious exchange for his largesse.

The verdict means that Robert McDonnell, who was already the first governor in Virginia history to be charged with a crime, now holds an even more unwanted distinction: the first ever to be convicted of one. He and his wife face decades in federal prison, though their actual sentence could fall well short of that.

The moment the first guilty verdict was read, Bob McDonnell closed his eyes tightly, shaking in his seat as he wept.

Maureen McDonnell seemed to cry, too, though with her back to the courtroom, her tears were less obvious. At the eighth guilty count, Bob McDonnell buried his face in his hands. By the end, he was slumped in his chair, still crying.

The former governor did not look up as jurors were polled, each answering "yes" in turn to affirm their verdict. One juror appeared to be upset, and fidgeted in her seat.

The former governor was convicted of 11 corruption-related counts pending against him, though acquitted of lying on loan documents. The former first lady was convicted of eight corruption-related charges, along with obstruction of justice. Maureen McDonnell was acquitted of lying on a loan document.

The jury's verdict brings to a close a trial that seemed to grip the nationsince it began in July with the shocking revelation by defense attorneys that the McDonnells' marriage was shattered, and that would be a core element of their attempt to beat the charges. The proceedings that followed over the next five weeks at times resembled a soap opera, as the McDonnells endured a humiliating dissection of their relationship amid unflattering allegations about the lavish lifestyle supplied by businessman Jonnie R. Williams Sr.paid for them to lead.

Jurors heard from 67 witnesses, including Williams and the former governor himself, who took the stand in his own defense for nearly 24 hours over several days. They saw memorable photos of McDonnell flashing a Rolex watch and riding in a Ferrari, and they heard sometimes tearful testimony from the governor's own children and former staffers. They were shown mortgage applications, phone records, more charts than they probably care to remember — all designed to convince them that the governor and his wife conspired to take bribes from Williams, or that they did not.

The case had more nuanced, legal questions, too: namely, did the governor and his wife perform or promise to perform so-called "official acts" for Williams in exchange for $177,000 in gifts and loans? Prosecutors argued they did. Those acts, they said, came in the form of meetings that McDonnell arranged for Williams with state officials, a luncheon Williams was allowed to throw at the governor's mansion to help launch a product he was trying to sell, and a guest list Williams was allowed to shape at another mansion reception meant for health-care leaders.

Defense attorneys argued otherwise, saying there was no evidence the governor even knew what Williams wanted. And what he did want — state funded studies of his product, Anatabloc — he never got, defense attorneys stressed.

Prosecutors put on a compelling case, showing jurors several instances in which gifts and loans were provided in close proximity to the McDonnells' efforts to assist Williams and his company. But defense attorneys noted, accurately, that even Williams himself did not describe an explicit, corrupt bargain he had with the governor. And they noted that Williams was testifying with generous immunity agreements, which they said motivated him to lie about his relationship with the McDonnells.
In addition to the fact that McDonnell is now the first Governor in Virginia history to be convicted of corruption charges for acts that occurred while he was in office, this trial will likely also be remembered for the rather unique defense that McDonnell and his wife both decided to put on before the jury. As I recounted when the trial opened, the defense essentially involved dragging all of the dirty laundry between Bob and Maureen McDonnell before the jury and arguing that, notwithstanding the public face that they put on during the Governor's time in office, the two of them were so estranged during the time these alleged acts were committed that they could not have possibly conspired together. For his part, McDonnell alleged that his wife was infatuated with Johnnie Williams, the Virginia businessman who was at the center of the case and who gave both McDonnell's tens of thousands of dollars in gifts and cash throughout the time he new each other. For his part, Williams, who was a cooperating witness with the U.S. Attorney and is unlikely to ever be charged in this matter, testified that as far as he was concerned his gifts to the McDonnell's, which included everything from a shopping spree in New York to covering the majority of the cost of the McDonnell's daughter's wedding, was solely for the purpose of advancing the interests of his company. When it came time for the defense to put on its case, it was more like a soap opera that a criminal trial, with the former Governor spending several days on the stand detailing the intimate details of his marriage, which apparently wasn't in very good shape even when he was running for Governor in 2009, and throwing his wife under the bus. Mrs. McDonnell didn't testify, but the basic message of her defense appeared to be that she was to wrapped up in her collapsing marriage to have any ability to conspire with her estranged husband. In the end, obviously, the jury didn't think much of that defense.
The McDonnell's will be sentenced on January 6th, and potentially face decades in prison, although it's likely that they will actually be sentenced to something less than that once the Federal Sentencing Guidelines are applied. Even after that point, though, it's likely that these verdicts will be appealed. Among the many issues that are likely to be the subject of such an appeal are the Jury Instructions that were given to the jury before deliberations began on Tuesday. By some accounts, the Judge drafted instructions that were so broad in their definition of what kind of act could constitute "honest services wire fraud" that it made virtually anything a politician would do on behalf of a donor or constituent into a potential criminal act. Additionally, there's the rather interesting question of how it is that McDonnell could be found guilty of doing things that were not at all guilty under Virginia law, an important question given the fact that the indictment that was originally filed in this case essentially made the case out that the McDonnell's violating Federal law by conspiring to defraud Virginia voters. If what he was doing was legal under Virginia law, then one wonders how it could be the basis for a Federal lawsuit. Those are legal issues that will have to be resolved at another time, though. Even if the verdicts are overturned on appeal and a new trial is ordered, which is not an easy thing to accomplish in Federal Court, the fact of McDonnell's conviction and his fall from grace will stand. For someone who seemed like he could have been one of the rising stars of the GOP just a few years ago, it was quite a fall indeed.