Bob McDonnell Trial Opens On A Pathetic And Sordid Note
The trial of former Virginia Governor Bob McDonnell and his wife opened yesterday, and it sounded more like a soap opera than a legal proceeding.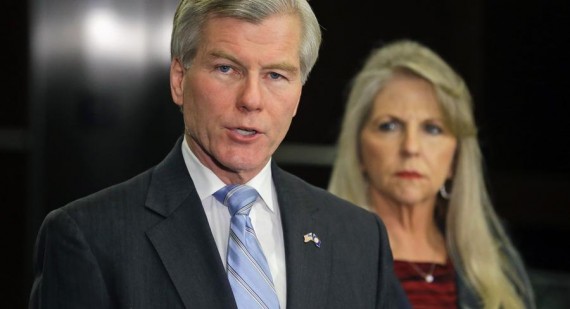 The first day of the trial of former Virginia Governor Bob McDonnell and his wife Maureen on charges related to gifts that the two accepted from a Virginia businessman while McDonnell was in office took the case down a road that few expected, indicating that we're looking at something more akin to a soap opera than a straightforward corruption trial over the next several weeks:
RICHMOND, Va. — Former Gov. Bob McDonnell of Virginia and his wife, Maureen, on trial for conspiring to use his office for personal enrichment, outlined an unexpected defense on Tuesday: Their marriage was so broken that they did not communicate enough to conspire about anything.

In opening arguments in the couple's corruption trial in federal court here, their lawyers made clear that they planned to rely on the sordid details of their unhappy union as the basis of their legal defense. It was the first time the McDonnells' version of events had been heard in a widely publicized case that for months has been characterized by the lengthy indictment against them, which charges the couple with accepting more than $165,000 in cash and luxury gifts from a Virginia businessman.

Ms. McDonnell, her lawyer said, had a "crush" on the businessman, Jonnie R. Williams Sr., the prosecutors' star witness, who the government said would detail the designer clothing, vacations, golf rounds and cash he provided in exchange for the governor's help in promoting his company, which made a dietary supplement.

Mr. Williams was a frequent visitor to the Executive Mansion, where he and Ms. McDonnell would meet privately. He was known as "Maureen's favorite playmate," the lawyer, William A. Burck, told jurors. "Maureen McDonnell and Jonnie Williams had a relationship some would consider improper for two people not married."

Over two years, Ms. McDonnell and Mr. Williams exchanged 1,200 phone calls and texts.

The government said that for Mr. Williams, it was about making money. Jessica Aber, the assistant United States attorney trying the case, said: "For Mr. Williams, this was a business transaction. He was paying for help with his company."

According to both sides, Mr. Williams gained access to the governor by befriending the state's first lady, spending about $19,000 on a New York City shopping spree for designer clothes and accessories, and buying a $6,500 Rolex watch for her to present to her husband.

The motives of Mr. Williams, a serial entrepreneur known variously as a super salesman and someone whose businesses repeatedly ran afoul of government regulators, are likely to be front and center in the trial.

If convicted on all counts, the McDonnells face more than 20 years in prison. Mr. McDonnell, limited to one term under state law, left office in January.

Defense lawyers said Mr. Williams repeatedly changed his account of his relationship with the McDonnells — first denying he sought anything in return for his generosity and later saying they had "an arrangement" — after the government promised him immunity in a separate case involving his company, formerly named Star Scientific. Mr. Williams was being investigated for possible securities and tax violations over a $10 million transaction at Star Scientific, Mr. Burck said.

"Why did his story change so much?" Mr. Burck said. "Because it gets him a get-out-of- jail card worth $10 million."

Prosecutors do not portray Mr. Williams as an angel. Ms. Aber described him dismissively as "a vitamin salesman." But she alleged a quid pro quo between Mr. Williams's gifts to the McDonnells and the governor's actions on his behalf. She presented a text message from Mr. McDonnell to Mr. Williams in May 2012 reading, "Per voice mail, would like to see if you could extend another 20k loan for this year."

Mr. Williams's response: "Done."

Another time, after thanking Mr. Williams for funds to help cover expenses for some real estate investments, Mr. McDonnell sent an email to his policy director just six minutes later telling him to meet to discuss how to advance Mr. Williams's products.

The aide's reply: "We need to be careful with this issue."

Mr. McDonnell's defense argued such interventions were not improper; they are what all elected officials do to promote state businesses. "To criminalize this bedrock principle," John Brownlee, one of the former governor's lawyers, said, "would make felons of virtually every person who's held public office."

He made clear he would make Mr. McDonnell's character central to his defense, calling him "a man of integrity" who was an Army veteran and a lifelong public servant.

He promised jurors the former governor would "take that chair right there" and detail his failed marriage, as a way of showing how his wife had become vulnerable to the ingratiating Mr. Williams.

"She was angry for not having enough money, she was angry at him for not spending enough time at home with her, and she hated him for not being available," Mr. Brownlee said of Ms. McDonnell, as the former first couple sat at the same table with their separate legal teams.

"Bob and Maureen's communication broke down almost entirely," Mr. Brownlee said, with Mr. McDonnell looking on, his eyes grim and his expression wan.

"This tore the marriage apart, and it created a rift so wide an outsider — in this case a man — could invade and poison the marriage," Mr. Brownlee said.
Virginia political blogger Peter Galuszka summed up the entire sordid affair quite well:
William Burck, lawyer for  Maureen McDonnell, said in his opening argument in a trial that Virginia's Former First Lady who has been indicted no 14 corruption charges along with her former governor husband was "collateral damage" in a deeply troubled marriage. She had developed a "crush" on the businessman who had given her and her husband more than $150,000 in loans, gifts and cash.

"Their marriage had broken down," Burck said. "They were barely on speaking terms," Burck said. Ms. McDonnell was angry and frustrated that her husband had been working 16-hour days in public service for 20 plus years and had little to show for it. They had five children. Big debt. Bob wasn't paying attention to her.

As John L. Brownlee, McDonnell's lawyer, said, McDonnell's hard public service work "took a toll on his family and a terrible toll on his wife. He was not nearly as successful as a husband. He tried to keep from the public the most painful aspects of his marriage. He never humiliated her. He never scorned her."

In pops Jonnie R. Williams Sr., a smooth-talking entrepreneur pushing a new anti-aging cream made in part from tobacco plants (although his firm, Star Scientific, had lost a couple hundred million over the previous decade.) Brownlee described the star witness for the prosecution as a "master manipulator."

"This marriage broke apart and an outsider, another man, would invade and poison their marriage," Brownlee said.

At one point, Maureen was said to have "hated" Bob who wrote a lengthy email to her trying to reconcile. In fact, Brownlee said, the Governor will read the email when he goes on the jury stand during the trial that is expected to last at least five weeks. When McDonnell sent the email, however, "that evening, Maureen was distracted by other interests."

One could get snarky about this seemingly over-the-top soap opera. But no one in the courtroom seemed to be smirking. It is strange enough to be at a trial like this in a place like Virginia that considers itself above the petty corruption that plagues other states. It is even stranger to hear such excruciatingly personal and painful things about the state's top former executive and his wife.

It could be that a "throw Maureen under the bus" strategy may work to get both of them off. After all, she wasn't a public official and could do what she wanted as far as gifts. The prosecution's opening statement drew a rather detailed and concise outline of just what and when the McDonnells solicited Williams' largesse, right down to the "thank you" emails when money arrived in the bank to Maureen's cell phone snap shot of Bob wearing slick, wraparound sunglasses while driving Williams' Ferrari.

Giving the McDonnell's the benefit of the doubt, I have to say I've heard this kind of story before among long-married couples suffering through middle age as their children are ready to fly away. Their stories may not be dramatic but I've got to admit that Bob McDonnell never seemed to exhibit such grabby behavior before.
Even assuming that they are true, none of these revelations about the McDonnell's marriage is necessarily relevant to the legal charges against them, of course. The fact that a deteriorating marriage and the desire to satisfy his wife's desires for a more secure financial future may have motivated McDonnell to develop a close relationship with Williams that resulted in him receiving everything from a Rolex watch and free trips to a gift that covered nearly the entire cost of the McDonnell's daughter's wedding at the Governor's Mansion doesn't mean that any laws were broken. It does, however, provide context to the story that had been missing ever since it started becoming public some two years ago now. It also at least partly answers the question of why McDonnell, who had never had a history of being the kind of politician who would develop these kinds of relationships with the well-heeled, would let himself get caught up with a guy who seems pretty clearly to be a rather obvious flim-flam artist interested in getting as much out of the state as he possibly can. If nothing else, it makes the story even more bizarre than it seemed at the beginning and guarantees that this trial, which is expected to last through the end of August, will be as much personal soap opera as it will be about rather dry facts about what gifts the McDonnell's received from Williams at what point in time.
As things stand, I have no idea how this case will end. Many people in McDonnell's camp, including a bipartisan group of former Virginia Attorneys General, have asserted that even if all the factual allegations the couple are true, they didn't actually break any laws in what they did. In the case of Maureen McDonnell specifically, its hard to see exactly what laws she broke given the fact that she wasn't a government official and, most specifically, wasn't covered by any of the disclosure laws that are at the heart of the allegations against her and her husband. In the Indictment that began this case, the Federal Prosecutors asserted that McDonnell and his wife violated a number of Federal laws relating to conspiracy and wire fraud in an effort to hide their "scheme," but as many legal analysts have observed, it is quite an odd world when one can be charged with a crime under Federal law for allegedly trying to hide something that isn't illegal to begin with. Indeed, if the McDonnell's are convicted at the end of all of this I would expect we'll see a long period of appeals by both Defendants.
Running parallel to the legal side of this story, though, there has always been the personal aspect of it. When he was elected Governor of Virginia in 2009, the same year that Chris Christie won a close election over Jon Corzine in New Jersey, Bob McDonnell was seen as a potential future star in the Republican Party on the national level, most especially because he had managed to win handily in Virginia just one year after Barack Obama had become the first Democrat since Lyndon Johnson to win the state in a Presidential election. As 2012 got closer, there was speculation about him being on the Republican ticket and, while that didn't happen, he was named as the head of the GOP's Platform Committee at the convention, and he played a big role in the General Election race from the day that Mitt Romney chose to name his Vice-Presidential running mate at a rally in the Commonwealth. There was even talk that McDonnell could be the one Republican capable of challenging Mark Warner for the Senate in 2014.
All of that quickly came crashing down as the revelations about McDonnell's relationship with Williams slowly trickled out and, now, it looks like the entire story is going to become even more sordid. For a state like Virginia, which still likes to pretend that there is a certain gentility