More Trouble For Virginia Governor Bob McDonnell
The drip, drip, drip in Richmond is turning into a flood.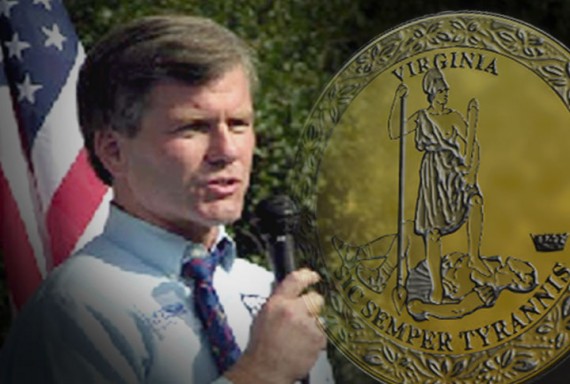 Last month I noted that an ongoing probe of Virginia Governor Bob McDonnell related to gifts received by him and his family members from top donors that were not reported as required by Virginia law had expanded. Since then, there have been other revelations that have come out, such as McDonnell's receipt of a $6.500 Rolex watch that was not reported, and now The Washington Post is out with a new report about monies received by both McDonnell's wife and a family corporation:
RICHMOND — A prominent political donor gave $70,000 to a corporation owned by Virginia Gov. Robert F. McDonnell and his sister last year, and the governor did not disclose the money as a gift or loan, according to people with knowledge of the payments.

The donor, wealthy businessman Jonnie R. Williams Sr., also gave a previously unknown $50,000 check to the governor's wife, Maureen, in 2011, the people said.

The money to the corporation and Maureen McDonnell brings to $145,000 the amount Williams gave to assist the McDonnell family in 2011 and 2012 — funds that are now at the center of federal and state investigations.

Williams, the chief executive of dietary supplement manufacturer Star Scientific Inc., also provided a $10,000 check in December as a present to McDonnell's eldest daughter, Jeanine, intended to help defray costs at her May 2013 wedding, the people said.

Virginia's first family already is under intense scrutiny for accepting $15,000 from the same chief executive to pay for the catering at the June 2011 wedding of Cailin McDonnell at the Executive Mansion.

All the payments came as McDonnell and his wife took steps to promote the donor's company and its products.

The payments to the corporation, confirmed by people familiar with the transactions, offer the first public example of money provided by Williams that would directly benefit the governor and not just his family.

The money went from a trust, controlled by Williams, to MoBo Real Estate Partners, a limited-liability corporation formed in 2005 by McDonnell and his sister, the sources said.

McDonnell viewed the payments to MoBo and to his wife as loans and not gifts, according to three people familiar with the transactions. State law requires elected officials to disclose their personal loans but not loans made to their corporate interests.

Tucker Martin, a spokesman for the governor, declined to comment on the payments other than to say that McDonnell has been diligent in filling out legally mandated disclosures.

"The rules that I'm following have been rules that have been in place for decades," McDonnell said Tuesday on a Norfolk radio show. "These have been the disclosure rules of Virginia. I'm following those. To, after the fact, impose some new requirements on an official when you haven't kept record of other gifts given to family members or things like that obviously wouldn't be fair."

State law requires the disclosure of any gift valued at more than $50, but gifts to family members are exempt.

Jerry Kilgore, an attorney for Williams, declined to comment on the payments. A spokesman for the U.S. attorney investigating the payments also declined to comment.

On state-mandated disclosure forms, McDonnell indicated that a member of his immediate family owed money to an unnamed individual creditor in 2011 and 2012. In one year, he described the creditor as someone in "medical services." In the other year, the governor said the creditor was in "health care." Star Scientific makes nutritional supplements.

The form did not specify the exact amount owed; the governor checked a box saying it was between $10,001 and $50,000.
It's important to note that, at least on the surface, McDonnell seems to have fully complied with the law for the most part. There have been one or two personal gifts, such as the Rolex, that apparently went unreported but he has since amended the appropriate disclosure forms to include them. The problem comes with the very generous gifts, or whatever you wish to call them, given to family members. This ranges from shopping sprees that his wife too at someone else's expense to the tens of thousands of dollars that the head of Star Scientific poured into the lavish wedding thrown for his daughter at the Governor's Mansion several years ago, to these latest payments to the family LLC. The reason there's an investigation is because of the implication that these gifts "to family members," were really disguised gifts to McDonnell himself that were structured in such a way as to avoid having to report them and thus raise questions about why a sitting Governor was receiving so much in gifts from one or two people. This is why there are investigations at both the state and federal level.
The odd thing about this entire story, though, is that there doesn't seem to be and quid pro quo involved in all of this, or that McDonnell did anything to influence state policy to help the people who gave these gifts, loans or whatever they are. However, as National Journal's Matt Berman notes, the lack of a quid pro quo doesn't mean that there wasn't corruption of some kind:
Harvard's Lawrence Lessig gets at this with his idea of the "gift economy" in his book, Republic, Lost. Lessig defines a "gift economy" like this:

A gift economy is a series of exchanges between two or more souls who never pretend to equate one exchange to another, but who also don't pretend that reciprocating is unimportant—an economy in the sense that it marks repeated interactions over time, but a gift economy in the sense that it doesn't liquidate the relationships in terms of cash. Indeed, relationships, not cash, are the currency within these economies.

While in a quid pro quo situation, "the guilty government official must intend to pay for the contribution made," a "gift economy" is much more subtle. And prevalent. Here's an obvious, nonpolitical illustration. Lessig again:

I give you a birthday present. It is a good present not so much because it is expensive, but because it expresses well my understanding of you. In that gift, I expect something in return. I would be insulted if on my birthday, you gave me a cash voucher equivalent to the value of the gift I gave you, or even two times the amount I gave you.

As Lessig writes, the gift economy can lead to dependency corruption, where even though there is no obvious ill will, dependency on a donor can lead to the deterioration of objectivity when it comes to examining the interests that that donor represents.

The McDonnell situation doesn't necessarily fit this gift-economy mold perfectly. As Lessig pictures it, the political gift economy is largely a product of campaign fundraising. With McDonnell, in some cases, direct cash was given by Williams. But with "gifts" like the Rolex, the food catering, and the Final Four airfare, some of this is at play.

Is there proof that Williams, in giving those gifts, demanded reciprication for his company? No. At least not yet. But that doesn't mean that McDonnell and his family weren't inclined to look at Williams and Star Scientific more favorably because of the financial assistance they were given.
Even if McDonnell manages to get through this mess without criminal charges being filed, it seems clear that his political career is finished, some thing that even some of Virginia's most conservative political bloggers — see here and here — are coming to recognize. It's quite a fall from grace. McDonnell's name had once been mentioned as a potential future candidate for President. Last year, he was on pretty much everyone's short list as a potential running mate for Mitt Romney. Now, Virginia Republicans are likely relieved that Virginia's Constitution bars him from succeeding himself. At the same time, though, there's still a possibility that this whole story could have an impact in a Virginia Governor's race that remains very close:
The question now becomes whether McDonnell's fall from grace hurts gubernatorial nominee Ken Cuccinelli, who Democrats point out also has close ties to Jonnie Williams (including accepting gifts from him). The Cuccinelli campaign responds that Cucinelli's AG office initiated this investigation, and they don't believe McAuliffe will be a credible messenger to attack them on this issue. But it's hard to see how this doesn't hurt Cuccinelli, because he needs to court moderates and the GOP business community, and right now McDonnell looks to be toxic to help him with those groups.
Losing McDonnell as a surrogate would hurt Cuccinelli not just with business groups, but with the suburban voters in Northern Virginia and Hampton Roads that McDonnell was successfully win just four years ago notwithstanding President Obama's ability to ride that vote to victory in the state just a year earlier. Virginia's other statewide elected Republican, Lt. Governor Bill Bolling, would potentially be helpful with those voters, but given the bad blood between him and Cuccinelli that still lingers from when they were rivals for the 2013 nomination, it seems unlikely that we'll see Bolling life a single finger to help. Will that make a difference in November? It's hard to say at this early date, but given how close this race is it seems as though Cuccinelli could use all the help he can get. Moreover, if the story gets any worse, then the attention that gets paid to it is likely to hurt Virginia Republicans as a whole, and that obviously won't help Cuccinelli's campaign.
Rumors have been circulating for a couple weeks now about a resignation by McDonnell, which would make Bolling the Governor, at least until the end of McDonnell's term. According to some of these rumors, this resignation would be part of some kind of a plea deal, however these have only appeared to be rumors so far. Two legislators have called for McDonnell to step aside, but they're both Democrats and those calls won't become real unless and until Republicans start joining in the call. Whatever happens, though, whether McDonnell resigns or manages to hang on until his term ends in January, this is, as I said the end of his political career, and it seems to be happening for reasons that make no sense whatsoever.