Probe Of Virginia Governor Bob McDonnell Widens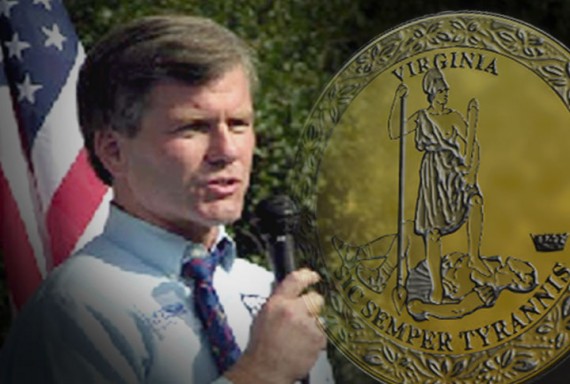 What started out as allegations of failure to properly report political gifts and other remuneration received by family members of Virginia's Governor Bob McDonnell has turned into a wider ranging criminal investigation:
Federal authorities are asking Virginia Gov. Robert F. McDonnell's associates about previously undisclosed gifts given by a campaign donor to McDonnell's wife that total tens of thousands of dollars and include money and expensive designer clothing, according to people familiar with the inquiry.

The questions are part of broad federal and state investigations into gifts to the governor and his family and whether McDonnell (R) took official action on behalf of anyone who gave gifts, people with knowledge of the investigation have said.

The probe already involves a $15,000 gift from wealthy businessman Jonnie R. Williams Sr., chief executive of a major McDonnell campaign donor, for catering at the 2011 wedding of one of McDonnell's daughters.

But the people with knowledge of the inquiry, who spoke on the condition of anonymity because of the sensitive nature of the investigation, say the scope is wider than just the wedding gift. The value and nature of additional gifts from Williams, including money provided in several checks, suggest that authorities are exploring a more extensive relationship between Williams and the McDonnells than previously revealed.

McDonnell has said that Williams's company, Star Scientific Inc., the maker of a dietary supplement, received no special benefits. But the gifts came as the McDonnells showcased the company and its new product.

(…)

Virginia law allows elected officials to accept gifts of any value, provided that they annually disclose those worth more than $50.

Since taking office in 2010, McDonnell has disclosed receiving $9,650 in personal gifts — including private plane rides and a s

Star Scientific also contributed $108,452 to McDonnell's campaign and his political-action committee.

State law does not require officials to disclose gifts that have been given to members of their immediate family. McDonnell has said that is why he did not disclose the $15,000 check for his daughter's wedding, which he said was a gift to his daughter.

As public scrutiny of his relationship with Williams has mounted, McDonnell has declined to provide a full accounting of other gifts Williams provided to members of the McDonnell family.

A local prosecutor in Richmond is conducting a parallel investigation to the federal probe to determine whether McDonnell complied with state law in his annual financial filings.

That investigation could explore whether the governor received enough benefit from gifts given to his wife — particularly loans or gifts of money — that he should have considered them gifts to himself as well.

Federal authorities are exploring whether McDonnell performed official acts to boost the company in exchange for gifts from Williams, people familiar with the inquiry have said.
Given how open ended Virginia's disclosure laws are, it strikes me that it would be difficult developing a case that there were any violation there. On the Federal level, the situation becomes more complicated because there's always the issue of the "Gift Tax," which is really an element of the Estate Tax. This much is clear, though, this would be a major problem for McDonnell if Virginia law allowed him to run for re-election, and the investigation itself makes it highly unlikely we'll ever see Bob McDonnell as a factor on the national political stage at any point in the foreseeable future.