Supreme Court Accepts Appeal Of Former Virginia Governor Bob McDonnell
The Supreme Court has agreed to review the legal basis for the conviction of former Virginia Governor Bob McDonnell on public corruption charges.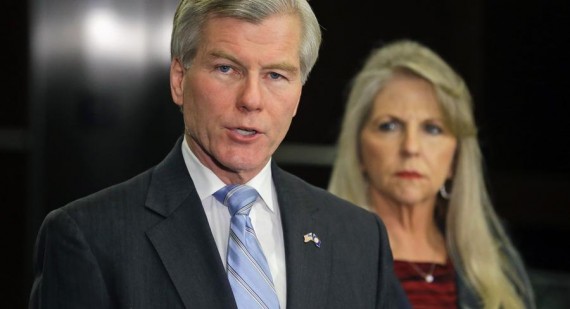 The Supreme Court agreed on Friday to hear the appeal of former Virginia Governor Bob McDonnell of his conviction in 2014 on corruption charges related to his time in office:
The Supreme Court will decide whether former Virginia governor Robert F. McDonnell was rightly convicted of corruption for his efforts on behalf of a businessman who bestowed money and gifts on the governor and his family.

The court announced Friday that it would intervene in the long-running saga of McDonnell and his wife, Maureen, and the case provides the justices a fresh opportunity to define what kind of political conduct crosses the line into criminal behavior.

McDonnell's attorneys had told the court that if his "routine political courtesies" to Richmond businessman Jonnie R. Williams Sr. could be construed as felonies, it would make all politicians vulnerable and arm federal prosecutors "with a frightening degree of control over the political process."

The McDonnells, who were convicted in 2014, were accused of intervening with state officials on Williams's behalf in exchange for $177,000 in loans, vacations and luxury goods. The former governor was sentenced to two years in prison; Maureen McDonnell received a year and a day.

Both, though, were allowed to remain free on bond with their appeals pending. The ex-governor's conviction was upheld by a unanimous panel of the U.S. Court of Appeals for the 4th Circuit; his wife's appeal has been put on hold at that court.

The Supreme Court indicated its interest in the case last fall by giving McDonnell, 61, a reprieve from reporting to prison while it considered whether to hear his appeal.

After the Supreme Court's announcement Friday, McDonnell issued a statement thanking the court for accepting the case. "I am innocent of these crimes and ask the court to reverse these convictions. I maintain my profound confidence in God's grace to sustain me and my family, and thank my friends and supporters across the country for their faithfulness over these past three years," he said.

The court will likely hold oral arguments in McDonnell's case in April, with a decision coming before the court adjourns in June.

The Justice Department argued that there was nothing about the conviction of McDonnell — a onetime rising star in the Republican Party who finished his term in disgrace — that warranted the high court's attention.

His claims about overzealous prosecution and the threats his conviction held for other officeholders were hyperbole, Solicitor General Donald B. Verrilli Jr. said.

"The evidence at trial amply supported the jury's finding that Williams lavished gifts on petitioner not to obtain the sort of general 'access' commonly provided to campaign donors, but rather in exchange for [McDonnell's] agreement to use his position to influence state officials," Verrilli said in a filing with the court. "Reaffirming that such quid pro quo agreements are unlawful poses no threat to legitimate political activity."
Former Governor McDonnell, of course, was convicted in September 2014 on a broad series of public corruption charges related to gifts and other gratuities received by the Governor and his family from a Virginia businessman who McDonnell then helped gain access to government agencies, regulators, and members of the legislature. There was no dispute that McDonnell, his wife, and McDonnell's family members such as his daughter received the gifts in question from Jonnie Williams, the businessman in question and, in the end, many of the gifts were returned by the McDonnells prior to the start of the trial. The issue at trial, then, wasn't so much whether the gifts were received but whether or not McDonell performed official acts in exchange for those gifts in violation of the Hobbes Act and other Federal Laws. The prosecution argued for a broad interpretation of the law under which McDonnell introduced Williams to various officials in state government and other institutions such as the University of Virginia, something that Williams likely would not have gotten absent the prestige of McDonnell's office granting him access to parties who he hoped would help him advance the interests of his company. Defense attorneys argued, on the other hand, that there was no evidence of a formal quid pro quo between McDonnell and Williams, no evidence that McDonnell used any aspect of his power as Governor to benefit Williams or his company, and no evidence that Williams ever actually received anything from anyone except, perhaps, the chance at meetings that never actually resulted in any benefit to Williams or his companies. McDonnell's defense was joined by a group of former Virginia Attorneys General who argued in legal briefs that the charges against McDonnell should be dismissed because they involved an inappropriately broad application of Federal anti-corruption laws.  In the end, of course, both McDonnell and his wife were convicted and McDonnell was sentenced to two years in Federal prison. The former Governor has yet to serve his sentence, however, since he has been allowed to stay free until he has exhausted his appeals. Back in July, the Fourth Circuit Court of Appeals rejected McDonnell's appeal but now that the Supreme Court has accepted the case he will remain free at least until the Justices have ruled on the matter.
At this early stage, it's obviously difficult if not impossible to say how the Court will deal with the appeal in this case. The fact that they accepted the appeal at all is being taken as a good news by McDonnell's defense team, of course, and by those Virginia Republicans who still support him in some sense or the other. However, the fact that the Justices accepted the case doesn't really tell us anything about what the ultimate outcome of the case might be, all it really tells us is that there were at least four Justices who concluded that this was a case that deserved the Court's attention. Indeed, the fact that this case involves issues of first impression regarding what is and isn't covered by the Hobbes Act and other Federal Laws was arguably reason enough for the Court to accept the case for review in order to establish some kind of clear rule about how far prosecutors can go in using this law to prosecute public corruption. At this early stage, then, it's just as likely that McDonnell's conviction will be upheld as it is that it will be vacated and it won't be until oral argument some time in April that we'll even begin to get a clue about which way the Justices might be leaning on the issue presented by the appeal.