Gallup Poll Finds Majority Support For Same-Sex Marriage
We've reached a turning point in the debate over same-sex marriage.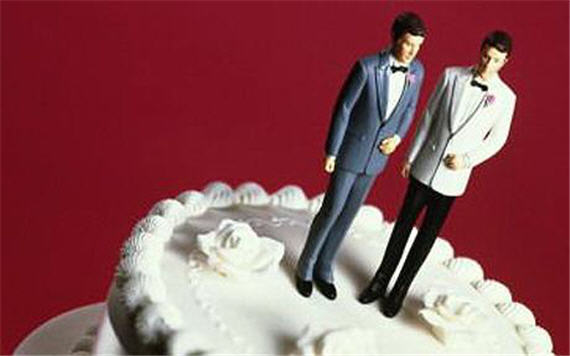 Mirroring previous polls we've seen from CNN, ABC News, and Pew Research, Gallup is out today with a poll showing that, for the first time, a majority of Americans support same-sex marriage:
For the first time in Gallup's tracking of the issue, a majority of Americans (53%) believe same-sex marriage should be recognized by the law as valid, with the same rights as traditional marriages. The increase since last year came exclusively among political independents and Democrats. Republicans' views did not change.

These results are based on Gallup's May 5-8 Values and Beliefs poll, which has tracked attitudes toward legalizing same-sex marriage each year since 2004, adding to Gallup's initial polling on the topic in 1996 and 1999.

This year's nine-point increase in support for same-sex marriage is the largest year-to-year shift yet measured over this time period. Two-thirds of Americans were opposed to legalized same-sex marriage in 1996, with 27% in favor. By 2004, support had risen to 42% and, despite some fluctuations from year to year, stayed at roughly that level through last year.
Considering the long-simmering cultural and religious attitudes that have influenced public opinion about homosexuality for generations, it really is an extraordinary change, all the more so given that it has occurred over a relatively short period of time as this chart shows: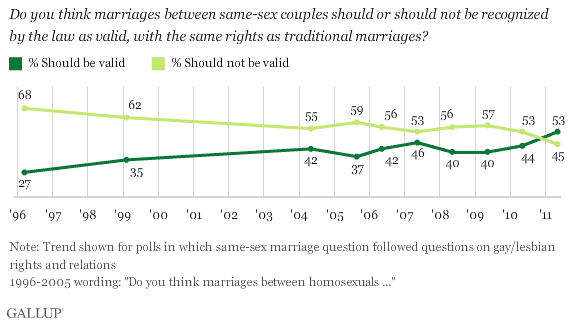 Not unexpectedly, there are large differences of opinion on this issue based on political party/ideology:
Democrats' and independents' support for legalized same-sex marriage increased this year by 13 and 10 points, respectively. Republicans' views on the issue did not change from last year. Clear majorities of both Democrats and independents now support gay marriage, 69% and 59% respectively, contrasted with 28% support among Republicans.

Majorities of moderates and liberals support gay marriage, as they did last year, contrasted with 28% of conservatives.
And, of course, age: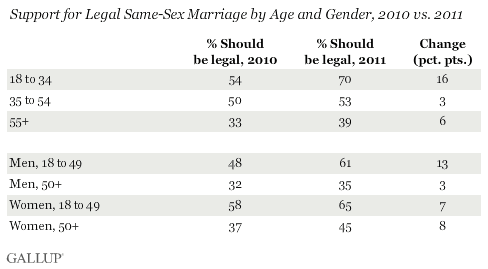 Politically, the implications of this are two fold. First, as I noted in February, same sex marriage is no longer a wedge issue that works to the benefit of the GOP:
It just doesn't make electoral sense for the GOP to concentrate so heavily on an issue like same-sex marriage when its clear that, no matter what stand it takes, it's going to be annoying at least 50% of the population. In the 2004 election, referendums to ban same-sex marriage helped bring socially conservative voters to the polls in 2004 and arguably helped George W. Bush defeat John Kerry in states like Ohio. Today, except in limited Congressional districts, it's hard to conceive that a similar campaign strategy would work. Voters are focused on the economy, and on the size and scope of government, appeals to divisive social issues just aren't working the same way they used to.

So, despite the strident demands of social conservatives, I don't expect the GOP to make a major push on same-sex marriage, not now and not during the 2012 campaign. Oh yes, there will be candidates who will push that button during the Presidential primaries. especially in states where the issue is still popular. Nationwide. however, and as a strategy for the General Election, the GOP will need to stay away from this issue if it wants to win in November
Second, the fact that a majority of Americans support same-sex marriage suggests that the public reaction to a court decision striking down a ban, such as in the Proposition 8 case out in California, would not be nearly as controversial as some have suggested it would be. Do American really care how same-sex marriage becomes legal? I don't think so.
This doesn't mean that the fight for marriage equality is over, of course. Legislative battles to accomplish it have fallen short in Maine and Maryland, and the legislative effort in New York is in doubt largely because of the resistance of New York's small, but powerful, Conservative Party. Nonetheless, the trend is clear and I don't think there's any turning back. Same-sex marriage is eventually coming to your state, even if you live in the depths of the Bible Belt.
Update: Tina Korbe makes this point:
In the end, regardless of what happens in the legal battle, gay marriage will always remain a question of morality in the etymological sense — a question of particular behaviors and of how we interpret the significance of those behaviors. The case against gay marriage will remain extremely hard to make as long as we interpret the meaning of sex as no more than pleasure, self-fulfillment and a sense of unity between romantic partners and of marriage as no more than increased social status, legal benefits and a barrier to being alone.
Well, in a civil context that is exactly what marriage is. There are benefits and protections that married couples get under the law that nobody else does. That's why the issue of same-sex marriage is a matter not only of individual liberty (people should be free to enter into whatever relationships they want) but also equal protection of laws (the government cannot deny the protection of the law to someone based on status without a rational basis). As Judge Walker found in the Prop 8 case in California there is, quite simply, no rational basis under the law to distinguish between straight couples and gay couples.
But worry not, social conservatives. This doesn't mean that your churches are going to marry gay people even if they don't want to, because we have a First Amendment. So, changes to what it means to be married in a civil sense will have absolutely no impact on what it means to be married under the tenants of a particular church. Some churches may choose to perform same-sex marriage, others will not, that's their choice and I don't know anyone seriously arguing that they should be forced to (and if they were, I'd be on the other side of the argument fighting for the Freedom Of Religion). What you can't do, though, is take your particular religious definition of marriage and apply in the civil world. Not only does that create First Amendment problems, it creates the liberty and equal protection violations noted above. Legalizing same-sex marriage will not lead to the end of civilization any more than letting Elizabeth Taylor get married eight times did.