Public Acceptance Of Same-Sex Marriage At All-Time High
Two new polls reflect the extent to which public attitudes on same-sex marriage have changed dramatically over the past twenty years, and it's only a matter of time before that's reflected in the law.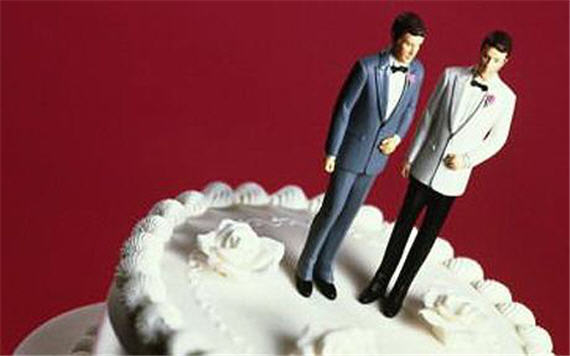 In what is likely one of the most dramatic turnarounds in public cultural and social attitudes in quite sometime, we're seeing yet more evidence that public acceptance of same-sex marriage is now at points where it's the opponents of marriage equality who are soon likely to be in the minority.
First, a new Pew poll finds that public attitudes on same-sex marriage have moved consistently in favor of same-sex marriage:
The survey finds a continuing rise in support for same-sex marriage since 2009. Currently, 45% say they favor allowing gays and lesbians to marry legally while 46% are opposed. In Pew Research surveys conducted in 2010, 42% favored and 48% opposed gay marriage and in 2009, just 37% backed same-sex marriage while 54% were opposed.
Chart:

A different survey, the 2010 General Social Survey found similar dramatic shifts in public attitudes on same-sex marriage: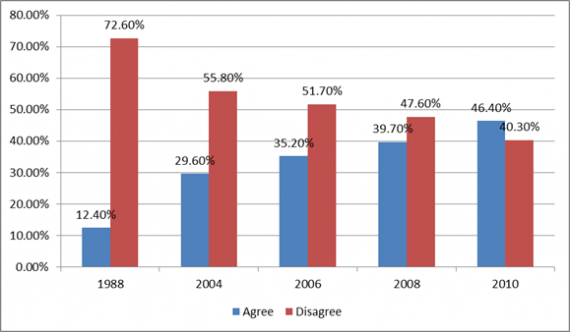 When you look at that graph, the shift is dramatic; in 1988, just 22 years ago, only 12% of Americans supported gay marriage. In 2010, it was 46%, with only 40% opposed. And it's even a big shift from 2008 to 2010: support went up seven points, and opposition trended downward seven points.
That's quite a dramatic shift over a period of 22 years, especially considering that during a portion of that time the gay rights movement had several major setbacks such as Don't Ask, Don't Tell, the Defense of Marriage Act, and the wave of state Constitutional Amendments barring same-sex marriage and civil unions that swept much of the nation during the early 2000's. Even victories were met with setbacks, as the California Supreme Court's decision permitting same-sex marriage was quickly followed by Proposition 8 which, despite polling early on showing that it would be defeated, ended up passing even in a Presidential election year when Democrats who might be sympathetic to the cause were more likely to vote
So, what accounts for the dramatic change in public attitudes over the past two decades? Partly, of course, is the fact that these numbers are reflecting the views of younger Americans, among whom issues like homosexuality have largely become a matter of everyday life. For many members of  this generation, the idea that two people who care about each other can't form a legal relationship is likely a pretty foreign concept. In addition to that, though, I think the change in attitude reflects the fact that it's very easy to have judgmental, or prejudicial, attitudes, about people when you really don't know any of them It's the reason, for example, that many northern whites in the 1960s and 70s seemed to reflect the same racial attitudes as whites in the South even though they didn't live among large African-American populations. Over the past two decades, as public attitudes about homosexuality have become more accepting, people have come to realize that gays and lesbians don't necessarily fit the stereotypes that they were taught to believe in, and that they're no different than the rest of us. The implications of this are clear, thanks to these changing attitudes and demographic change, the social stigma against homosexuals has largely disappeared (except in relatively closed, religious populations) and the legal barriers to equality are quickly falling away.
Matthew Ygelasias looks at these numbers and posits:
Five years ago, if there were five Supreme Court justices who believed that marriage equality should be the law of the land, they'd still probably have shied away from saying so for fear of issuing a desperately unpopular decision on a hot-button subject. Today, not so much. And with the Obama administration now saying that DOMA should be subjected to "heightened scrutiny" it would seem to follow that all forms of marriage inequity also deserve said heightened scrutiny. Consequently, I think we may actually wind up having nationwide marriage equality sooner than people think as long as Justice Kennedy continues to be sympathetic to gay equity claims.
He may not be far off the mark. The Supreme Court may not be subject to electoral politics, but they clearly do pay attention to societal attitudes, and the fact that same-sex marriage in on the verge of being supported by a majority of Americans (if it isn't there already) may just be enough to persuade a wavering Justice (or two) to cast their vote in favor of marriage equality.