Gingrich Continues to Insult our Collective Intelligence
The notion that the President of the United States can guarantee a given per gallon price of gas is a fantasy (and, quite frankly, a lie).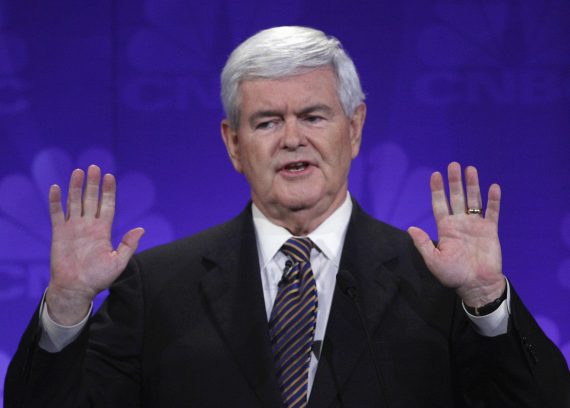 Today I saw Gingrich interviewed and for the umpeenth time he pointed out that gas was $1.13/gallon when he was Speaker and was $1.87/gallon when Obama was inaugurated.  Of course in pointing out these facts he is not engaging in a time-based version of The Price is Right, but rather is suggesting that somehow he was responsible for the gas prices when he was Speaker and that the rise in gas prices over the last several years is Obama's fault.
The highly annoying thing about all of this is that this isn't how the price of gas is determined.  The thing is, Gingrich has to know this. And yet, he continues to make the assertion because he thinks it will persuade some people.  It makes me angry and Gingrich for being so transparently dishonest and it also make me angry for people who actually buy the line.  It is fundamentally depressing that anyone accepts this argument.
I also saw a commercial for Gingrich's "$2.50 Plan" (video here) and it is similarly annoying because of the blatant dishonesty of the thing.  The notion that the President of the United States can guarantee a given per gallon price of gas is a fantasy (and, quite frankly, a lie).  Not only that, it strikes me as fundamentally opposed to alleged conservative notions about things like the market and limited government.
Yes, one can debate issues such as the XL Pipeline, off-shore drilling, and further domestic exploration.  But none of those things can be used to guarantee a specific at the pump price.  Further, the fundamental truth of the matter is that the market for oil is global and that any increase in domestic production would feed into that global market, not just the domestic market.
Indeed, the fact that domestic production is currently at an eight-year high and yet gas prices are on the rise underscores that Gingrich's claim (i.e., that more domestic production will lead to lower gas prices) is false.  Empirical reality is a stubborn thing.
The main policy-linked driver of gas prices at the moment, by the way, is sabre-rattling over Iran, something that Gingrich is very much a part of.
And yes:  all politicians stretch the truth, make exaggerated claims, and even lie.  But this is not only a major pander (after all, almost everyone wants lower gas prices) but it is also blatantly, ridiculously, unequivocally fantastical.   It is the kind of thing that ought to rankle any intellectually honest individual regardless of partisan predilections.
And really, while Gingrich has done a fair job of convincing me that his intellect is far less impressive than he thinks it it, I am certain that he is no dummy and knows full well that this proposal is nothing but hogwash.  It is bad enough when politicians makes statement that are false when they don't understand that fact, it is yet another when they tout claims that they have to know are untrue.