GOP Takes Ten Point Lead In 2010 Generic Ballot
Republicans now have the largest lead in Gallup's Generic Congressional Ballot poll that they've ever had.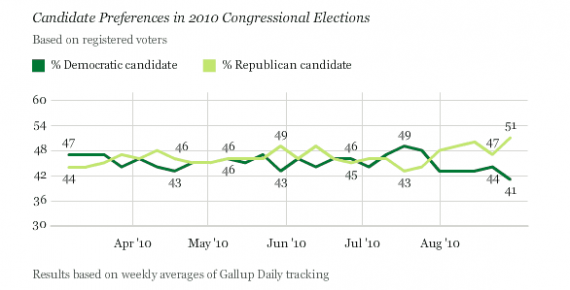 The latest Gallup Generic Ballot poll is enough to send Democrats on Capitol Hill heading for the bunkers:
PRINCETON, NJ — Republicans lead by 51% to 41% among registered voters in Gallup weekly tracking of 2010 congressional voting preferences. The 10-percentage-point lead is the GOP's largest so far this year and is its largest in Gallup's history of tracking the midterm generic ballot for Congress.

These results are based on aggregated data from registered voters surveyed Aug. 23-29 as part of Gallup Daily tracking. This marks the fifth week in a row in which Republicans have held an advantage over Democrats — one that has ranged between 3 and 10 points.

The Republican leads of 6, 7, and 10 points this month are all higher than any previous midterm Republican advantage in Gallup's history of tracking the generic ballot, which dates to 1942. Prior to this year, the highest such gap was five points, measured in June 2002 and July 1994. Elections in both of these years resulted in significant Republican gains in House seats.
Of even more concern to Democrats, though, should be the fact that, with the mid-term campaign entering it's final phase, Republicans are far more enthusiastic (and thus more likely to vote in November) than Democrats: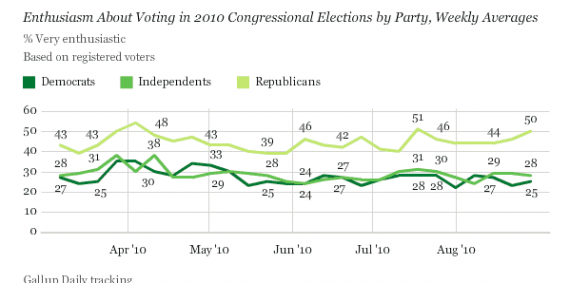 Gallup concludes:
The last Gallup weekly generic ballot average before Labor Day underscores the fast-evolving conventional wisdom that the GOP is poised to make significant gains in this fall's midterm congressional elections. Gallup's generic ballot has historically proven an excellent predictor of the national vote for Congress, and the national vote in turn is an excellent predictor of House seats won and lost. Republicans' presumed turnout advantage, combined with their current 10-point registered-voter lead, suggests the potential for a major "wave" election in which the Republicans gain a large number of seats from the Democrats and in the process take back control of the House.
The biggest problem for the Democrats is that there seem to be very few things that can happen between now and Election Day that can reverse the Republican momentum. The latest round of economic reports seem to establish fairly clearly that the economy is likely to remain flat or depressed during that time period and I doubt we'll be getting any good news out of the jobs report that will be released this coming Friday, and it is primarily the economy that is driving voter anger at this point in time. Outside of some massive scandal that hurts Republicans or an international crisis that causes the public to rally around the President, both of which are unlikely, the pattern we're in now is likely to be the one we're in on Election Day. That's bad news if you're a Democrat.