Greek Voters Reject Bailout Deal, Greece Still Largely Screwed
Greek voters rejected the latest bailout package, but that only seems likely to make things even worse for them.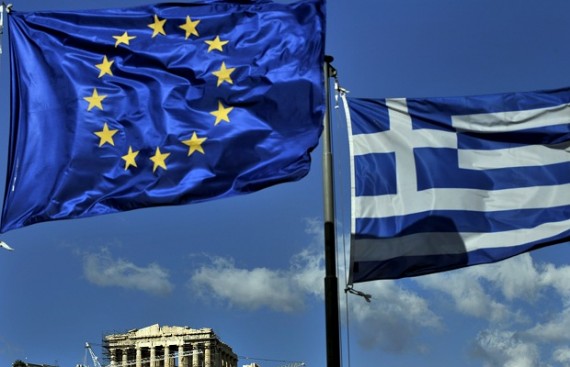 Greek voters went to the polls today and overwhelmingly rejected the bailout deal that had been proposed by European officials, likely setting their nation up for further economic turmoil:
ATHENS — Greeks delivered a shocking rebuff to Europe's leaders on Sunday, decisively rejecting a deal offered by the country's creditors in a historic vote that could redefine Greece's place in Europe and shake the Continent's financial stability.

As celebrants gathered in Athens's central Syntagma Square, the Interior Ministry reported that with more than 80 percent of the vote tallied, 61 percent of the voters had said no to a deal that would have imposed greater austerity measures on the beleaguered country.

The no votes carried virtually every district in the country, handing a sweeping victory to Prime Minister Alexis Tsipras, a leftist who came to power in January vowing to reject new austerity measures, which he called an injustice and economically self-defeating. Late last month he walked away from negotiations in frustration at the creditors' demands, called the referendum and urged Greeks to vote no as a way to give him more bargaining power.

While Mr. Tsipras now appears to have his wish, his victory in the referendum settled little, since the creditors' offer is no longer on the table. There remains the possibility that they could walk away, leaving Greece facing default, financial collapse and expulsion from the eurozone and, in the worst case, from the European Union.

At stake, however, may be far more than Greece's place in Europe, as experts have offered wildly differing opinions about what the referendum could mean for the future of the euro and, indeed, the world's financial markets.

Even before the voting was over, some European leaders began making efforts to contain the potential damage. The office of Chancellor Angela Merkel of Germany released a statement on Sunday saying she would meet with the French president, François Hollande, in Paris on Monday for a "joint assessment of the situation after the Greek referendum."

But others were more pessimistic. Germany's economy minister, Sigmar Gabriel, who is also the leader of the Social Democrats, said the vote made it hard to see how talks could resume on a bailout deal.

"Tsipras and his government are leading the Greek people on a path of bitter abandonment and hopelessness," he told the daily Tagesspiegel, adding that they have, "torn down the last bridges on which Greece and Europe could have moved towards a compromise."

The vote took place under what some analysts called a financial carpet bombing. The European Central Bank severely limited financial assistance to Greek banks, forcing them to close a week before the referendum, making it hard for retirees to get their money and raising widespread fear here that people would lose their deposits.

The news media, dominated by Greek oligarchs, saturated the airwaves and the newspapers with stories about losing gasoline and medicines, while the plight of the elderly was afforded far more attention than in the past, media experts said.

Nonetheless, many voters, tired of more than five years of soaring unemployment and a collapsing economy, said they could not accept the terms of the European offer, which imposed yet more pension cuts and tax increases, without any hint of debt relief.

As word spread of a likely victory for the no vote, people began gathering in Syntagma Square. They streamed out of the metro — which is free in this week of capital controls — and drove by, honking horns. Vendors sold Greek flags, and there was a peaceful, celebratory atmosphere.

People made speeches. Some remembered that at the beginning of the crisis in 2011 Syntagma became a gathering place for protesters. But in those days it was a scary place, they said, in contrast to Sunday night.

Mr. Tsipras voted late Sunday morning in his working-class neighborhood in Athens. Afterward, he said the vote was a "celebration of democracy."

"Not only will we remain in Europe," he said, "but we will live with dignity to prosper, to work as equals among equals."

For some voters, the week of hardship — they could withdraw only 60 euros, or about $67, a day from A.T.M.s, and already some pharmacists were refusing to fill prescriptions — had only strengthened their sense that Greece needed to stand up for itself.

After five years in which unemployment soared beyond 20 percent and the country's economy contracted by 25 percent, many said that a no vote was at least a vote for hope, the possibility of a new deal, rather than following the mandates
On some level, the rejection itself isn't entirely surprising. For several years now as the Greek economy has gone from crisis to crisis and the nations various leaders have negotiated with European bankers and others in an effort to restructure the country's debt, a combination of one of the worst economies in Europe and austerity measures put into place in an effort to find the money to keep the nation from default has apparently made situation on the ground in Greece quite bad indeed. Over the past week, that situation has been made even worse due to the fact that the nation's banks and stock market have been essentially closed and citizens are not allowed to with draw more than what is roughly the equivalent of $60 per day from their bank accounts. These measures were put in place by the government, of course, and not by bankers elsewhere in Europe, but it appears that much of the blame for the situation among members of the public has been  focused somewhere other than toward Athens. That government, though, was swept into office largely on a populist platform of opposition to the conditions that European lenders were seeking to impose on Greece and, though he appeared to concede somewhat to negotiators last week, Prime Minister Alexis Tsipras was pushing for a "No" vote with the argument that it would give him negotiating power with the European banks. The Greek people seem to have bought that argument.
Where things go from here seems to be anyone's guess at the moment. Heading into the referendum, an assumption on both sides in Greece and from most analysts around the world was that rejection of the bailout plan would essentially be the beginning of the so-called "Grexit," Greece's departure from the European Monetary Union and the return, presumably, of the drachma. In one of the first reaction pieces to today's vote, Walter Russell Mead says that a Grexit is inevitable now and suggests that a Greece outside the Euro would actually make it easier for Athens and its creditors to negotiate some kind of acceptable solution to the debt problem. The question that raises, obviously, is what that would mean for the rest of Europe and for Greece. Raoul Ruparel outlined some of those scenarios in a piece that was written before the current crisis began, and there will certainly be much more discussion of those issues in the days, weeks, and months to come. At a macro, though, it strikes that it is far more likely the Europe can survive without Greece than that Greece can survive without Europe. Greece has been an economic basket case dragging down the rest of Europe for some time now, cutting it off from the Euro is just as likely to have positive benefits as negative ones. Yes, there's a possibility it could set off a chain of events that would lead other nations to re-examine their position in Europe, but that seems likely to happen anyway. Greece, on the other hand, is likely setting itself up for far more pain if it tries to go it alone once again. It has an unsustainable welfare state, massively high unemployment, and seemingly few prospects for real economic growth unless it radically departs from its current course, which seems unlikely. And, of course, even outside the Euro, it still has to figure out a way to pay its debts. So, while the Greek people may be happy with what they did today, all they seem likely to accomplish going forward is guaranteeing that their bad situation is just going to get worse.