Greek Banks To Remain Closed Monday As Debt Negotiations Head To The Wire
The Greek Government is basically shutting the banking system down tomorrow as negotiations over its debt problems continue.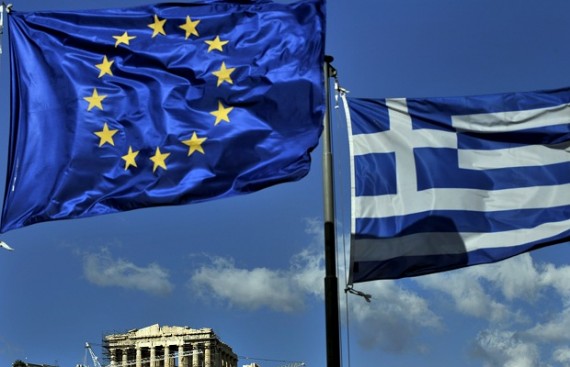 I honestly haven't been paying much attention to the latest round of negotiations between Greece and European lenders, but it would appear that things are about to get very, very serious:
ATHENS — Greece will keep its banks and stock market closed on Monday and place restrictions on the withdrawal and transfer of money, Prime Minister Alexis Tsipras said in a televised address on Sunday night, as Athens tries to avert a financial collapse.

The government's decision to close banks temporarily and impose other so-called capital controls came hours after the European Central Bank said it would not expand an emergency loan program that has been propping up Greek banks in recent weeks while the government was trying to reach a new debt deal with international creditors.

Mr. Tsipras said on Sunday night that the European Central Bank's decision was an attempt to "blackmail" Greece.

The debt negotiations broke down over the weekend after Mr. Tsipras said he would let the Greek people decide whether to accept the creditors' latest offer. That referendum vote is to be held next Sunday, after the current bailout program will have expired.

By closing banks and imposing other controls on the movement of money, Greece is taking steps similar to those by Cyprus in 2013 to avoid a bank collapse.

But in that case, the Cypriot government acted in concert with other European governments as part of a new bailout program. In Greece, the emergency banking measures were be a result of a breakdown in talks with other eurozone countries. The breakdown has intensified pressure on cash-poor banks as jittery Greeks withdraw their savings.

There is still a chance that Greece and its creditors — the European Central Bank, the International Monetary Fund and the other eurozone countries — can come to terms before its current bailout program expires on Tuesday. On Sunday, the European Commission and I.M.F. issued statements indicating the door to further discussions might still be ajar.

And in Washington, the White House issued a statement saying that President Obama and the Chancellor Angela Merkel of Germany had spoken by phone Sunday. "The two leaders agreed that it was critically important to make every effort to return to a path that will allow Greece to resume reforms and growth within the eurozone," the White House statement said.

But the European Central Bank, for its part, declined on Sunday to raise the limit on its emergency funding for Greek banks — a level currently said by banking officials and analysts to be around 89 billion euros, or about $100 billion — even though businesses and consumers have withdrawn billions of euros in recent weeks.

That rate of withdrawals appeared to increase over the weekend, as long lines formed at A.T.M.s around the country, threatening a bank run that the Greek government could try to avoid by imposing capital controls. But at the same time, the European Central Bank did not cut off support entirely, giving the Greek government some extra flexibility in the coming days.

Greece's own central banker, Yannis Stournaras, said in a statement after the European Central Bank decision on Sunday that the Greek central bank would "take all measures necessary to ensure financial stability for Greek citizens in these difficult circumstances."
It is also being reported that the stock exchange in Athens will be closed tomorrow and that capital controls will be imposed to prevent Greek banks from being drained of foreign deposits.
As a preliminary matter, if you're looking for an explanation of what's going on with this latest chapter in what seems like an eternal crisis in Greece at this point, The New York Times does a good job of laying out how we got where we are and what's at issue in the current negotiations.
Based on some of the reporting about the negotiations over the past week, it does seem as though there will ultimately be some kind of resolution to the current crisis involving Greece, but it's unlikely to be easy getting there and the fact that some reports are indicating that the deal may all hinge on a referendum to be held in Greece later this year makes the entire thing ephemeral in some sense in any case. The shape of that final deal, though, is almost secondary to the potential short term and long term impact of what Greece is talking about doing here. Closing banks even for a short period of time is a serious step. When it happened here in the United States in the 1930s it set off a financial crisis that shook the system to its core even more than the already ongoing Great Depression had done. Fortunately, in that case, we had leadership that was able to restore confidence in the financial system in relatively short order and, well, even in the depths of the Great Depression the United States of the 1930s was in far better shape, and had a far brighter future, than Greece does today. The situation does not to be anywhere near the same in Athens, where the leadership seems to be running around like a chicken with its head cut off and these moves seem to be designed to avert the rather rational actions of Greek citizens who are realizing that their banks are no longer safe. It's likely to have the exact opposite of its intended effect.
Closing banks under circumstances like this, which are quite different from Roosevelt's actions in 1933 or what happened in Cyprus several years ago, seems bound to have disastrous consequences for a nations economy and its political system. To a large degree, the entire idea of banking itself is built on the maintenance of some degree of confidence on the part of the people. After all, if you turn all your money over to a guy in a building that says "bank" on it, you have to have some belief that you'll be able to access it when you need it. Otherwise, the entire logic of the system begins to collapse. If this were part of some kind of planned reform where the Greeks were closing the banks for a day or two in order to implement a reform plan, then perhaps it wouldn't be a big deal. But that's not what's happening here. This is very much a last minute thing that was announced late in the day on a Sunday. According to reports, lines at ATMs around the country, which were already growing because of the overall sense of distress, began to grow when the announcement went public. Eventually, of course, those machines will run out of cash and won't be replenished right away. At that point, people will be left with whatever cash they had on them when banks closed. Even if the crisis is only short-lived, the promise of reliability upon which every system of banking is built will have been punctured, and it's hard to see how the Greek economy and political culture won't be deeply shaken by it. Add that kind of uncertainty into an economic situation that has been dire for years, and things could get quite nasty in Greece in the future.