Greece Reaches Deal With Europe That's Quite Similar To The One Voters Rejected
Greece reached a new deal with European bankers that seems oddly similar to the one that voters rejected just a week ago.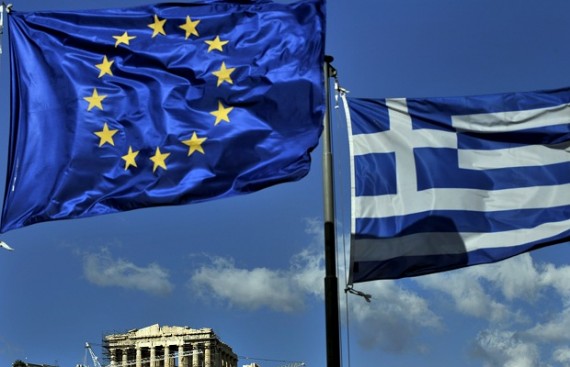 European leaders and the Greek government have reached an agreement regarding Greece's debt problems that bears a lot of similarities to the deal that Greek voters rejected just a week ago in a nationwide referendum:
BRUSSELS — Greece and its European creditors announced an agreement here on Monday that aims to resolve the country's debt crisis and keep it in the eurozone, but that will require further budgetary belt-tightening that Primes MinisterAlexis Tsipras could have trouble selling back in Athens.

The agreement does not guarantee that Greece will receive its third bailout in five years. But it does allow the start of detailed negotiations on a new assistance package for Greece. One open question is whether the deal gives enough confidence to the European Central Bank to let it continue channeling sorely needed emergency funding to Greek banks hollowed out by a long economic slump and the withdrawal of billions of euros in recent months by account holders as the country's financial crisis worsened.

The tough terms, demanded by Germany and others, are meant to balance Greece's demands for a loan repayment system that will not keep it mired in recession and austerity budgets, against creditors' insistence that loans worth tens of billions of euros not be money wasted. Testy negotiations and Greece's inability to live up to the promises made in its previous bailouts had cast a shadow of distrust over the weekend's discussions.

An accord would end five months of bitter negotiations that raised concerns that Greece would be the first country to be forced out of the euro currency union — a development that proponents of European unity had sought desperately to avoid.

"The advantages far outweigh the disadvantages," Chancellor Angela Merkel of Germany told a news conference, explaining her decision to accept the deal and recommend that the German Parliament also grant its approval.

(…)

The total commitment of money has not been disclosed. But a document by the eurozone leaders noted that experts had estimated that Greece might need from 82 billion to 86 billion euros more — $91 billion to $96 billion — to shore up its economy, rebuild its banks and meet its debt obligations over the next three years. The document said Greece and its creditors should seek to "reduce that financing envelope," if possible.

As part of Greece's commitments, Ms. Merkel said, a fund will be created to use the proceeds from selling off assets owned by the Greek government to help pay down the country's debt. That fund would be "to the tune of" €50 billion, she said.

Greece will also be required to seek assistance from the International Monetary Fund and to agree to let the organization continue to monitor the country's adherence to its bailout commitments. The Greek government had resisted a continued role for the I.M.F., seeing the fund's involvement as unwanted meddling.

The Greek Parliament will also be required to approve the terms of the agreement "without delay," according to the document released on Monday morning. One of the sticking points in the negotiations over the weekend had been a demand that the Parliament sign off on any deal by Wednesday, but that requirement appears to have been relaxed.

During the marathon negotiation session, Mr. Tsipras, the Greek prime minister, struggled to reach compromises on economic overhauls that the creditors demanded but that his left-wing government may find difficult to sell at home after Greek voters overwhelmingly rejected softer terms in a referendum just a week ago.

A bleary-eyed Mr. Tsipras, speaking to reporters here on Monday, tried to put a positive spin on what might be seen as an almost total capitulation by Athens to creditors' demands for tough austerity. He said that the threat of Greece being forced out of the eurozone had been avoided and a promise of debt relief and growth funds had been secured.

"We gave a tough battle for six months and fought until the end in order to achieve the best we could, a deal that would allow Greece to stand on its feet," Mr. Tsipras said. "We faced hard decisions, tough dilemmas," he said, adding that the Greek authorities finally "assumed the responsibility of averting the extremist ambitions of the most conservative circles in Europe."

But any easing of Greece's debt repayment obligations would not include something Greece had previously made a condition of any deal: a so-called haircut, or reduction of the overall debt, which is more than €300 billion. The document issued on Monday made its resistance to that demand clear in one sentence: "The Euro Summit stresses that nominal haircuts on the debt cannot be overtaken."
The first takeaway from all of this, of course, is that it seems quite apparent that Prime Minister Tsipras miscalculated in the political game he was playing with his European counterparts. Over the past several weeks, Tsipras has played the Greek public off the Europeans with the idea that their rejection of harsh conditions for another bailout deal would result him having more bargaining power in Brussels. During the run up to last week's referendum vote in fact, that's exactly what Tsipras was telling voters as they went on to overwhelmingly reject a deal that European leaders had already said was off the table in any case. The logic of Tsipras's argument was never hard to follow to begin with since he seemed to be arguing that a rejection of the deal that Europe had offered would mean that he'd be in the position to negotiate a better deal. Logically, this is an argument that never really should have made sense to Greek voters since it was largely premised on the idea that the Europe needs Greece more than Greece needs Europe. If there's anything that the last several years have shown, it is that the opposite is true. Thanks largely to an unmanageable welfare state combined with an economy that has been in the doldrums for decades, it's clear that it's the other way around. Europe has plenty of its own problems, but in the long run it would be just fine without Greece. Greece, on the other hand, would likely be in even worse shape than it is today without Europe. Given that disparity, the idea that Tsipras was ever in a "strong" negotiating position is fundamentally silly. Add into the mix the fact that Greece is still in the middle of a cash flow crisis so severe that the banks look as though they will remain closed for a third consecutive week, and it becomes that Brussels and Berlin have been the ones holding the winning cards all along.
Even with the new deal announced, it's not clear that everything is smooth sailing going forward. The Greek Parliament will still need to approve the agreement, and even though Tsipras's coalition has a majority there it's still not clear that he can get it through. Even if it does pass, though, the fact that the deal announced today is arguably far harsher than the one that was rejected a week ago could have an impact on the political future of Greece. As things stand right now, the nation seems set for more austerity in order to satisfy its creditors, but nobody, not even the people opposed to austerity, seem to have any credible ideas for sparking economic growth in the country. Indeed, it seems fairly certain that as long as the Greeks continue on the same social welfare path that they have been on they are no going to solve any of their long term problems regardless of whether they currency they use is called the Euro or the Drachma. Most of all, though, without those long-term solutions, it is fairly certain that Tsiras, or more likely whomever ends up succeeding him, will be sitting across the table from these same European bankers in a few years and we'll be going through this same crisis all over again.