Harvey Mansfield Sees Crisis of American Self-Government
Harvard's pet conservative offers a critique of the Democratic Party that reads like something from the OTB comments section.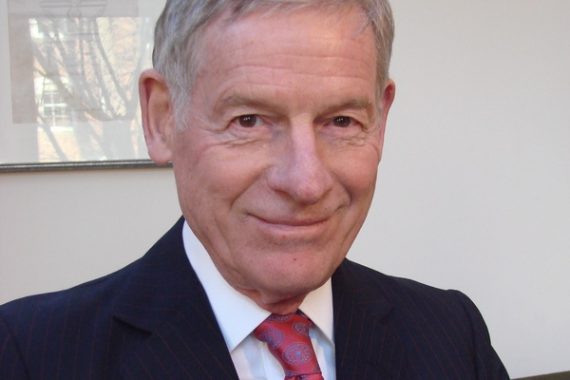 Harvey Manfield is a giant in the field of political science and a rare conservative on Harvard's social science faculty. Oddly, his critique of the Democratic Party reads like something from the OTB comments section.
WSJ ("The Crisis of American Self-Government: Harvey Mansfield, Harvard's 'pet dissenter,' on the 2012 election, the real cost of entitlements, and why he sees reason for hope."):
'We have now an American political party and a European one. Not all Americans who vote for the European party want to become Europeans. But it doesn't matter because that's what they're voting for. They're voting for dependency, for lack of ambition, and for insolvency."

Few have thought as hard, or as much, about how democracies can preserve individual liberty and national virtue as the eminent political scientist Harvey Mansfield. When it comes to assessing the state of the American experiment in self-government today, his diagnosis is grim, and he has never been one to mince words.

Mr. Mansfield sat for an interview on Thursday at the Harvard Faculty Club. This year marks his 50th as a teacher at the university. It isn't easy being the most visible conservative intellectual at an institution that has drifted ever further to the left for a half-century. "I live in a one-party state and very much more so a one-party university," says the 80-year-old professor with a sigh. "It's disgusting. I get along very well because everybody thinks the fact that I'm here means the things I say about Harvard can't be true. I am a kind of pet—a pet dissenter."

[…]

[T]he electorate that granted Barack Obama a second term was unwise—the president achieved "a sneaky victory," Mr. Mansfield says. "The Democrats said nothing about their plans for the future. All they did was attack the other side. Obama's campaign consisted entirely of saying 'I'm on your side' to the American people, to those in the middle. No matter what comes next, this silence about the future is ominous."

At one level Mr. Obama's silence reveals the exhaustion of the progressive agenda, of which his presidency is the spiritual culmination, Mr. Mansfield says. That movement "depends on the idea that things will get better and better and progress will be made in the actualization of equality." It is telling, then, that during the 2012 campaign progressives were "confined to defending what they've already achieved or making small improvements—student loans, free condoms. The Democrats are the party of free condoms. That's typical for them."

[…]

The Obama campaign's dissection of the public into subsets of race, sex and class resentments is a case in point. "Victims come in different kinds," says Mr. Mansfield, "so they're treated differently. You push different buttons to get them to react."
The one-party state line is especially amusing to regulars here but the rest of this is essentially the "47 percent" or "makers vs. takers" argument dressed up with a bit of sophistication. I do agree with Mansfield that President Obama managed to win re-election without laying out much of a plan for the future; but Mitt Romney tried to do the same thing, so it's not as if the electorate was given the choice between nothing and a detailed governing strategy.
Interestingly, Mansfield shows his mettle in his critique of his own party:
"The Republicans should want to recover the notion of the common good," Mr. Mansfield says. "One way to do that is to show that we can't afford the entitlements as they are—that we've always underestimated the cost. 'Cost' is just an economic word for the common good. And if Republicans can get entitlements to be understood no longer as irrevocable but as open to negotiation and to political dispute and to reform, then I think they can accomplish something."

The welfare state's size isn't what makes it so stifling, Mr. Mansfield says. "What makes government dangerous to the common good is guaranteed entitlements, so that you can never question what expenses have been or will be incurred." Less important at this moment are spending and tax rates. "I don't think you can detect the presence or absence of good government," he says, "simply by looking at the percentage of GDP that government uses up. That's not an irrelevant figure but it's not decisive. The decisive thing is whether it's possible to reform, whether reform is a political possibility."

Then there is the matter of conservative political practice. "Conservatives should be the party of judgment, not just of principles," he says. "Of course there are conservative principles—free markets, family values, a strong national defense—but those principles must be defended with the use of good judgment. Conservatives need to be intelligent, and they shouldn't use their principles as substitutes for intelligence. Principles need to be there so judgment can be distinguished from opportunism. But just because you give ground on principle doesn't mean you're an opportunist."
Of course, it's pretty hard to persuade the public that your concern is with the greater good when you begin with arguments suggesting that most of them are idiots looking for free condoms.