Reagan Won The Tax Debate. Now What?
Ronald Reagan won the tax fight. The debate now centers on whether to continue cutting taxes or slightly reverse the trend.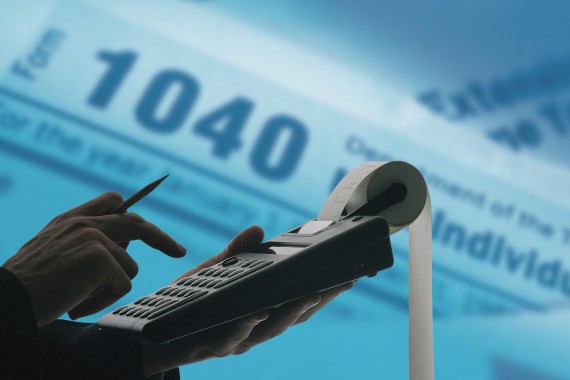 Ronald Reagan won the tax fight. The debate now centers on whether to continue cutting taxes or slightly reverse the trend.
NYT ("Complaints Aside, Most Face Lower Tax Burden Than in 1980"):
Alan Hicks divides long days between the insurance business he started in the late 1970s and the barbecue restaurant he opened with his sons three years ago. He earned more than $250,000 last year and said taxes took more than 40 percent. What's worse, in his view, is that others — the wealthy, hiding in loopholes; the poor, living on government benefits — are not paying their fair share.

"It feels like the harder we work, the more they take from us," said Mr. Hicks, 55, as he waited for a meat truck one recent afternoon. "And it seems like there's an awful lot of people in the United States who don't pay any taxes."

These are common sentiments in the eastern suburbs of St. Louis, a region of fading factory towns fringed by new subdivisions. Here, as across the country, people like Mr. Hicks are pained by the conviction that they are paying ever more to finance the expansion of government.

But in fact, most Americans in 2010 paid far less in total taxes — federal, state and local — than they would have paid 30 years ago. According to an analysis by The New York Times, the combination of all income taxes, sales taxes and property taxes took a smaller share of their income than it took from households with the same inflation-adjusted income in 1980.

Households earning more than $200,000 benefited from the largest percentage declines in total taxation as a share of income. Middle-income households benefited, too. More than 85 percent of households with earnings above $25,000 paid less in total taxes than comparable households in 1980.

Lower-income households, however, saved little or nothing. Many pay no federal income taxes, but they do pay a range of other levies, like federal payroll taxes, state sales taxes and local property taxes. Only about half of taxpaying households with incomes below $25,000 paid less in 2010.
The tax cuts predominantly benefit those who pay taxes is a truism, not a revelation. But it's true that most of the tax cuts have been on income, dividends, inheritances and other revenue streams that tend to benefit the well off while sales and other consumption taxes, which disproportionately hurt the poor, have remained static or even increased.
The uneven decline is a result of two trends. Congress cut federal taxation at every income level over the last 30 years. State and local taxes, meanwhile, increased for most Americans. Those taxes generally take a larger share of income from those who make less, so the increases offset more and more of the federal savings at lower levels of income.

In a half-dozen states, including Connecticut, Florida and New Jersey, the increases were large enough to offset the federal savings for most households, not just the poorer ones.
Essentially, it's become impossible to increase revenue from the taxation of income at any level of government. And more of the burden has shifted to the states and localities. Also, since those levels of government are forced to pay as they go because of balanced budget requirements, it means sales tax increases or bond issuances.
Public debate over taxes has typically focused on the federal income tax, but that now accounts for less than a third of the total tax revenues collected by federal, state and local governments. To analyze the total burden, The Times created a model, in consultation with experts, which estimated total tax bills for each taxpayer in each year from 1980, when the election of President Ronald Reagan opened an era of tax cutting, up to 2010, the most recent year for which relevant data is available.

The analysis shows that the overall burden of taxation declined as a share of income in the 1980s, rose to a new peak in the 1990s and fell again in the 2000s. Tax rates at most income levels were lower in 2010 than at any point during the 1980s.

Governments still collected the same share of total income in 2010 as in 1980 — 31 cents from every dollar — because people with higher incomes pay taxes at higher rates, and household incomes rose over the last three decades, particularly at the top.

There are now many more millionaires, in other words, paying more than they did in 1980, but they are paying less than they would have if tax laws had remained unchanged. And while they still pay a larger share of income in taxes than the rest of the population, the difference has narrowed significantly.
The debate over what to do about all this, even at the expert level, seems like a broken record.
Jared Bernstein, who served as chief economist to Vice President Joseph R. Biden Jr., said the Times analysis highlighted the need to raise taxes on the affluent and cut taxes for the poor. He cautioned that the middle class most likely would need to pay more, too.

"When you look at these numbers, you understand why we're not collecting the revenue we need to support the spending we want," said Mr. Bernstein, a senior fellow at the Center on Budget and Policy Priorities, a liberal research group. "We've really gutted the system."

But Douglas Holtz-Eakin, a prominent conservative economist, said the changes in taxation over the last three decades reflected a conscious and successful strategy to encourage economic growth that should be reinforced, not reversed.

Mr. Holtz-Eakin, a former director of the Congressional Budget Office who is the president of the American Action Forum, said government should reduce deficits primarily through spending cuts, particularly to Medicare and Medicaid, the health programs that are the largest source of projected increases in the federal debt.

"We can't grow our way out of it, and we can't tax our way out of it," he said of the government's fiscal predicament. "We have a spending problem, period."
For the most part, I think the solution is in fact to grow our way out of it. If the economy starts booming again, revenues will poor in and several expenses will go down considerably. The glaring exception, of course, is the continuing explosion of health care costs. ObamaCare was probably the last chance we're going to get for a generation to fix that and we failed; indeed, it likely exacerbated the overall problem somewhat at a fiscal level. We'll probably get some modest Medicaid savings as a result of whatever deal gets struck to address the so-called Fiscal Cliff; it's unlikely to address fundamental problems, however.