Hong Kong Protests Turn Violent
The ongoing protests in Hong Kong over controversial extradition legislation have taken a violent turn.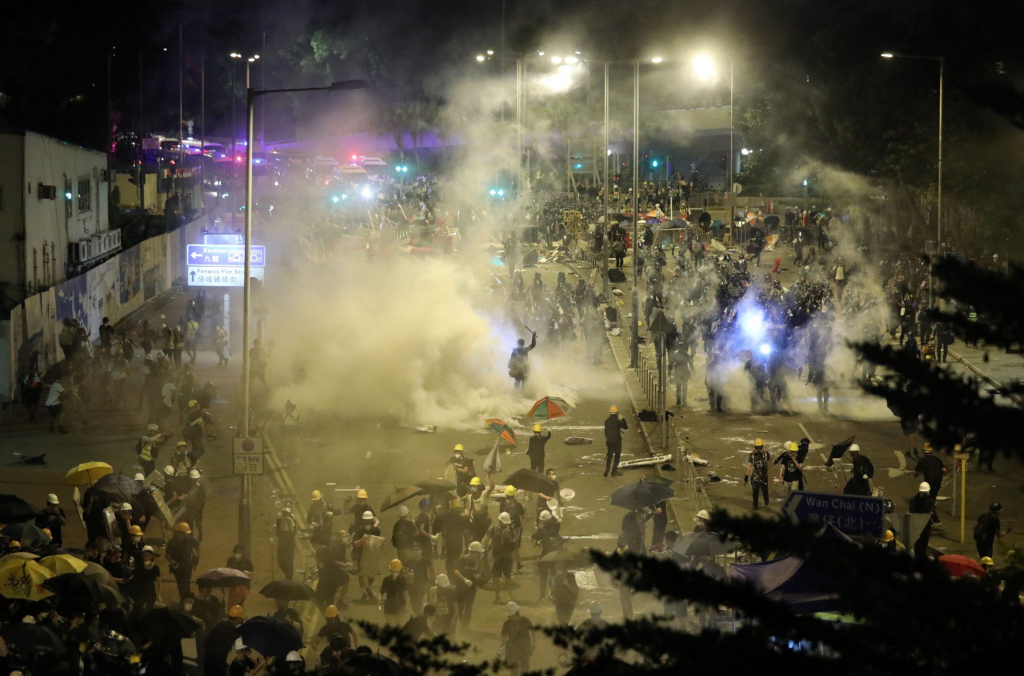 The ongoing protests in Hong Kong have turned far more serious, with protesters taking control of the city council building and riot police responding violently as protests continued through the night:
Hundreds of riot police with shields and helmets fired tear gas after midnight on Tuesday at dozens of demonstrators who had set up barricades on the roads around the city's legislative complex, after a core group of protesters had occupied the building for three hours.

The officers banged their shields on the ground as they marched in tight rows along several main roads surrounding the compound, confronting the protesters who had gathered behind the makeshift barricades.

Closely following the officers were nearly two dozen police buses with their lights flashing. The police fired several rounds of tear gas, sending most of the protesters fleeing.

"Your actions have been seriously affecting public order and public safety," the officers announced. "Please leave immediately or police will take further action."

Just hours before, the police had backed away from a confrontation with the protesters, clearing out of the building after hours of standoff in which demonstrators had been steadily destroying the facade and glass walls of the Legislative Council. The protesters stormed in, pumping their fists in the air.

Once inside, the protesters sprayed messages on the walls calling for protesters arrested last month to be released. "Murderous regime," read another message. They built barricades inside using materials they had scavenged and brought, including umbrellas and metal gates and destroyed surveillance cameras. Then they filled the legislative chambers, defaced portraits of leaders and spray-painted slogans on the desks and walls.

"We need to let out our long-repressed emotions and to let the rest of the world know about this news," said Kris Yeh, a 20-year-old protester who said he had helped smash glass doors and spray paint walls.

Another protester who identified himself as a 17-year-old high school student, and whose name is being withheld, said he believed that more extreme tactics were necessary for the government to accept the protesters' demands. He decided to enter the building, but insisted he had not taken part in any destruction. "There is no one here who isn't scared of being arrested. I only have a bottle of water and a helmet, but the police have tear gas and pepper spray."

The protest was quickly turning into a broad repudiation of Chinese rule, with demonstrators tearing up copies of the Basic Law, a mini constitution that took effect in 1997 and governs Hong Kong's relations with Beijing, and calling for free and direct elections. One group raised a British-colonial-era flag.

"I want universal suffrage!" one protester led others in chanting.
Other protesters said they wanted to force the city's leader, Carrie Lam, to engage in a dialogue with them.

Eddie Chu, a pro-democracy member of the legislature, told reporters that only the government and Mrs. Lam could resolve the political crisis roiling the territory. "If this is left to the police and Beijing to solve, we will face the greatest tragedy we've seen in 22 years" of Chinese rule.

The police and government said that they condemned the violence at the legislature and that officers were exercising restraint. "Such violent acts are unacceptable to society," the government said in a statement.

Early in the day, hundreds of riot police officers had used batons and pepper spray to beat back protesters at a different site — near a government flag-raising ceremony attended by the city's chief executive, Carrie Lam.

At the handover of Hong Kong to China's control in 1997, the Chinese government agreed that Hong Kong could retain its justice system and protections for civil liberties for 50 years, under a philosophy commonly known as "one country, two systems." Protesters today are angry because they see Ms. Lam's pushing of a bill that would open the way to extradite suspects to mainland China as giving up those rights to Beijing.

(…)

Huge crowds of demonstrators have taken to Hong Kong's streets in the past several weeks, protesting a bill that would allow extraditions to mainland China. The protests forced Mrs. Lam to suspend the bill but demonstrators want a full withdrawal and for her to resign.

The turnout of protesters on Monday was among the largest attempts to disrupt the Hong Kong government's most important annual political event. It underscored the deepening anxiety that many in Hong Kong feel about the erosion of the civil liberties that set the city apart.

Monday's protests, which also fell on the 98th anniversary of the founding of the Communist Party of China, were a direct challenge to President Xi Jinping and his increasingly authoritarian policies.

Analysts said the chaos risked giving Mr. Xi an opportunity to justify his tough approach.

"If it gets really violent, the risk is that Beijing has a good excuse to become even more uncompromising," said Jean-Pierre Cabestan, a political scientist at Hong Kong Baptist University. "Xi can put even more pressure on Carrie Lam not to make any concessions."
The South China Morning Post is live-blogging the confrontations between protesters and police, which have continued into the night. Today's protests come on the anniversary of the day in 1997 when control of the city-state was formally handed over from British to Chinese control under an agreement that guarantees legal autonomy and protection of the civil liberties that residents enjoyed under British rule until at least 2047. While the Chinese have generally abided by the terms of that agreement, there have been some moves by Beijing to assert control over the city-state that have, at times, brought protesters to the streets. None of those previous protests, though, have lasted this long or been this serious.
All of this is rooted in a piece of legislation that the city's legislature was considering that would make it easier for the government to extradite citizens of Hong Kong and foreigners living in or visiting there to mainland China. These protests that have swept through Hong Kong's streets over the past several weeks, egged on in part by a violent response from police, the city government took measures to make it appear as if they were stepping back in the ongoing controversy over an extradition bill. First, the city's Chief Executive Carrie Lam announced that she was indefinitely suspending consideration of the extradition bill. Then, in a step unusual for her and atypical for government authorities in the People's Republic, she issued an apology for the manner in which the issue had been handled.  Neither of these steps was sufficient for the protesters, though, who demanded that the bill be dropped completely rather than simply suspended, while others have called on Lam to step aside on the ground that she cannot be trusted to lead the city any longer. The renewed police violence is only likely to increase those calls.
As I've said before, the next step for Hong Kong's government is in the hands of the Chinese leadership in Beijing. While they have yet to openly move against Lam or any of her supporters there have been some signs that preparations are being made to essentially turn her in a sacrificial lamb in the hope that this would be enough to stem the tide of protests. Whether that is true or not is something only time will tell, but it is clear that stability in Hong Kong is much more of a priority for Chinese leadership than protecting Lam and her supporters. If they believe that getting rid of Lam, and the extradition bill, is a necessary step in that direction then there seems to be no doubt that they'll take it. On the other hand, they may decide that the protests are getting out of hand and that a more punitive response is called for. The problem there, of course, is that anything that happens in Hong Kong is going to be broadcast around the world at a time when China is trying to project an image that would be undercut by the kind of violent crackdown that would be necessary to bring the protests to an end. Given all those factors, it's hard to predict where this goes next.
Photo via South China Morning Post