Hong Kong Leaders Suspend Consideration Of Controversial Extradition Bill
In the wake of massive protests, Hong Kong's government begins to back away from support for a controversial extradition bill.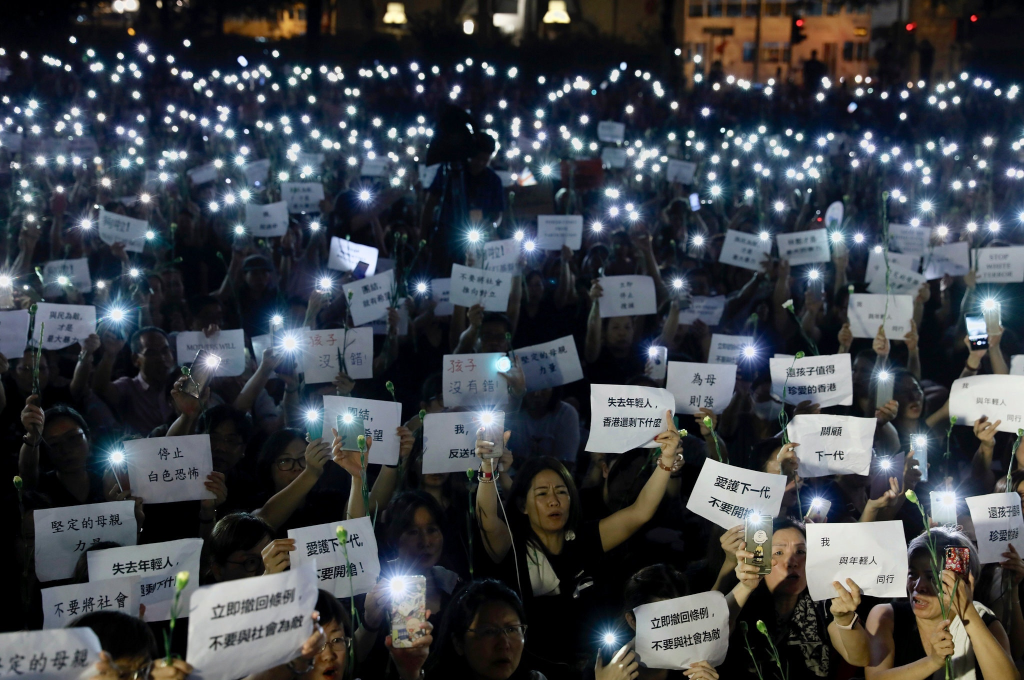 With protests continuing to rock the city, Hong Kong's Chief Executive announced today that the city's legislature would suspend consideration of the controversial extradition bill that ignited those protests:
HONG KONG — Backing down after days of huge street protests, Hong Kong's chief executive, Carrie Lam, said on Saturday that she would indefinitely suspend a bill that would allow extraditions to mainland China.

It was a remarkable reversal for Mrs. Lam, the leader installed by Beijing in 2017, who had vowed to ensure the bill's approval and tried to get it passed on an unusually short timetable, even as hundreds of thousands demonstrated against it this past week.

But she made it clear that the bill was being delayed, not withdrawn outright, as protesters have demanded.

"I believe that we cannot withdraw this bill, or else society will say that this bill was groundless," Mrs. Lam said at a news conference.

She said she felt "sorrow and regret" that she had failed to convince the public that it was needed, and pledged to listen to more views.

"We will adopt the most sincere and humble attitude to accept criticisms and make improvements," Mrs. Lam said.

City leaders hope that delaying the legislation will cool public anger and avoid more violence in the streets, said people with detailed knowledge of the government's plans, including advisers to Mrs. Lam.

But leading opposition figures and protesters said a mere suspension of the bill would not satisfy the protesters, who had been planning another large demonstration for Sunday. Organizers confirmed the protest was still on.

"Postponement is temporary. It's just delaying the pain," said Claudia Mo, a democratic lawmaker. "This is not good enough, simply not right. We demand a complete scrapping of this controversial bill."

"We can't accept it will just be suspended," Minnie Li, a lecturer with the Education University of Hong Kong who joined a hunger strike this past week, said on Saturday morning, as word of Mrs. Lam's plan to suspend the bill was emerging. "We demand it to be withdrawn. The amendment itself is unreasonable. Suspension just means having a break and will continue later. What we want is for it to be withdrawn. We can't accept it."

But Mrs. Lam and her superiors in Beijing were reluctant to kill the bill outright, said the people familiar with city officials' thinking. They insisted on anonymity because they were not authorized to speak on behalf of the government.

A full withdrawal of the legislation would recall the Hong Kong government's reversals in the face of public objections to other contentious bills that were seen as infringing on the city's liberties — national security legislation, in 2003, and compulsory patriotic education legislation, in 2012.

A team of senior Chinese officials and experts met on Friday with Mrs. Lam in Shenzhen, a mainland Chinese city bordering Hong Kong, to review the situation, one of the people with knowledge of the government's policymaking said.

The bill would make it easier for Hong Kong to send people suspected of crimes to jurisdictions with which the city has no extradition treaty, including mainland China. Many people in Hong Kong, a semiautonomous territory with far more civil liberties than the mainland has, fear that the legislation would put anyone in the city at risk of being detained and sent to China for trial by the country's Communist Party-controlled courts.

The bill had been moving through the legislative process with unusual speed, and legal experts who raised concerns about that said it would have to be withdrawn in order to address those worries. Otherwise, voting on it could restart at any time, at the discretion of the head of the legislature, which is controlled by pro-Beijing lawmakers, these experts said.

More than a million people marched against the bill last Sunday, according to protest leaders, the vast majority of them peacefully. That was followed by street clashes on Wednesday, as the police used tear gas and rubber bullets on demonstrators.

Officials say they believe that delaying the bill will reduce the risk of a young protester being seriously hurt or even killed in clashes with the police, then becoming a martyr in the eyes of the public. Dozens of protesters have already been injured, and video footage of riot police apparently using excessive force against unarmed demonstrators has deepened public anger in the city.

The government has been dismayed by early signs that mothers of young protesters, who held a candlelight vigil on Friday night, were starting to organize themselves. It is strongly averse to seeing the emergence of a group like the mothers of victims of the Tiananmen Square crackdown in Beijing in 1989, who have been active for decades.

City officials hope that delaying the bill will weaken the opposition by draining it of its momentum, without giving the appearance that the government was backing down entirely, according to the people familiar with the leaders' thinking.

Asked several times by reporters at the Saturday news conference whether she would resign, as protesters have demanded, Mrs. Lam indicated that she had no plans to do so, saying she would continue her work and improve efforts to communicate with the public. The people familiar with the government's thinking said officials in both Beijing and Hong Kong had dismissed the calls for Mrs. Lam's resignation.
More from the international edition of The South China Morning Post:
Hong Kong's leader announced on Saturday that she was backing down and suspending her contentious extradition bill, but refused to withdraw it altogether or apologise for the serious conflicts caused by her government's campaign to bulldoze it through the legislature.

While conceding inadequacies in her handling of the controversy and asking for a second chance to do a better job of building a consensus, Chief Executive Carrie Lam Cheng Yuet-ngor insisted her justification for changing the city's extradition laws was sound, and brushed aside calls for her resignation in light of the rift in society and violent protests triggered by her push for the bill.

"After repeated internal deliberations over the last two days, I now announce that the government has decided to suspend the legislative amendment exercise, restart our communication with all sectors of society, do more explanation work and listen to different views of society," she said at the start of a 75-minute media session to announce the big "pause".

Lam defended the use of force by police who fired tear gas, rubber bullets and beanbag rounds to fend off protesters who blocked lawmakers from debating the bill on Wednesday, saying the crackdown had been "reasonable and natural".

She also insisted her climbdown, after weeks of sticking to her guns, was her own decision and not made by Beijing, which was informed about it and supported her.

The chief executive refused to confirm whether she had recently met Vice-Premier Han Zheng, the state leader in charge of Hong Kong affairs, but two sources told the Post she did have a meeting with him before Saturday. Sources also confirmed that Beijing officials were in Shenzhen this weekend to assess the mood in Hong Kong after the announcement.

In separate statements, Beijing's Hong Kong and Macau Affairs Office and its representative liaison office in the city expressed their "respect and understanding" regarding Lam's U-turn.

"The central government strongly condemns any violent acts and supports the police force … for safeguarding the rule of law and stability in Hong Kong," they added.

(…)

While the extradition bill would allow the transfer of fugitives to mainland China, Taiwan and other jurisdictions with which the city has no extradition deal, opposition has snowballed over the past months because of domestic and international fears that they might not receive a fair trial across the border.

The bill has put the spotlight on concerns about political persecution and mistrust in mainland China's justice system.

Lam was under intense pressure to break the biggest impasse in city politics in recent years, after hundreds of thousands marched in protest last Sunday and more than 80 people were injured in the violence on Wednesday.

She held a meeting late on Friday night with key government officials, and on Saturday with pro-establishment legislators, who remained strongly supportive of her push for the bill.

The pro-Beijing camp, the business sector, the US consulate general, and British Foreign Secretary Jeremy Hunt were among the first to welcome the suspension.

But opposition pan-democratic politicians were furious that Lam would not step down, apologise or withdraw the bill. They called on their supporters to carry on with the resistance, including another mass rally planned on Sunday.

Lam insisted her decision was not to pacify protesters but to ensure there would be no more violence and injuries.

"As a responsible government, we have to maintain law and order on the one hand, and evaluate the situation for the greatest interest of Hong Kong, including restoring calmness in society as soon as possible," she said.
While Lam is insisting that her decision was not influenced by the protests, it seems clear that this is not the case. While the Hong Kong leadership and the leaders in Beijing may have hoped that they could get the extradition bill through the city legislature without much controversy, that proved not to be the case. The protests that began several weeks ago have only gotten larger and have already prompted police to react with violence that was guaranteed to bring out further protesters. The best example of that came on Friday night when women came out in large numbers for the first time for a "mothers protest" not unlike the movement started by victims of the Tiananmen Square massacre. The photo at the top of this post is from that protest.
If the immediate reaction to the announcement by Lam is any indication, this decision will do nothing to sway the protesters or to slow the protests down. They were out in the streets again on Saturday after her announcement, and the current plan is for another mass protest on Sunday that could draw more people than all of the other protests about this bill combined. Indeed, it hardly matters whether or not city authorities backed down because of the protests or for other reasons. The protesters will clearly interpret this halfway measure by Lam to be a concession, and they will most likely respond to it by pushing for more, which by this point means withdrawing the bill completely rather than withdrawing it in the hope that the protests and public passions will die down with the passage of time. How the government, in both Hong Kong and Beijing, will respond to that will go a long way toward determining the short-term, and perhaps long-term, future of Hong Kong.