Hong Kong's Leader Declares Controversial Bill 'Dead,' Protesters Aren't Satisfied
The government in Hong Kong keeps conceding ground to the protests that have taken hold in the city, but the protesters have more fundamental objections.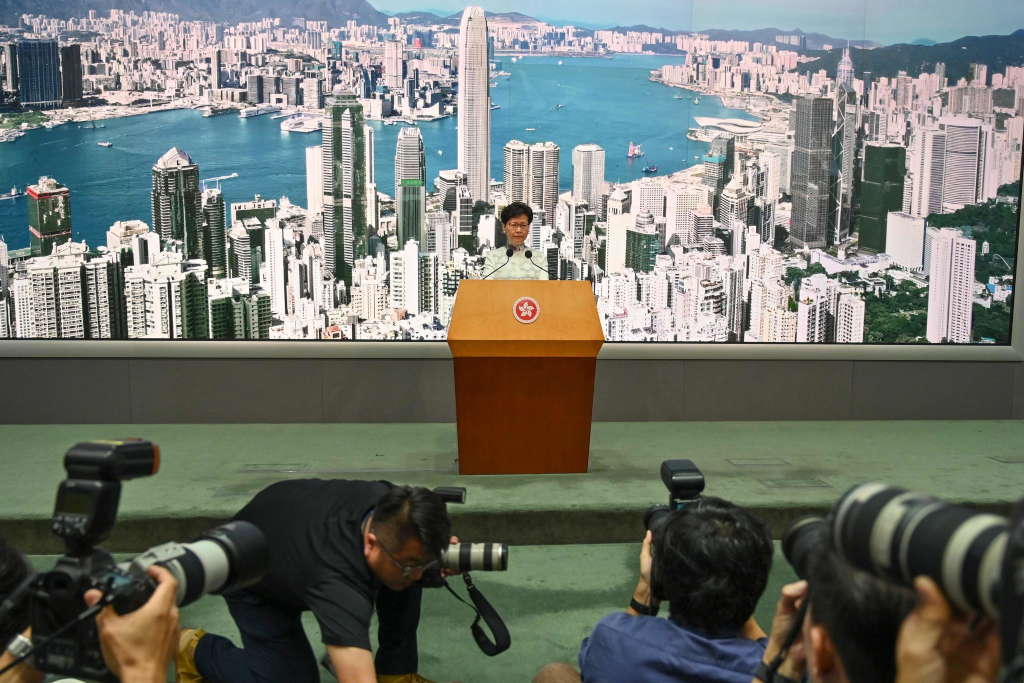 Hong Kong's top government official has essentially acceded to the demands of more than two weeks worth of protests and declared that the controversial extradition bill that sparked a month of protests is officially dead:
HONG KONG — Hong Kong's embattled leader, Carrie Lam, made her most emphatic promise yet on Tuesday that a contentious extradition bill would not be revived, but she stopped short of offering further concessions to protesters, who rejected the gesture and set the stage for more demonstrations.

Mrs. Lam, who said the bill was "dead," pledged to lead a government that would do a better job of listening to the public. But her refusal to give in to the protesters' latest demands showed she was betting on being able to ride out the demonstrations that have thrown the city into a political crisis, lawmakers and observers in Hong Kong said.

Hundreds of thousands of people have taken to the streets in recent weeks, including in a march on Sunday, to oppose the bill, which would have allowed extraditions to mainland China. Tensions erupted last week when a relatively small group of protesters stormed and vandalized the city's legislature.

Mrs. Lam said she was aware that despite her earlier suspension of the bill, protesters were concerned that the government would revive it later. "There is no such plan," she told reporters. "The bill is dead."

Mrs. Lam's latest remarks did not satisfy the protesters, who have zeroed in on her unwillingness to formally withdraw the bill as evidence that she still underestimates the level of public distrust her administration faces.

"Saying the bill is dead is not as good as withdrawing the bill completely," said Figo Chan, one of the leaders of Civil Human Rights Front, a coalition of pro-democracy activists that organized several recent marches. (Mrs. Lam argued that there was "no difference" between the two concepts.)

"We urge the chief executive not to use words to deceive the people of Hong Kong any longer," Mr. Chan said.

Mrs. Lam admitted that the government's handling of the bill had been a "complete failure" and pledged to improve the government's engagement with youth, who have been a major force in the protests. But she rejected calls to set up an independent inquiry into the police's use of violence against protesters during clashes on June 12, as well as other demands.

Calls for the government to set up an independent commission for such a purpose intensified on Tuesday after Andrew Li, a former chief justice of Hong Kong, wrote an op-ed in support of the idea.

But Mrs. Lam unexpectedly acknowledged that broader, fundamental issues lay beneath the demonstrations, issues that emerged during a failed protest movement in 2014 that sought fully democratic elections for the city's leader.

The protesters' forceful occupation of the legislature on July 1 was a stark rebuke of Mrs. Lam's administration, and of what many protesters consider the political system's failure to prioritize Hong Kong's interests over those of the Chinese government. In recent days, the protesters have expanded their demands to include the right to directly elect the city's leadership, as well as other political reforms.

While Mrs. Lam pointed mainly to economic issues in her remarks on Tuesday, Ronny Tong, a lawyer and a member of the territory's Executive Council, or cabinet, said in an interview that he believed "she does understand that one of the core areas of divide within the community is about political reform."

Concerns have grown in Hong Kong about Beijing's interference in the territory's political system, which has resulted in a number of major setbacks for the pro-democracy camp. Six elected lawmakers were removed from office and several others were disqualified from running in local elections.

Joshua Wong, a key figure from the 2014 movement, and Eddie Chu, a pro-democracy lawmaker, staged a small demonstration on Tuesday to raise concerns about the possible disqualification of pro-democracy candidates in district elections set for November.

While Mrs. Lam's comments were her strongest attempt yet to reassure the public that the government had learned its lesson from the bungling of the extradition bill, experts said the effort was unlikely to quell widespread anger. For some, the argument over the formal status of the bill has become a proxy for a larger debate over Beijing's influence within Hong Kong's political system.

"The protesters are adamant on full withdrawal because, according to them, she cannot say the word because she is a stooge of Beijing," said Willy Lam, an adjunct professor at the Center for China Studies at the Chinese University of Hong Kong. "They want to humiliate her."
Along those lines, The South China Morning Post reports that Lam's concessions are largely falling on deaf ears among the protesters and pro-democracy advocates of Hong Kong:
Hong Kong's embattled leader Carrie Lam Cheng Yuet-ngor made her strongest peace offering to protesters yet on Tuesday when she declared the highly unpopular extradition bill to be "dead" but critics immediately condemned her for still failing to meet their demands, dampening any hope of reconciliation in a divided city.

Demonstrators who had taken to the streets in mass protests over the past month had demanded a full withdrawal of the controversial legislation but Lam refused to use the word "withdraw", insisting her latest words were in effect stronger. Addressing the media before her weekly meeting with her advisers in the Executive Council, Lam also admitted her government's groundwork on the bill had been a "complete failure". But pan-democrats and protesters immediately dismissed her latest attempt at defusing the crisis that has rocked the city for more than a month, accusing her of engaging in semantics and being insincere in rejecting their call for an independent inquiry into police action over violent clashes. Pro-establishment lawmakers, however, appealed to people to move on rather than be dragged down by an argument over how to word the killing of a bill.

In her first media briefing since a 4am appearance on July 2 following the storming of the Legislative Council by protesters, the chief executive acknowledged there was a lingering fear the government could restart the amendment process within Legco's current term, which ends in 2020.

"There is no such plan, the bill is dead," she said.

But she insisted her stance on Tuesday did not differ much from when she announced last month that the legislative process would be suspended, adding: "In some sense, even if the bill is withdrawn today, it can be retabled at Legco within three months."

The bill would have allowed Hong Kong to transfer suspects to jurisdictions it lacks extradition agreements with, including mainland China. Some feared it would remove the legal firewall between the city and mainland China, exposing suspects to opaque trials across the border.

Lam, however, stood firm on not setting up a top-level probe into clashes between police and protesters.

She said the Independent Police Complaints Council would launch an investigation and that all parties involved in the demonstrations, including protesters, police, media and onlookers, could provide information.

There have been widespread calls for a judge-led commission of inquiry (COI) to be set up, with former chief justice Andrew Li Kwok-nang the latest to support such a move, in a commentary asking for such a commission published in the Post on Tuesday.

"While I respect [Li's] views … I'm afraid on this particular issue of an independent COI, the view has been taken for the IPCC to perform this role," Lam said.

Lam also touched on the 2014 Occupy movement, during which protesters had called for the implementation of genuine universal suffrage.

"Five years ago, we finished Occupy, we moved on, without addressing those fundamental problems," Lam said. "But this time I don't think we can continue to ignore those fundamental and deep-seated problems."

The pro-democracy bloc strongly condemned Lam for dodging the key demands from the public, including over the launch of an independent inquiry as suggested by Li. They accused Lam of "playing around with words" and renewed their call for her to step down.

"It's impossible for her to ask the public for a second chance, yet without giving a second chance to young protesters," said Claudia Mo Man-ching, convenor of the camp.

Democratic Party chairman Wu Chi-wai said Lam not only did not respond to the demands, she also stopped short of addressing broader governance issues and how to restore public trust.

"Hong Kong and mainland Chinese governments need to understand an independent inquiry is the only way to save the administration's legitimacy for its future governance," Wu said.

Civil Human Rights Front convenor Jimmy Sham Tsz-kit said Lam thought she could get away by simply repeating her responses.

"She felt suspending the bill would mean retracting it," Sham said. "What she's trying to do is to save her face … The Legco house rules state there is no such thing as suspending a bill."

However, pro-establishment lawmaker Starry Lee Wai-king, chairwoman of the Democratic Alliance for the Betterment and Progress of Hong Kong, said she believed Lam's announcement would alleviate the worries of some.

"Politically, the legislative amendment process cannot be continued, so there is no difference between [calling it suspended or dead]," she said.

Separately, pro-establishment lawmaker Michael Tien Puk-sun, speaking earlier on Tuesday, said officials should be resigning to take responsibility for the uproar caused by the bill.
All of this is rooted in a piece of legislation that the city's legislature was considering that would make it easier for the government to extradite citizens of Hong Kong and foreigners living in or visiting there to mainland China. These protests that have swept through Hong Kong's streets over the past several weeks, egged on in part by a violent response from police, the city government took measures to make it appear as if they were stepping back in the ongoing controversy over an extradition bill. First, the city's Chief Executive Carrie Lam announced that she was indefinitely suspending consideration of the extradition bill. Then, in a step unusual for her and atypical for government authorities in the People's Republic, she issued an apology for the manner in which the issue had been handled. Neither of these steps was sufficient for the protesters, though, who demanded that the bill be dropped completely rather than simply suspended, while others have called on Lam to step aside on the ground that she cannot be trusted to lead the city any longer.
What the immediate reaction to Lam's announcement, which honestly just seems like a different way of stating what she'd already said previously, two things about the direction things seem to be headed in Hong Kong. First of all, it's clear that nothing short of formal withdrawal of the proposed extradition legislation is going to satisfy that portion of the demands of the protesters. What Lam has stated previously, and what she said today falls short of that step and leaves open the possibility that the bill could be reintroduced at some point in the future when the protests have calmed down. Second, it makes clear that the extradition legislation is really just a proxy for a whole host of concerns that the pro-democracy movement has regarding the growing influence of Beijing over a city that has more or less enjoyed autonomy over the course of the past 22 years since the territory was ceded back to China by the United Kingdom. In part at least, this is propelled by the growing realization that 2047, the in which the guarantees for that autonomy that Beijing agreed to back in 1997, is closer in time than the anniversary of the return of the city to Chinese sovereignty is, and that in some sense the clock is ticking. In that regard, the pro-democracy activists are already looking ahead to the point 18 years from now when those guarantees come to an end. At that point, nobody seems to know what will happen to the city and the freedoms it has long enjoyed that are simply not available anywhere else in China.
The next step here is unclear. Lam's future lies largely in the hands of the leadership in Beijing, who could force her to step down. However, at this point, that move would just be likely to spur the protesters to demand more. For the past month, we have been seeing the protesters grow stronger and stronger as the government has conceded more and more. This is only likely to embolden the protesters to push things even further. In any other part of China, of course, the protests would have been crushed long ago but in addition to the treaty I mentioned above, the Chinese know that a crackdown in Hong Kong would ultimately end up backfiring both at home and around the world. In many senses, Hong Kong is a crown jewel for Beijing and they're unlikely to do anything to wreck that unless things get even further out of control.